Avocado season is quickly approaching and I for one couldn't be happier! So today we're prepping for the upcoming attack of avocados with an Avocado Caesar Salad!
Okay so I guess it's not really an attack, since it's totally welcome, but I've been watching copious amounts of Game of Thrones episodes and I can't be held accountable for whatever I say since I'm not longer sleeping. How I've not tuned into that show until now is totally beyond me! Beyond! I'm 100% addicted. I've checked off season 1 and season 2 and patiently/impatiently waiting for season 3 to come out onto DVD. Patience has never been my strong suit.
I'm also totally addicted to this Avocado Caesar Salad from my cookbook! It came about because, I don't know about you, but I'm slightly terrified of eating raw eggs in Caesar Salads. I have absolutely no problem eating raw eggs in cookie dough, but put it in a Caesar Salad dressing and I'll pretty much freak out on the spot. I think it's my inner picky eater coming out to shine for a hot second.
Anyways, I needed to solve that problem stat. So I subbed out the raw eggs for avocados (as any sensible person would do) and came up with this Avocado Caesar Salad recipe! It's bananas. So good. And it's topped with a large handful or two or three of my favorite homemade garlic croutons. They are seriously so irresistible that there's a small possibility that none of them actually end up on your salad because you'll eat them all before. (not that I speak from experience or anything like that)
And with avocado season about to start, I'd recommend grabbing a copy of Absolutely Avocados so you'll have plenty of new and fun ways of using those beautiful green pieces of fruit that we all love so dearly!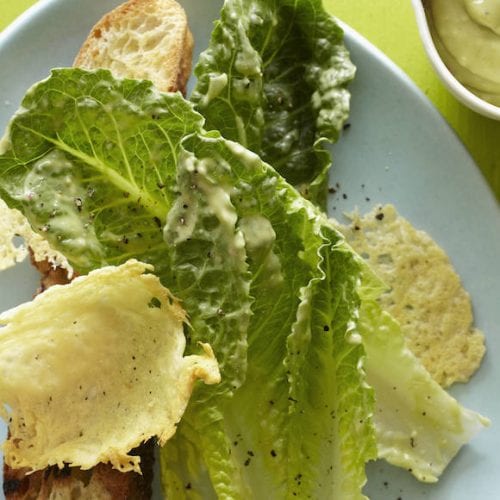 Avocado Caesar Salad
Recipe from Absolutely Avocados
Ingredients
1

Hass avocados

1/3

cup

extra virgin olive oil

plus more if needed

1/4

cup

grated Parmesan cheese

8 ounces

2

tablespoons

red wine vinegar

1

tablespoon

fresh lemon juice

1 to 2

garlic cloves

3/4

teaspoon

Worcestershire sauce

1/4

teaspoon

coarse salt

1/4

teaspoon

freshly ground black pepper

4-6

small heads of romaine lettuce

washed and patted dry

1/2

batch homemade garlic croutons
Instructions
Cut the avocados in half lengthwise. Remove the pit from the avocado and discard. Remove the avocado from the skin, and place the avocado flesh into a food processor bowl.

Add the olive oil, parmesan cheese, red wine vinegar, lemon juice, garlic cloves, Worcestershire, salt and pepper. Pulse for 1 to 2 minutes until smooth and creamy. Adjust the salt and pepper if needed.

When ready to serve, tear the lettuce into small pieces or serve whole if it's a knife and fork salad, and top with a few spoonfuls of the dressing. Toss to combine and add more dressing if needed. Add the garlic croutons and serve.
Notes
The dressing can be stored in the refrigerator for up to 3 days as needed.
Photos from my best friend and all time favorite photographer of all times, Matt Armendariz