One of my homework assignments for this week was to create a tart on my own. I was thrilled to do this because I have been making them ever since our class on pastries. For my assignment I choose to do a tomato and basil tart because its almost like my favorite pizza and almost like my favorite salad and some of my favorite Food Network stars have made tarts similar to this and they look fabulous!
I am off to Seattle to see my family for Easter! So I hope everyone has a fabulous weekend and I will be back soon with some of my newest creations!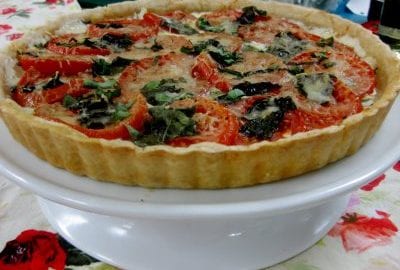 Basil and Tomato Tart
Ingredients
For the Crust
1 1/2

cups

flour

1/2

teaspoon

kosher salt

1/2

cup

chilled butter

3-5

tbsp

chilled water
For the filling:
1

cup

thinly slices mozzarella

1/2

cup

basil leaves

5

medium tomatoes

1/2

cup

Parmesan cheese

salt and pepper to taste.
Instructions
For the Crust
In a food processor combine the dry ingredients and the butter. Let the processor do its job for about 30 seconds until the butter has been broken down into tiny chunks. Then add the water a little bit at a time until the dough comes together to form a ball. Remove this from the food processor and wrap in plastic and let cool in the refrigerator for at least 30 minutes.

Once chilled roll the dough out to fit an 11 inch tart pan. Blind bake this in the oven (with a pie weight) for about 20 minutes and then remove.
For the Filling
Once the pastry is lined in the pan you can start by layering the mozzarella on the bottom and then adding half of the basil (roughly chopped) on top. Then layer on the tomatoes and Parmesan cheese. Add the rest of the whole basil leaves on top and bake in the oven for about 30-40 minutes. I used fresh buffalo mozzarella so I had to slightly drain the liquid from the tart after cooking. You can either serve this immediately or at room temp. I would recommend serving it hot - just a personal preference!