Can we talk about pesto? Are you guys as obsessed as I am? I am total pesto hoarder. I put it on EVERYTHING. I use it on fish, throw it on chicken, toss it with some pasta, slather it on some toast with avocado… basically the possibilites are endless.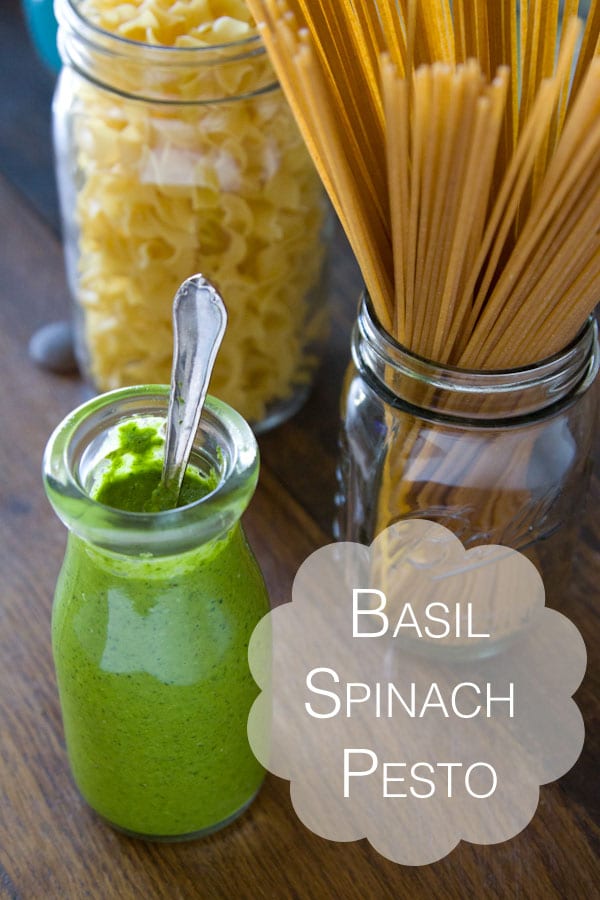 Here's something else, sometimes I get way lazy and buy it pre-made from the store. Why? Why do I do such a thing? Because when I get home and start to eat it by the spoonful, I'm always disappointed. It's never garlicky enough and it sometimes lacks a fresh flavor. And then I think to myself, Gaby you can't be bothered to throw 5 ingredients in the blender or food processor and then press a button?  
So last weekend, in the middle of one of my marathon cooking extravaganzas, I whipped up a massive batch of pesto. Basil Spinach Pesto to be exact. You can't really even taste the spinach, but it gives the pesto such a BRIGHT green color, more so that when you just use basil, so you totally need it. Plus it's a super food, so chalk one up for that.  I sized down my recipe for you guys… but let's just say I have about 1 pint worth of pesto in various containers in my fridge and freezer. This way, I will have freshly made Basil Spinach Pesto on hand for at least the next few weeks.
These kinds of things make me happy. And I'm pretty sure it's going to make you happy too. Plus it's green… so if you're celebrating St. Patricks Day this weekend and need something green, just make this and throw it on top of basically anything (except maybe desserts). I'd recommend throwing it into some mashed potatoes with extra parmesan cheese.
Basil Spinach Pesto Sauce
Ingredients
2

cups

packed basil

stems removed

1

cup

packed spinach

1/4

cup

shredded parmesan cheese

3

cloves

garlic

1

lemon

zested and juiced

3/4

cup

olive oil

salt and pepper to taste
Instructions
Place the basil, spinach, parmesan cheese, garlic, lemon zest and lemon juice in a food processor or heavy duty blender. Pulse for 1 minutes to break everything up.

Slowly stream in the olive oil while the motor is running. Once everything is incorporated, turn off the blender or food processor and season with salt and pepper. Adjust as needed and transfer the pesto to air tight containers to refrigerate or freeze until ready to use.