BBQ Chicken Tartines are happening and I can promise you guys, you're going to be obsessed!
There's nothing I love more than a meal that comes together in under 10 minutes with help from my local Vons, doesn't require me to turn on the stove, and is both delicious and beautiful! And you all know my favorite way to make that happen – store bought rotisserie chicken. Yup. Sign me up. I am obsessed.
We're all well aware of my affinity towards rotisserie chickens. I've used them in my cookbooks, in past recipes, on IG Live, etc. I can't get enough. Hello, taking a shortcut from the market that saves you 60 minutes of prep… no brainer! Having been in the new house for just under 3 months, we're still exploring the neighborhood scene but we're VERY well versed in our neighborhood Vons which is within walking distance from our front door. Never heard of Vons? Your local store might have a different name… back in my Tucson days I shopped at Safeway, whenever we visited my grandparents in Chicago we'd go to Jewel-Osco, over in Santa Monica it's Pavilions and Albertsons… you get the idea. All different store names within the Albertsons Companies family of stores, all with the same exclusive private label brands of reliable, delicious, time saving food.
Anyways, their Signature line of products (one of their in-house brands), including Signature Cafe®, Signature SELECT™, Signature Farms® and Signature RESERVE™, is what you'll see across the store including in the bakery section when you're grabbing freshly baked bread, in the deli area for a perfectly cooked and seasoned chicken and prepared sides, and throughout the aisles. In my area, Signature products are available exclusively at Vons and you can also find them at other stores within the Albertsons Companies family, including Albertsons, Safeway, ACME Markets, Jewel-Osco, Pavilions, Tom Thumb, Randalls, Shaw's, Star Market, United Supermarkets and Carrs/Safeway.
For this recipe you'll need both Signature SELECT Sourdough French Bread fresh from the bakery and a Signature Cafe Whole Rotisserie Chicken. From there, head to the other areas of the market to grab: cheese, bbq sauce, cilantro, and some watermelon and arugula if you're going full dinner status like me. Once you're loaded, all that's left to do is a quick assembly once you get home and dinner is ready!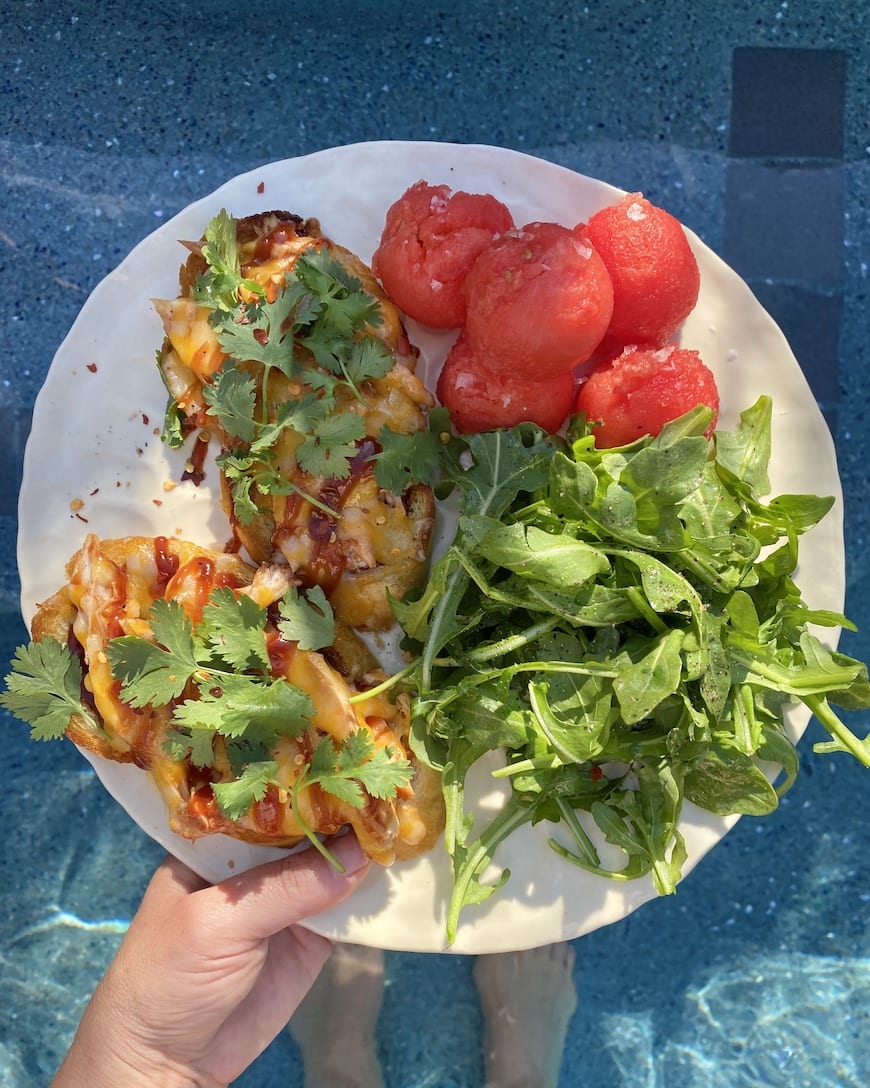 A few tips / tricks when it comes to rotisserie chickens!
If you're going to make it last a few days, once you get home from the market, shred it all immediately while it's still warm. It's easier to take the meat off the bone and then store in a snap ware container in the fridge for multiple uses.
If you want your chicken to be EXTRA shredded for any reason, pop the shredded chicken into your stand mixer while it's still warm and using the paddle attachment, turn it on for 20 seconds to get the most uniform shred possible!! Easy.
Once it's shredded, you can jazz this up any way. I went the BBQ sauce route because I was mimicking a BBQ Chicken pizza – but you could also toss it with basil vinaigrette or an Italian red sauce if you wanted to go for Italian / Chicken Parmesan style. (literally salivating as I type this because shredded chicken parm tartines sound AMAZING and you might be seeing those here very soon!)
Alright! There you have it! Super easy and delicious dinner of BBQ Chicken Tartines that can feed 1 or a crowd in no time flat thanks to a quick trip to Vons and their Signature line of products! To find a store near you and to explore grocery delivery and pick up options, visit Vons xx
BBQ Chicken Tartines
These super easy to make BBQ Chicken Tartines are my go-to dinner when I'm in a pinch for time and want to take a few shortcuts from the store!
Ingredients
1

Signature Cafe Whole Roasted Chicken

1/2

cup

BBQ sauce

1/2

cup

shredded Colby Jack cheese

Kosher salt and freshly cracked pepper, to taste

Red Pepper flakes

8

slices

Signature SELECT Sourdough French bread, toasted

Olive oil

Cilantro for garnish
Instructions
Peel all the chicken away from the bone, discarding the skin and carcass and transfer the chicken meat to a bowl. If prepping ahead of time, follow the tips and tricks listed above. Toss the chicken with bbq sauce to evenly coat.

Preheat an oven or grill to 350 degrees.

Slice the bread into 1/2 inch pieces and drizzle with olive oil, place on a baking sheet. Toast in the oven or on the grill until golden brown. Remove from the heat and top with equal amounts of the bbq chicken mixture and cheese. Transfer back into the oven and broil until the cheese is just melted.

Remove the baking sheet from the oven, divide the tartines on 4 plates and season with salt, pepper, red pepper flakes and cilantro. Serve immediately.