Raise your hand if you've ever made a granita?? It COULDN'T be easier and I've been obsessing over this watermelon granita for weeks now!
This summer has been one for the record books! Between our trip to Italy, all the fun backyard parties, and the random road trips around California…. I don't ever want summer to end! The thought of not having a pool party to look forward to every weekend is seriously upsetting. A few weekends back we got together with two of my favorite ladies on the planet. They are both in the food world and it's so incredible to be around people that GET why you have a desire to take a picture of everything you eat before you actually eat it. So we did what we do best and put together an incredibly insta-friendly spread with a snack board, a loaded salad, a roasted chicken and a watermelon granita!
I was responsible for the salad (naturally – I made a version of my Fattoush) and the granita!! It's a boozy granita that's made with 2 ingredients, okay 3 if you include salt. All you need is a perfectly ripe watermelon, a can of Palm Breeze, and some flaky sea salt! Easy right? The watermelon gets pureed in a blender, combined with the Palm Breeze and stirred in with salt. Stick it in the freezer and let it solidify for a few hours before scooping it up and serving it as a boozy dessert / cocktail. Fun right?? Any variety of the three Palm Breeze flavors (Strawberry Pineapple, Rub Red Citrus, or Pineapple Mandarin Orange) will work as they all really compliment a watermelon! And you could even use a yellow watermelon if you can find one. I've seen them at the farmer's market and Trader Joe's the last few weeks! Get creative and enjoy!!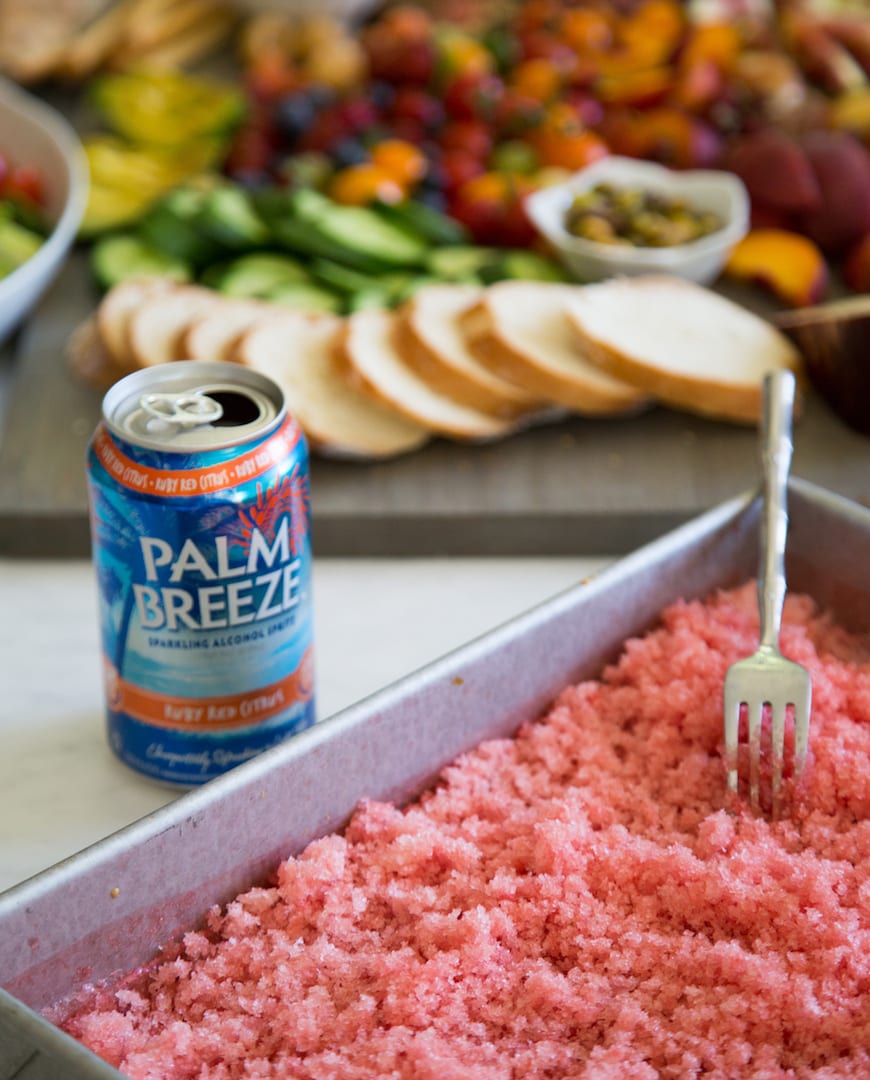 Boozy Watermelon Granita
Ingredients
1

small seedless watermelon

chopped (about 5 cups)

1

cup

Palm Breeze

any and all of the flavors are great!

1/2

teaspoon

kosher salt
Instructions
Puree the watermelon in a blender and measure out 4 cups of liquid; reserve any remaining puree for smoothies or ice pops.

Whisk in the Palm Breeze and salt until dissolved.

Transfer the mixture to a 9-by-13-inch dish and freeze for 4 hours, scraping the mixture with a fork once every hour to create small flakes. The granita can be frozen, covered, for up to 1 week.

Scoop the granita into chilled glasses as needed and serve immediately.
This article is sponsored by Palm Breeze. For deals, perks, recipes and more simply Shazam the Can.