Growing up I was always a broccoli kid. Maybe its because I would pile on a handful of freshly grated cheddar cheese and gobble it all up. (I do have a slight addiction to cheese ya know) I don't know. That certainly could have had something to do with it. But I always looked forward to the nights when my mom made broccoli. These days I'm even more of a broccoli freak. I pick some up every sunday from my farmers market and the farmers literally look at me like I'm crazy because no human could possibly eat that much brocc a week. Well, I can. And I'm proud of it.
It's like candy. At least if you make it this way. I've gotten skeptical kids and adults to LOVE it by lightly charring the broccoli and drizzling lemon juice on top. It makes the broccoli like 100% addictive, sweet and crunchy. If you're kids are picky eaters or your friends are broccoli skeptics, you've just got to try this method. I make this side dish for my boyfriend and I a few times a week, and more ofter than not, I wind up eating all of it before dinner is even ready. The crispy bits of the broccoli post-oven are just too good to pass up. Sprinkle that with some salt, pepper, freshly squeezed lemon juice and a touch of Asiago cheese for good measure… and I literally can't keep my hands off!
It's all about the technique for this recipe, especially because it's so simple. You just start with about 12-16 oz of cut up florets. Lay them on a baking sheet, drizzle with a touch of olive oil and place them in a 475 degree oven for about 20 minutes.
They will begin to slightly crisp up. Remove them from the oven after 2o minutes and give them a good toss with a pair of tons. Then cut a lemon in half and squeeze the juice over the top of the broccoli. Throw the 2 lemon halves onto the baking sheet and place the whole thing back in the oven for about 15-20 more minutes…
Once it's done, remove the baking sheet. Give it a healthy dose of salt and pepper and a sprinkle of asiago cheese if you're feeling jazzy and serve. You will have lightly browned and crispy pieces of broccoli and they will rock your world. For reals.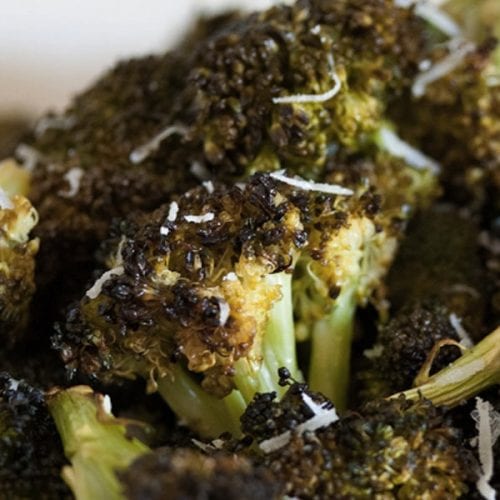 Charred Lemon Broccoli
Ingredients
1

head broccoli

cut into florets (or 12 oz broccoli florets)

2

tbsp

olive oil

1

lemon

2

tbsp

Asiago cheese

grated

salt and pepper to taste
Instructions
Preheat oven to 450 degrees F.

Spread the florets on a baking sheet and drizzle with olive oil. Using tongs, gently toss the florets in the oil to combine.

Place into the oven and roast for 15 minutes.

Remove from oven and squeeze the lemon juice on top of the broccoli. Place the baking sheet back into the oven for 5 minute intervals until charred.

Remove the baking sheet and season with salt, pepper and grated Asiago cheese and serve.
Summer Fest 2011 is a fabulous multi-week celebration of all things Summer with some fantastic people from Food Network and Cooking Channel as well as lots of great food bloggers and myself!
Here's what's been going on:
June 22: Eggplant
July 6: Peaches
July 20: Cucumbers
August 3: Cherries
August 17: Corn
August 31: Tomatoes
September 14: Broccoli (that's today!)