You guys. It's October. Where on earth did the year go?
I must say though, that it totally doesn't feel like October here in L.A. For example, yesterday was 91 degrees. What the heck? All I want in life is to throw on my boots and leggings and a big baggy shirt and throw something delicious in the oven, curl up on the couch and watch Homeland on repeat. Is that too much to ask? I sure hope not.
Anyways, now that October is officially here, I'm fully prepared to start baking and braising and cooking up a storm. And my first project: Chewy M&M Oatmeal Cookies. They remind me of home. And so I'm going to pretend that it's in the 60's in LA, and start my baking extravaganza. And then eat like 20 of them in honor of my dad's birthday this week. I'm fairly certain he would totally approve.
And these Chewy M&M Oatmeal Cookies are epic! Chewy. Filled with Oats. And dotted with delicious M&M's. Could you really ask for anything else?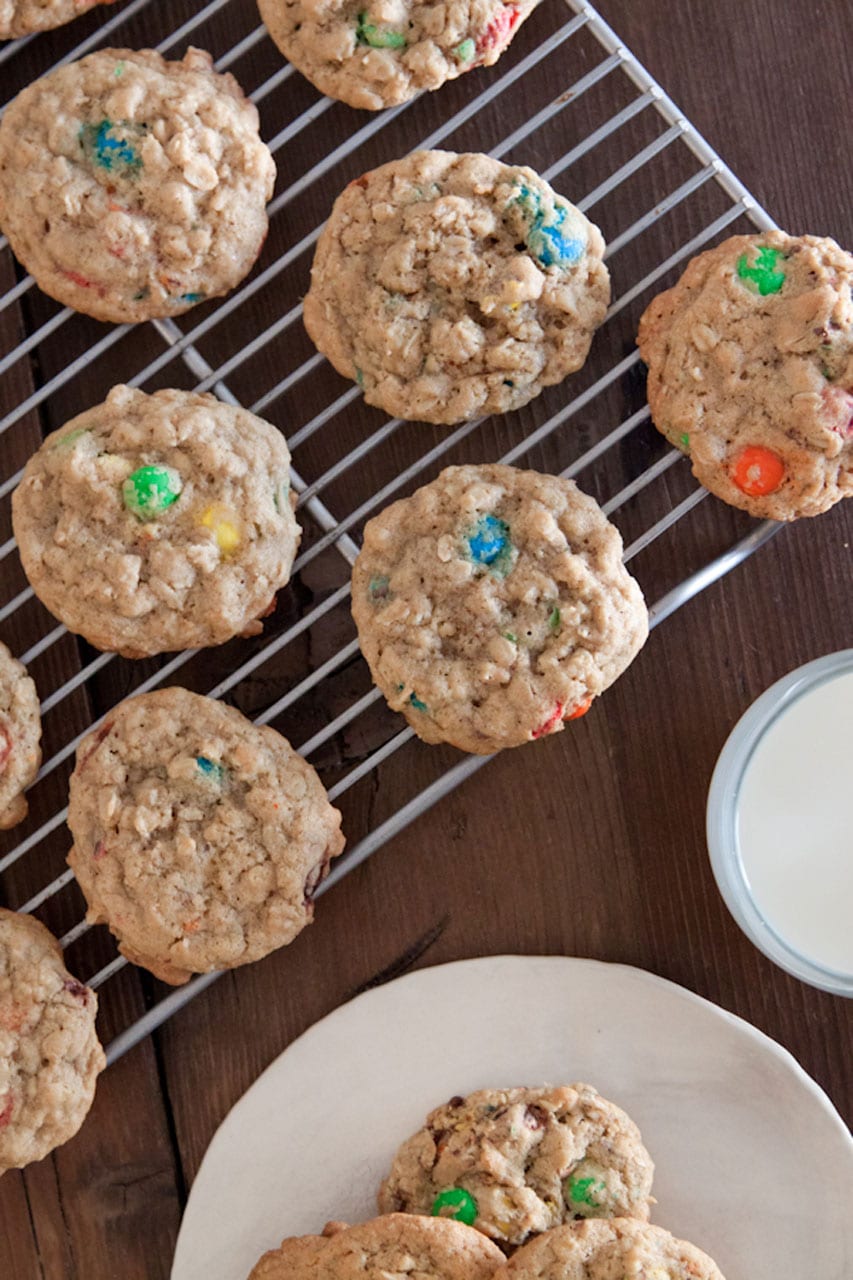 So while I'm pretending that fall is here, those of you living in the rest of the country where you are actually getting to enjoy fall, you should totally make these. They will make you happy. Especially if you snack on a few about 7 minutes after they come out of the oven. They'll be extra chewy and the chocolate will still be melted and delicious.
And my fellow Southern Californians, let's just throw a scoop of ice cream on these and call it a day, shall we?
Chewy M&M Oatmeal Cookies
Ingredients
8

oz

unsalted butter

softened

1 1/2

cup

brown sugar

2

large eggs

2

teaspoon

pure vanilla extract

2

cups

all-purpose flour

1

teaspoon

baking soda

1

teaspoon

sea salt

1/2

teaspoon

baking powder

1 3/4

cups

old-fashioned oats

2

cups

M&M's
Instructions
Pre-heat oven to 350 degrees. Line 2 baking sheets with parchment paper and set aside.

In a large mixer, combine the softened butter and brown sugar with a paddle attachment for 2 minutes.

Add the eggs one at a time, followed by the vanilla extract.

Add the flour, baking soda, sea salt and baking powder and slowly combine, making sure not to over-mix the batter.

Add the oats and M&M's and combine.

Refrigerate batter for 1 hour.

Using a 1 inch scoop, scoop 12 cookies onto each parchment lined baking sheet. Transfer sheets into over and bake for 10-12 minutes until the cookies just slightly turn a golden brown color on the edges but are still soft and chewy in the middle. Remove from oven, transfer to cooling rack. Repeat process for remaining dough.