I have a confession. Promise not to judge???
Okay here goes… before this Daring Bakers Challenge I have never ever eaten a Macaroon! GASP!
I know. It's bad. Don't hate me. Fortunately for me I was able to break this terrible trend before it got any worse.
The 2009 October Daring Bakers' challenge was brought to us by Ami S. She chose macaroons from Claudia Fleming's The Last Course: The Desserts of Gramercy Tavern as the challenge recipe.
For this challenge I opted to make 2 kinds of macaroons – Chocolate and Vanilla and filled them with Pumpkin Cream Cheese filling and Chocolate Ganache. Both were delicious and complimented each other perfectly!
Instead of buying my own almond flour, I thought I would be ambitious and grind my own. It came out a tad bit lumpier that I had hoped so for my next round of Macaroons I think I will buy the packaged Almond Flour!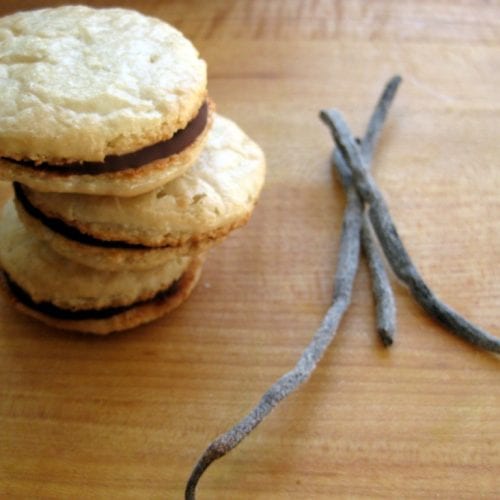 Daring Bakers: Macaroons
Ingredients
2 1/4

cups

Confectioners' sugar

2

cups

Almond flour

2

tbsp

Granulated sugar

5

Egg whites at room temperature
Instructions
1. Preheat the oven to 200°F. Combine the confectioners' sugar and almond flour in a medium bowl.

2. Beat the egg whites in the clean dry bowl of a stand mixer until they hold soft peaks. Slowly add the granulated sugar and beat until the mixture holds stiff peaks.

3. Sift a third of the almond flour mixture into the meringue and fold gently to combine. Be gentle! Don't over-fold, but fully incorporate your ingredients.

4. Spoon the mixture into a pastry bag fitted with a plain half-inch tip.

5. Pipe one-inch-sized mounds of batter onto baking sheets lined with nonstick liners (or parchment paper).

6. Bake the macaroon for 5 minutes. Remove the pan from the oven and raise the temperature to 375°F. Once the oven is up to temperature, put the pans back in the oven and bake for an additional 7 to 8 minutes, or lightly colored.

7. Cool on a rack before filling.
There are the Chocolate Macaroons with Pumpkin Cream Cheese Filling. Notice the "foot" that I successfully achieved with the macaroon!
And here are the Vanilla Macaroons with the Chocolate Ganache Filling. If I hadn't eaten so much plain ganache I would have been able to fill at least 2 dozen more Macaroons…. whoops. Luckily my boyfriend prefers them plain!
Macaroons are surprisingly easy to make – although I am fairly certain mine were not perfect (for example the top is supposed to be smooth and mine clearly are far from smooth – might have had something to do with grinding my own almond flour?) But hey, it was my first time – not too shabby!!