Who doesn't love a good chocolate chip cookie? Right!! I mean seriously people, we all LOVE chocolate chip cookies. And if you don't – I'll eat your share for you! I'm such a caring person 🙂
One of my good friends Carrie just recently came out with a book Deliciously Organic, in which she has tons of recipes that use REAL ingredients. None of that processed stuff! Carrie and I are always at the Santa Monica farmers market stocking up on the best and quality ingredients as it's something that is super important to both of us! Her new book is a collection of fantastic recipes that use organic ingredients and provides delectable results.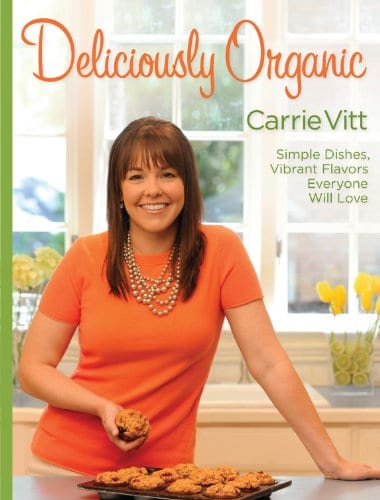 Recently I made the Chocolate Chip Cookies from Deliciously Organic, and while I won't share the recipe here (because you absolutely must go buy this book and explore all the recipes) I will tell you that it rivals any chocolate chip cookie I have ever eaten! I must confess that while in pastry school, I was scared to use any other kinds of flour, in fear that my cookies or cakes would be dense… but man was I wrong! Carrie's cookies call for roll oats, whole wheat pastry flour, whole wheat flour, whole cane sugar and muscovado sugar (none of which I had on hand) but I trekked to my local health store and stocked up on all of them! The result was a perfectly moist and light cookie. I promptly gobbled up 6 of these cookies and didn't feel bad about it at all.
Carrie's recipes are total crowd pleasers! There are organic twists on everyone's favorite comfort food like, Chicken Wings, Muffins, Cobblers and Cookies! And each recipe is easy to follow and will make your kitchen smell wonderful! Not to mention the photography in the book, which was shot by another friend of mine, Helene of Tartlette, is absolutely beautiful!!
AND… because Deliciously Organic is such an amazing and beautiful book – I want to giveaway a copy to one of my amazing readers!
To enter, just leave a quick comment telling me your favorite cookie of all times!! Mine – definitely chocolate chip.
For a second entry, What's Gaby Cooking on Facebook, then return here leaving another comment saying you did so.
The giveaway begins today, Thursday, January 20, 2011, and ends Monday, January 24th, at Midnight PST. Winners will be announced on Tuesday, January 25th.