Green juice.
Get into it.
It's my latest obsession and it's tasty. I realize that it might freak you out at first but trust me, this juice is obsession worthy.
I've been into juicing lately. I did a few juice cleanses here and there and now I'm making my own daily. Okay so maybe it's not every day, but every other day is still good right?
Let me let you in on a little juice secret. They make you feel really really good. I know, weird right? All those fruits and vegetables packed in a juice and it makes you feel good? What a concept right? But this green juice is just kinda amazing.
Also, I'm absolutely not into making new years resolutions like eliminating cookies from my diet (because let's be real here, cookies are a food group and it would be wrong to try and eliminate them completely) but I am into making changes that are good for you. Like this green juice. I'm obsessed.
It's basically like fitting all these glorious fruits and vegetables along with their vitamins, minerals and antioxidants into your body and then giving yourself a giant hug. Hands down, you just feel good after drinking this.
My green juice is made up of super foods like kale, spinach, romaine, apples, ginger, lemons, parsley, cucumber and celery. I drink it for breakfast every day. And then I go off on my merry way to do whatever it is I need to do with a smile on my face knowing that if I have a few cookies later in the day, at least I got my green juice in for breakfast.
Basically all you have to do is throw a bunch of ingredients into your juicer and let the juicer do it's work. The result is this glorious green juice 🙂 If you're new to juicing and the sight of this green juice totally freaks you out, I think it's safe to add an extra apple or two to your juice to give it a bit more sweetness.
I use a Breville juicer – any of these are fab!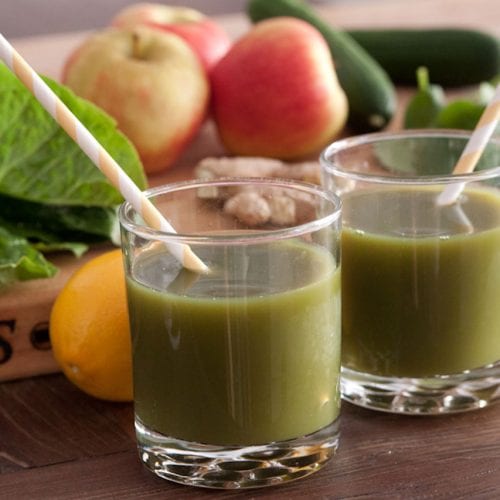 Green Juice
This green juice is packed full of vitamins and minerals and makes for the perfect meal on the go. This recipe makes enough for 2 large glasses of juice. I typically have 1 large glass a day, and then pop the second glass in the fridge for the following morning. Fast, simple and totally healthy!
Ingredients
3

leaves

kale

stem removed, roughly chopped

1

handful spinach leaves

roughly chopped

1

cup

chopped romaine lettuce

1

bunch parsley

roughly chopped

1/2

English cucumber

3

sticks celery

roughly chopped

2

apples

halved and seeds removed

1

inch

piece fresh ginger

1

Meyer lemon
Instructions
Place everything into your juicer, small amounts at a time, and juice.

Taste and adjust as needed.