This is a sponsored conversation written by me on behalf of The Original Donut Shop® Coffee from Keurig®
Game time guys. We're throwing it back to one of my childhood favorites – Glazed Chocolate Donut Holes!! 
Remember those epic Chocolate Donut Holes you'd get as a kid? Or maybe you get them still to this day? For me it was a special treat whenever we were on the road and we'd pick up a dozen donut holes, my parents would grab some coffee and we'd be on our way. It was the HIGHLIGHT of any road trip and those little donut holes were embarrassingly easy to eat. Still are. No shame in my game.
I thought it was high time we bring my version of the donut holes to the blog. I'm a chocolate kinda girl, in case you hadn't guessed over the last 7+ years of blogging, and the Glazed Chocolate Donut Holes are my jam. All you need is a little cookie scoop to make the perfect donut holes, a big cup of  The Original Donut Shop® Coffee made in my latest obsession, a Keurig® coffee maker, and it's game time! Invite your friends over because if you don't, I can't be held accountable for you consuming all of these in one sitting.
So, without further ado, grab yourself a cup of coffee and have at it!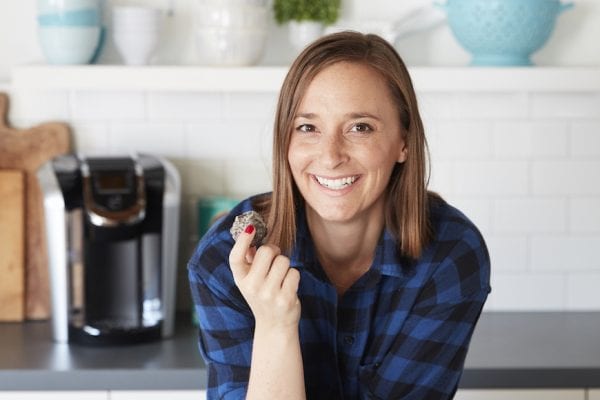 Glazed Chocolate Donut Holes
Ingredients
For the donuts:
2

tablespoons

unsalted butter

1 ½

ounces

unsweetened chocolate

chopped

1

cup

all-purpose flour

¼

cup

plus 2 tablespoons sugar

¼

cup

plus 2 tablespoons cocoa powder

¾

teaspoon

baking powder

¼

teaspoon

baking soda

½

teaspoon

kosher salt

¼

cup

buttermilk

1

tablespoon

pure vanilla extract

1

large egg

Vegetable oil

for frying
For the glaze:
2

cups

confectioners' sugar

2

tablespoons

milk

2

teaspoons

pure vanilla extract

Water

if necessary
Instructions
In a medium glass bowl, melt the butter and the chocolate together over a pot of barely simmering water. Remove from the heat and let cool slightly.

In another large bowl, whisk together the flour, sugar, cocoa, baking powder, baking soda, and salt. Add the buttermilk and vanilla to the melted butter mixture and stir to combine. Stir in the egg. Add the wet ingredients to the dry ingredients and stir with a wooden spoon until the mixture is combined. Transfer the dough to a piece of plastic wrap, wrap it well, and let it rest for 30 minutes in the refrigerator.

In a dutch oven with a candy thermometer attached, heat 3 inches of oil to 360° F. Scoop the dough into 1-tablespoon balls. Roll each ball into a circle.

Use a slotted spoon to gently lower the dough balls into the oil, 6 at a time. Adjust the heat as needed to ensure the temperature stays around 350° F and 360° F. Cook the donut holes until puffed and cooked through, 2 to 3 minutes. Use the slotted spoon to transfer the donuts to a paper towel-lined baking sheet. Repeat with the remaining dough.

In a small bowl, whisk together the confectioners' sugar, milk, and vanilla until smooth. Add a little bit of water if necessary. Dip each donut into the glaze and transfer to a drying rack over a baking sheet so any excess glaze can drip off. Let the donuts stand until the glaze is no longer wet.