As most of you know, Thomas is launching a company up in Seattle at the moment so he's up there for the year. I've been splitting my time between LA and Seattle and racking up those airline miles like a boss 🙂 You've seen a glimpse of the Seattle digs on instagram but I thought it was time for a full home tour so I could answer any questions in one place for easy access!! So here we go.
We teamed up with Room&Board to do a LOT of the house and Erin Kane (my designer who did our LA place, so she totally gets me!) and I'm straight up obsessed 🙂 I've tried to post a pic from almost every angle / room of the house so I can break down where everything is from and answer all your questions – but if I forgot something, just leave a comment below and I can update!
Our entry way dumps you right into my most favorite room, the living room. Obviously because that's where the couch and the TV live. 2 of the most important parts of my nightly routine! I wanted it to feel like a slice of California and it totally does (with a hint of safari which you'll notice as we go through – we hung photos from our safari all around the house).
Barlow Floor Lamp (Living Room)
Classic Cocktail Tables in Natural Steel with Walnut Top (Living Room)
Easton Sectional in Dawson Bone (Living Room)
Haven Stripe Throw (Living Room)
Natural Cowhide Pillows (Living Room)
Charles Leather Swivel Chair / Portofino cognac (Living Room)
Additional pillows were custom (Etsy)
Infinity Round Mirror (Entryway)
Morris Bench with Drawer in Walnut (Entryway)
Unity Basket for plant (Entryway)
Okay moving on…. the most USED room of the place is the kitchen / dining area! Duh.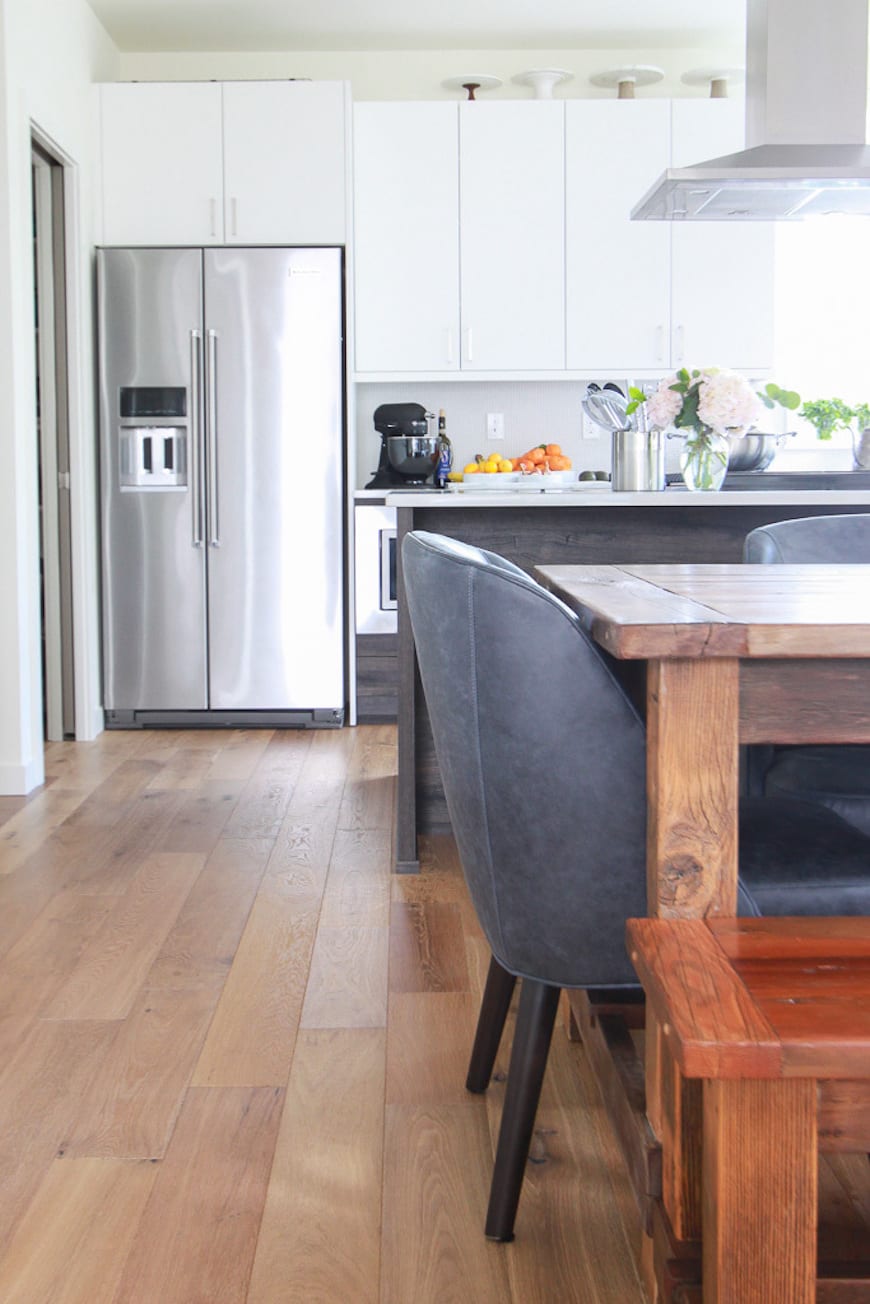 Dining Table – custom made by Thomas' Dad
Appliances are KitchenAid (we're just renting so I have no idea which models)
All the artwork on the walls is from my mom
and just for fun a peak into the fridge when it actually looks presentable. Most days it is NOT this clean or organized 🙂
Up the stairs we printed all our African Safari photos and just framed them ourselves.
Here's a peek into the WGC headquarters!
Office Chair // West Elm // Custom Reupholstery
Office Desk // Cost Plus World Market
Rug // Pottery Barn
Accent Chair // Dot & Bo
Accent Pillow // House of Pillows
Sheepskin Throw // CB2
Desk Lamp // Target
Wall Photos // Matt Armendariz Photos for What's Gaby Cooking
Shelves // West Elm
Bookcase // West Elm
Editorial Calendar // River and Bridge with DIY Frames
And the guest bath is so freaking cute and sweet I can't get enough. All the towels and shower curtain is from Parachute and the art is from my mom!
So there it is, the Seattle place in all it's glory EXCEPT our bedroom which is getting finishing touches this weekend and I'll add it in here when it's done. I'm obsessed. But I'm about to be in Seattle almost never since my book tour starts in about 6 weeks! Eeeeeeeek! Announcing all the stops next week.