I promised this week would be a fab week of new recipes and I hope this won't disappoint! Tonight I made grilled chicken with a fabulous fresh salad – and it was soooo yummy. It is quick and easy and you should try it!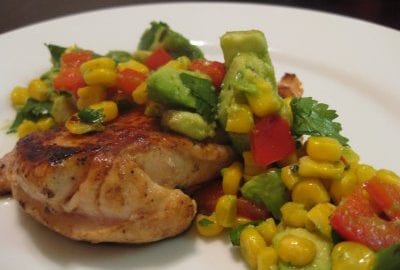 Lemon Chicken with an Avocado, Cilantro and Red Pepper Salad
Ingredients
2

Chicken Breasts

2

Lemons - juiced

1

cup

corn

1

red pepper

2

avocados

1/4

cup

of cilantro

1

lime juiced

salt and pepper to taste
Instructions
In a large skillet drizzle a tad of olive oil and turn the heat up to medium high. Season your chicken with salt, pepper and the juice of a lemon. Then place the chicken seasoned side down into the heated skillet. Then season the other side. Grill the chicken about 7 minutes on each side and drizzle more lemon juice during the grilling process.

Then in another skilled add 1 cup of corn and 1 red bell pepper chopped. Let these cook together for a few minutes and then remove from the heat. Add the corn and red pepper to a large bowl and then add the cilantro and chopped avocado. Add the juice of 1 lime and mix everything together. Place the bowl into the fridge and let cool until the chicken is done.
Once the chicken has cooked through, remove the corn mixture from the fridge and serve the mixture over the chicken. This dinner was fantastic, I hope you enjoy it too!
xo