Well, I guess I couldn't avoid it forever, football season is officially here. I've been up to my eyeballs hearing about my husbands, among other guys, fantasy football drafts. I don't know the first thing about fantasy football, or regular football for that matter, (I blame it on the fact that my college didn't have a football team) but I certainly know how to feed a hungry crowd when it's game time. Enter…. Mini Chicken Tostadas!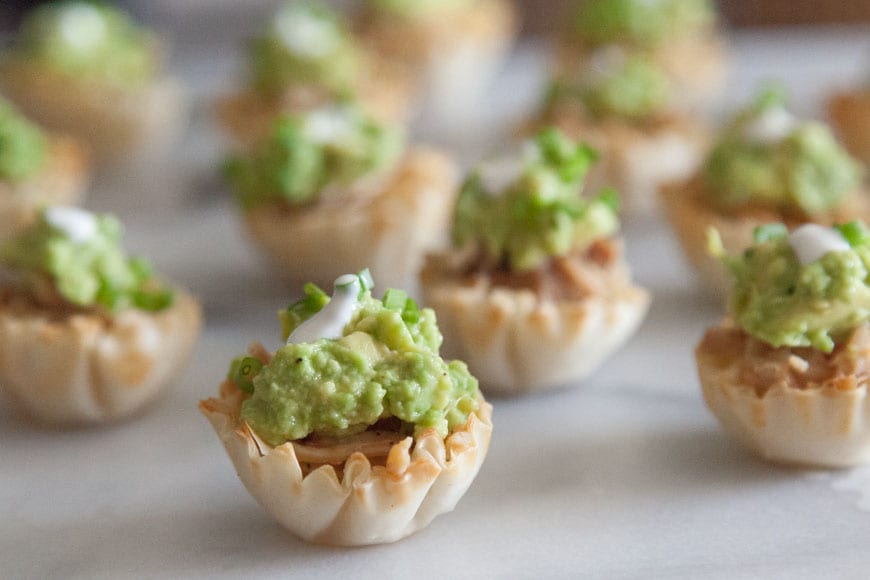 These Mini Chicken Tostadas were my answer over this past weekend and will continue to be part of my football grub menu for the coming months. I used these super cute little Filo Shells that are insanely easy. Once you thaw them out and they come to room temperature, you just fill them up with some shredded chicken, a dollop of guacamole and then top it with some crema and chives.
Done and done. How easy is that? No baking involved – which is extremely appreciated because while the rest of the states might be getting ready for fall, I'm fairly certain summer just started here in LA.
These are especially easy to throw together if you have some of that Mexican Shredded Chicken on hand, like I do at pretty much all times.
Or if you were vegetarian, you could just forgo the chicken all together and just stuff the Filo Shells with guacamole.
Either way, these Mini Chicken Tostadas are perfect for game day! And I suppose as long as I can snack on these during games, I'll be able to survive football season. Or maybe I'll just take up a new hobby that conveniently gets me out of the house during key times. Like rock climbing. Let's see how long that one lasts 🙂
Mini Chicken Tostadas
Ingredients
15

Athens Filo Shells

1 package

1

recipe chipotle guacamole

1

cup

shredded mexican chicken

Mexican crema to serve

Freshly chopped chives to garnish
Instructions
Take the filo dough shells out of the freezer and bring to room temp

if you have previously made the chicken, take it out of the fridge and re-heat in the microwave for about 1 minute until hot. If you are making the chicken fresh, make it according to the directions and then set aside.

Place a small amount, about 1 teaspoon of shredded chicken in each filo shell, followed by about 1-2 teaspoons of guacamole on top.

Place a tiny dollop of crema on top of the guacamole and then sprinkle with chives.

Serve as needed.