I mean I guess you could call this a salad.
You could also kinda call it a toss. Or a mixture. Pilaf? I'm not exactly sure. But let's just go with it.
Lunch is pretty much my favorite meal of the day. And I like to eat a pretty substantial lunch. That way I can be comfortably full for the rest of the day, have a light dinner, and head to bed without feeling weighed down. Although, come to think of it, you could totally rock this salad/toss/mixture as a dinner and still feel great when you head to bed.
It's a mixture of 3 of my favorite things. Caramelized mushrooms. Farro. Finely grated fontina cheese.
Boom. Done and done.
Could it get any easier? I think not.
I've been doing a ton of work from home recently, so I've started boiling off a big pot of farro at the beginning of each week and then sautéing it with fun ingredients from my farmers market to mix things up every day for lunch. And yesterday's lunch was this Mushroom, Farro and Fontina Salad. I'd highly recommend it. For reals.
So, yesterday I had this for lunch and dinner. And chances are, I'll make it again this weekend. The key to this dish is to really cook the mushrooms for a while. I sauté the heck out of them until they are a deep dark golden color and have a lot of flavor. Also, I add a ton of garlic. It's the right thing to do. Plus it's healthy for you. And I don't know about you, but I'm certainly not making out with anyone while I work from home. So you safe from the "garlic breath" situation too. Maybe just give your teeth a quick brush before your honey comes home. Or not. Whatever floats your boat.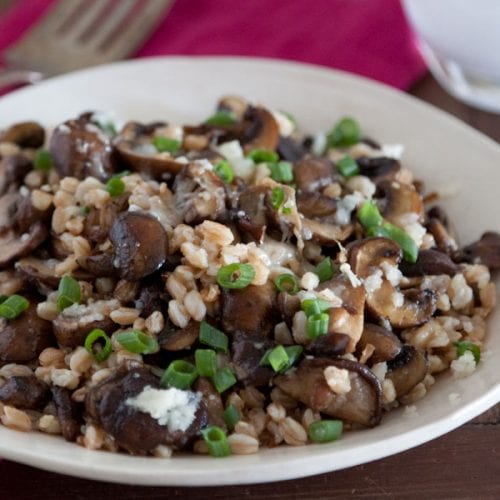 Mushroom, Farro and Fontina Salad
Ingredients
1 1/2

cup

cooked farro

3

tbsp

olive oil

1

lb

mushrooms

I used baby bellas, shitakes, and enoki mushrooms, chopped into pieces

2

cloves

garlic

1/2

cup

white wine

1/2

cup

finely shredded fontina

kosher salt and freshly cracked black pepper pepper to taste

2

scallions

chopped
Instructions
Place the cooked farro in a large bowl and set aside,

Place the olive oil into a cast iron skillet over medium high heat. Once the oil is shimmering, add the mushrooms and saute for about 15 minutes, stirring occasionally, until they are golden brown.

Add the garlic and stir for 30 seconds before adding the white wine. Continue to cook the mushrooms until the white wine has evaporated and then remove the mushrooms from the heat.

Toss the mushrooms and farro together and season with salt and pepper.

Sprinkle the fontina on top of the mixture. Garnish with the sliced scallions and serve.