I figure life is all about balance. Monday = slutty brownies. Wednesday = salads!! Specifically salads with this Herb Mustard Vinaigrette. wooohoo. Balance. It's the story of my life. Other things that I try to balance, my inordinate amount of lululemon pants with fabulous heels, my obsession with trashy TV and the real news, etc.
This Herb Mustard Vinaigrette is the ultimate salad dressing. My future mother in law whipped up a salad for us with this dressing and I pretty much fell in love. I tweaked a few things here and there and the result is fabulous. It's a combination of whole grain dijon mustard, red wine vinaigrette, some herbs and freshly grated Parmesan cheese. There's not one bit of sugar in this but it's perfectly balanced. I whip up a bottle of this Herb Mustard Vinaigrette at the start of each week and use it constantly. It's great on any kind of salad. Or a chilled pasta salad. Or on grilled chicken. I'm sure you get the idea! And the bottom line is that you've just gotta make this Herb Mustard Vinaigrette.
Okay, here's how to do it…
Start with an empty jar with a lid. I'm all about easy clean up, so the jar is just perfect. You add all the ingredients, shake it up, and then store it in the fridge. No clean up at all!
Add some freshly chopped garlic
A few chopped shallots
A dollop or two of whole grain Dijon mustard (I mean it is a Herb Mustard Vinaigrette after all!)
Some dried oregano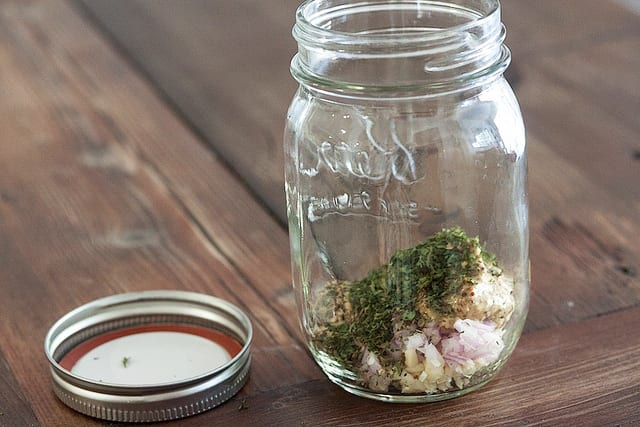 Followed by some dried parsley
Throw in some freshly cracked black pepper
And a sprinkle of flaky salt
Next, pour in some red wine vinegar
And a healthy pour of olive oil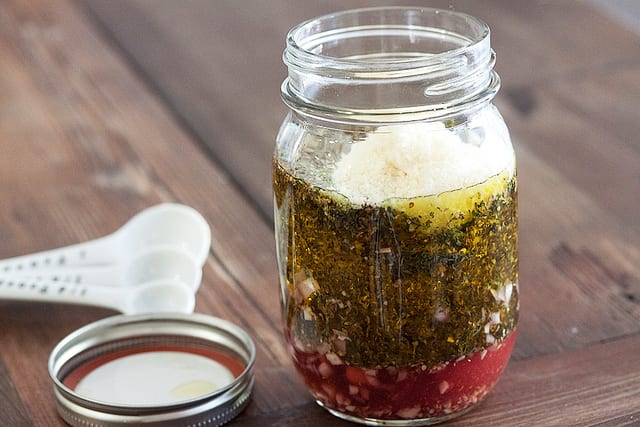 Top it off with some freshly grated Parmesan cheese
Tightly put the top back on. This is key. Otherwise you'll have a giant mess.
Shake, Shake, Shake!
And then use this Herb Mustard Vinaigrette for all of your salads!
This dressing keeps well in the fridge for about a week! Just let it come to room temperature about 30 minutes before using it!
It's particularly wonderful on spinach salads with chicken. Or steak. Ok it's just awesome. You have to give it a try!
Check out the recipe on Tasty Kitchen!