As a chef / food blogger / recipe developer and general lover of all things involving food, it's safe to say that I love a trip to the grocery store.
I go on a daily basis (most of that is because I don't have a car so I just go get a few things daily) but I'm constantly on the lookout for fun foods, new brands, new flavors and anything else that strikes my fancy! And you know who else loves a grocery store – my 2 best friends Matt + Adam! After traveling the world with them, I actually think they love a grocery store more than me! They make it a point to go to the local markets in every city we visit and it's always so fascinating to see what other countries are stocking their shelves with! From Peru to Argentina to Costa Rica to Australia and more – they've covered the markets and they've passed their obsession on to me.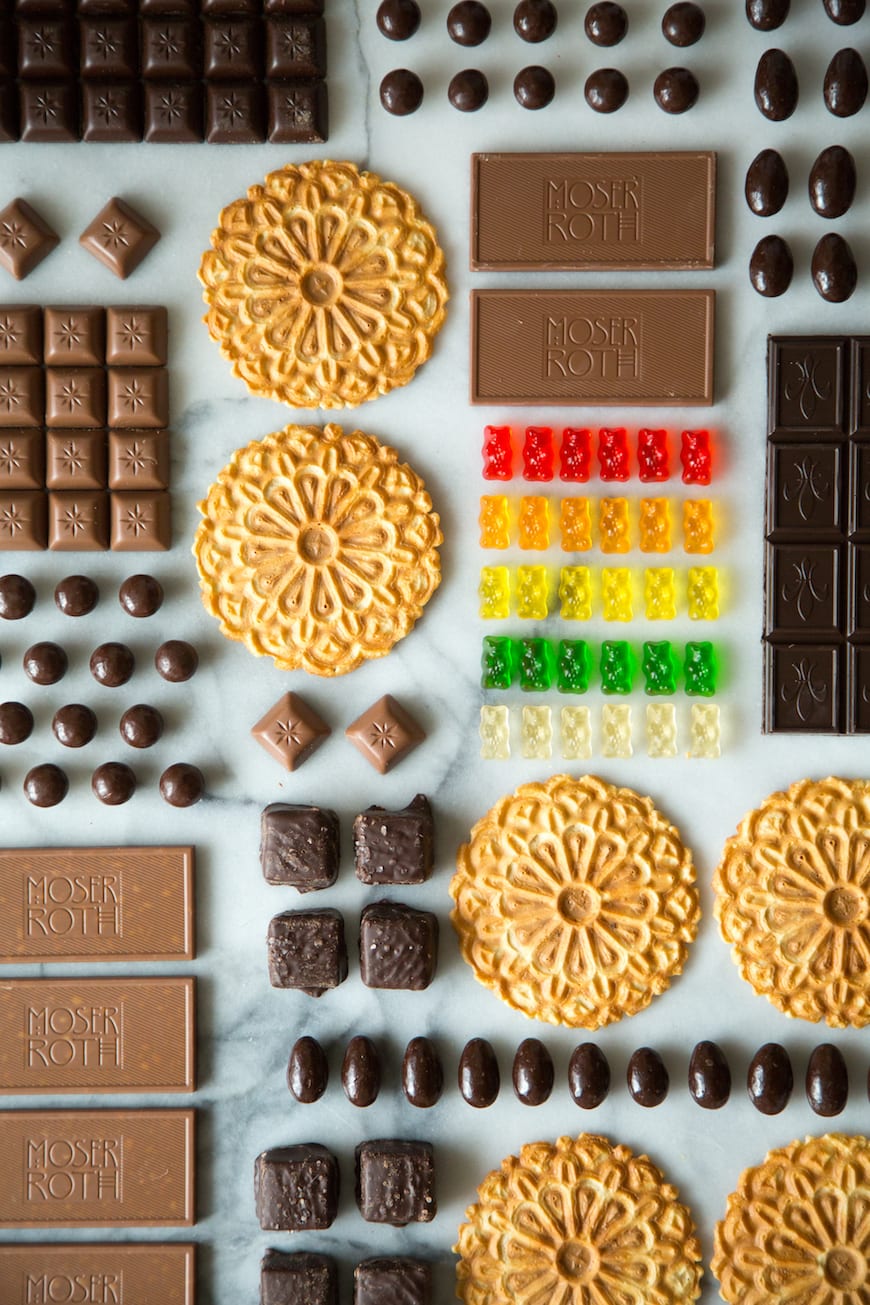 I'm excited to be teaming up with ALDI (you probably noticed some fun videos on my snapchat last week when I spent some time with them up in Central California wine country) and when I told my parents what I was working on… my mom was like I KNOW ALDI!! She spent a LOT of time in Germany as a kid, lived there for a while, and ALDI was all over the place. It feels like fate. She immediately told me that they have a wall of chocolate and candy and CHOCOLATE and more chocolate and it's literally the first thing I saw when I waltzed into their new stores in Southern California.
Can we talk about how much I love a wall of chocolate?? With tons of varieties: Milk Chocolate, Dark Chocolate, Chocolate with Caramel, Dark Chocolate Covered Almonds, Milk Toffee Crunch, Dark Chocolate Covered Superberries, Caramel Brownie Chocolate Bars, and while it's not chocolate they also have Haribo Gold-Bears, which are German gummy bears and I used to get them sent over from my family in Germany every Easter and I'd hoard them in my room, hide them behind my pillow, and only eat a few a day so they could last forever. Obviously I didn't have an ALDI in my neighborhood to help satisfy my cravings.
Anyways… they have other things other than chocolate. It's a huge store dedicated to keeping costs seriously reasonable and customizing everything to please the customer! They have exclusive ALDI products that are free from certified synthetic colors, partially hydrogenated oils and added MSG, tons of organic and gluten free options, regional favorites and a wine section that will blow your mind. And while they do have their own exclusive products like I mentioned, they also carry tried and true favorites – for example they have some really incredible cheeses in their dairy section like my favorite Sonoma Jack! And they majorly pay attention to what their shopper needs. Here in Southern California we do a LOT of Mexican inspired cooking and low and behold ALDI stocks everything you need to keep a stocked pantry – tomatillos, jalapeños, all kinds of tortillas, poblano peppers, masa… the list goes on!
ALDI stores are opening up all over the Southern California area and you MUST check one out next time you're in the neighborhood! And take notice of the chocolate bar… IT'S EVERYTHING!
** This post is brought to you by ALDI. All content, ideas, and words are my own. Thanks for supporting the sponsors that allow me to create new and special content like this for What's Gaby Cooking**