I am all about a spa day. Being pampered, getting a facial, cleansing my skin, getting a massage, you name it… if it happens at a spa, I'm in!
As I get closer to turning 30, I'm really starting to up the ante when it comes to taking care of my body. Half the battle is what goes INTO my body – which I'd say is 85% healthy! There's a ton of avocado in my diet, I try and load up on vegetables on a daily basis, fruit happens daily and I indulge in a decadent cheese plate once a week. It's all about balance right?
The other half of the battle is what goes ONTO my body. Gone are the days of laying out in the sun for hours getting a tan or wandering around town without a hat. I learned that a few years ago and was reminded last time I went to get a facial! I'm trying my best to keep my skin looking young and a DIY spa day it one of my favorite ways to ensure that happens! So today that's exactly what we are doing!! A few things you need to create the ultimate spa day at home with yourself, your friends, your mom, your significant other…you name it! No one is going to argue when you invite them over for this!
It's all about keeping things clean and light and as minimally processed as possible. Which means we're keeping it simple. We need spa water – because that's how every good spa appointment begins! I've made a duo for today's festivities but you can get jazzy with ingredients! Depending on the season you could add peaches, nectarines, raspberries, blueberries… really the possibilities are endless.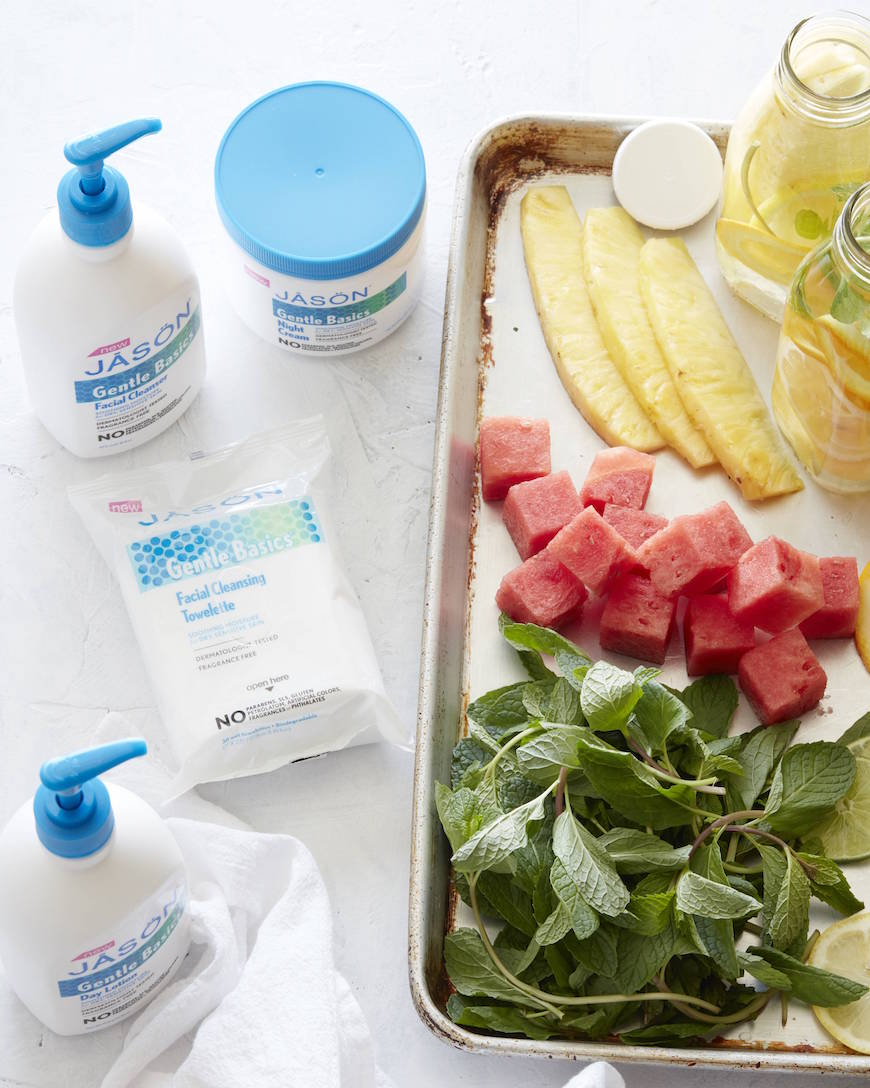 Once you've got your spa water prepped and ready to go, you need back-to-basic products like the JĀSÖN Gentle Basics line. All the skin care products are dermatologist tested and clinically proven to care for dry, sensitive skin without any irritation. Not to mention they are hypoallergenic and are made with only a minimal number of essential ingredients – something that I'm SUPER aware of right now because I hate having weird stuff around my house that is going to potentially mess with my skin! (In fact, you should see my cleaning supply cabinet – it got a full overhaul a few weeks ago with majorly organic and quality cleaning supplies! The amount of research I did for that was crazy – I'm fairly certain my husband thinks I've lost my mind.)
Grab some cucumber slices and give yourself a cleansing scrub with the facial cleanser, throw some cucumber slices over your eyes, and then moisturize the heck out of your skin until you're dewy and then most importantly RELAX!! 🙂
Spa Water
Ingredients
For the Pineapple Citrus Spa Water
water

sliced of pineapple

orange slices

a few sprigs fresh mint

lemon slices
For the Watermelon Cucumber Mint Spa Water
water

cubes of watermelon

halved strawberries

slices

of lime

cucumber slices
Instructions
Combine the ingredients for each spa water into a large pitcher and fill with water. Let infuse for at least 4 hours before drinking and keep in the fridge for 3-4 days before replacing with another batch.
Photo by Matt Armendariz / Food Styling by Adam Pearson / Recipe from What's Gaby Cooking
** This post is brought to you by JĀSÖN Gentle Basics. All content, ideas, and words are my own. Thanks for supporting the sponsors that allow me to create new and special content like this for What's Gaby Cooking**