I've basically been having the best time working the Mushroom Channel as an ambassador this year. I basically never want this year to end because I want to keep eating insanely large amounts of mushrooms on a regular basis. I guess I can do that anytime to be honest, but stuffing my face in the name of recipe development, for an awesome client, seems like such a really good excuse to eat. Especially when Pasta with Mushrooms, Herbs and Cheese is involved. Mushrooms, cheese and pasta – I vote yes.
I often experience serious cravings for pasta, especially pasta with mushrooms. I don't know why, other than the fact that I grew up and basically only ate pasta for the first 10 years of my life. Thank goodness I was on the swim team, otherwise I would have turned into one giant carb.
Back in the day it was always spaghetti noodles with some garlic, olive oil and parmesan cheese. Nowadays I like to do a throwback to my inner little kid self and do basically the same thing but with some seriously sautéed mushrooms and herbs.
Really you only have to sauté the mushrooms for a little bit to consider them cooked, but I like to cook them for about 10-15 minutes over medium heat so the flavors really develop and they begin to caramelize. Then they get topped with some freshly cut herbs, tossed into a whole wheat spaghetti bowl and topped with lots of shredded Parmesan cheese.
To make things even more jazzy, and because I like to radiate garlic at all times, I throw in some garlic and shallots to give an extra oomph of flavor. I'm just kidding about radiating garlic. And the amount of garlic in this recipe will not make you radiate, unless of course you eat the entire thing by yourself. But I have been known to eat some serious garlic and I swear that my skin has a garlicky scent. Is that weird? Don't judge me. I can't help myself.
Pasta with Mushrooms, Herbs and Cheese is a simple weeknight meal that I always make extra of so we can eat the leftovers for lunch the next day. And another great thing about this easy dinner, is that you can switch it up a bit as needed. For example, basil is my go-to herb in this one, but last week I only had some chives and scallions in my garden (I ate all the basil the week before making a basil spinach pesto) so I just substituted the other herbs and it was just as glorious. Parsley works great too!
Happy Mushroom cooking! And if you're anything like me, don't eat all the mushrooms before you toss them into the pasta. It's a problem. I just can't help myself.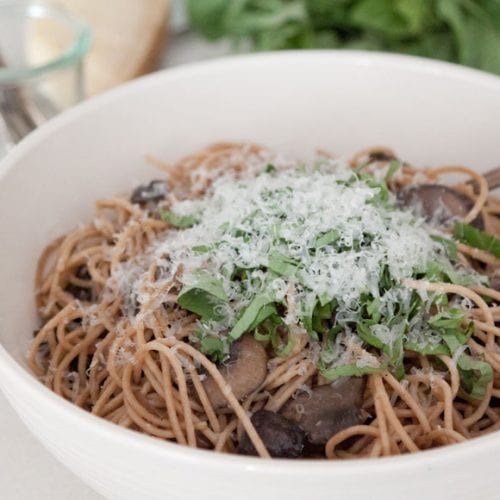 Pasta with Mushrooms, Herbs and Cheese
Ingredients
2

tablespoons

olive oil

divided

10

ounces

mushrooms

any variety will work, cut into thin slices

2

cloves

garlic

thinly sliced

1

shallot

thinly sliced

1

teaspoon

salt

1/2

teaspoon

pepper

10

ounces

dried whole-wheat pasta

¼

cup

fresh basil leaves

cut into a chiffonade

½

cup

Parmesan cheese

shredded
Instructions
Bring a large pot of water to boil.

Heat the 2 tablespoons of the olive oil in a heavy bottom skillet over medium high heat.

Add the mushrooms and sauté for about 10-15 minutes, stirring occasionally, until the mushrooms are golden brown and caramelized. Reduce the heat to medium and add in the garlic and shallot and sauté for a few minutes more until the shallot is just translucent.

Taste the mixture and season with salt and pepper as needed.

Add the pasta to the boiling water and cook according to the package directions. Once the pasta is cooked, reserve 1/2 cup of the pasta water and drain the pasta. Add the cooked pasta and remaining water to the mushroom mixture and toss to combine. Adjust salt and pepper as needed and top with basil and parmesan cheese. Toss everything together to combine and serve.