As you probably already know, I have become obsessed with food that is small and bite sized, or that I can hold in my hand. Kinda like this shrimp hand roll stuffed with pesto, spinach and other delicious veggies! This is a healthy option for a lunch – not to mention if you use whole wheat tortillas or even wheat free tortilla, well then its even healthier!
Since discovering how easy this is, and seeing recipes similar all over the Food Network, I like to keep all the ingredients in my fridge so when I am hungry and on the go at lunch, I can quickly throw this together and be good to go!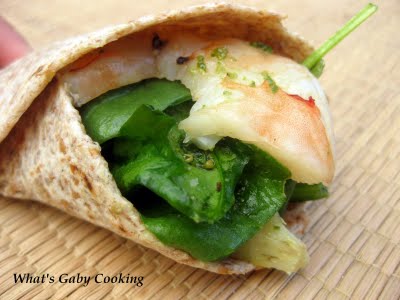 Pesto Shrimp Hand Roll
Ingredients
1

package of mini tortillas

1/2

pound

shrimp

peeled, deveined and halved

spinach

chopped

1

jar of sun dried tomatoes

sliced

artichoke hearts

quartered

pesto
Instructions
In a large saute pan with a tad bit of olive oil, saute the shrimp over medium high heat until they are pink and perfect. Season with salt and pepper and remove to let cool. Now you can start your assembly line (we're going to do this assembly style because it makes everything easier - and who doesn't love that):

line all of your tortillas on the counter

place 2 tbsp of pesto on each tortilla and spread around

sprinkle as much spinach as you would like over the pesto

top the spinach with some slivered sun dried tomatoes

next add a few quartered artichoke hearts

lastly add the shrimp - as much as you like - I love my shrimp so I used about 5 per roll (which is really only 2.5 shrimp since we split them in half lengthwise to begin with).

adjust seasoning as needed

wrap up your hand roll so one end is totally closed and the other is ready for you to take a big bite.

eat

Pretty easy huh? You can try this with chicken, steak or any other kind of fish. You can also mix up the other ingredients inside and use roasted bell peppers or sauteed zucchini… the possibilities are endless! Enjoy!