Is it weird to crave Bolognese sauce in the summer?
I hope not. Because it's one of those year round comfort foods for me. I seriously can't get enough.
Bolognese sauce is one of those quintessential recipes that you've always got to have in your back pocket. It feeds a crowd, comforts just about everyone and is one of the best ways to whip up a quick dinner.
I like my Bolognese sauce simmered with lots of red wine. A Cabernet Sauvignon is perfect for this. It's dark fruit and blackberry components make this sauce seriously stand out in a crowd.
Bolognese sauce is basically a combination of some sautéed aromatics like onions, celery, carrots and garlic, some dried herbs like basil and thyme and then ground beef. Sometimes I'll use a little ground pork too, but for simplicity reasons, you can stick with ground beef. Once everything gets sautéed and the meat begins to brown, you just add in a little red wine and let the wine reduce to really intensify the flavor. Then you just finish it out with some whole milk and some crushed tomatoes to give it that great bright red color and let it simmer for a bit so the flavors can really develop and shine.
This is a great dish to make a day ahead of time too! I even like to make big batches of this and then freeze it in smaller portions so I can take it out of the freezer and re-heat it when I need a delicious and comforting meal. One thing to keep in mind when you're making a sauce such as this, go ahead and season it a little bit with salt and pepper throughout the cooking process. It's going to give you more flavor than just seasoning it at the end of cooking!
So I guess the moral of the story is, I should make a big batch of this right about now and then freeze little portions so I've got it ready to go throughout the summer when a Bolognese craving strikes!
Step by step pictures are coming at ya….
ready, set, go!
(Recipe at the bottom!)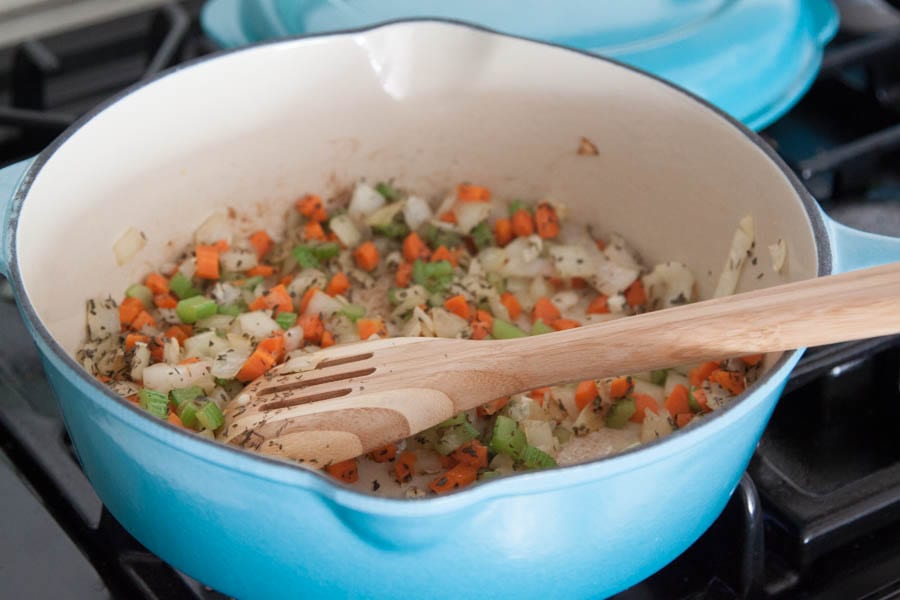 Quick Cabernet Bolognese Sauce
Ingredients
1

tablespoons

olive oil

1

medium yellow onion

finely chopped

3

medium stalks of celery

finely chopped

2

large carrots

finely chopped

2

cloves

garlic

finely chopped

1

teaspoon

dried basil

½ teaspoon dried thyme

1-

pound

ground beef

10% fat or less

3/4

cup

The Naked Grape Cabernet Sauvignon

1/2

cup

whole milk

2

cups

canned crushed tomatoes

Salt and freshly ground black pepper to taste

10

ounces

dry spaghetti pasta

Optional: Freshly grated Parmesan cheese and fresh basil to serve
Instructions
Heat the olive oil in a large cast iron skillet over medium high heat.

Once the oil shimmers, add the onion, celery, and carrots and sauté for about 5-7 minutes until the onions are translucent and the carrot begins to soften. Add the garlic, basil and thyme and season with salt and pepper. Stir to combine and cook the garlic for about 1 minute.

Add the ground beef and using a wooden, spoon break up the meat into small pieces and stir to combine. Sauté the beef until no pink remains and the beef starts to brown.

Add the wine and lower the heat to medium so the sauce continues to slightly bubbly. Stir occasionally until the wine has reduced by at least half. Carefully, scrape up any brown bites stuck to the bottom of the skillet while the wine cooks down.

Add the milk and crushed tomatoes and stir to combine. Let the sauce continue to simmer for about 15 minutes more until it thickens. Season with salt and pepper as needed.

While the sauce is simmering, cook the pasta according to the package directions. Once the pasta is al dente, drain the water off and season the pasta with a pinch or two of salt. Mix the pasta and the Bolognese together and serve as needed.

Top with Parmesan cheese and fresh basil if desired.