I'm pretty jazzed about today's post. You see one of my friends, Jaden of Steamy Kitchen, just came out with her 2nd cookbook Steamy Kitchen's Healthy Asian Favorites
. And it's seriously gorgeous, not to mention the fact that it's packed to the brim with tons of healthy Asian recipes that are fast, fresh and simple enough for tonight's dinner.
I'll be totally honest – I never really experimented much with Asian cooking until I was in culinary school – and even after that it was a once in a while experience. And I seriously have no idea why. All the recipes in Jaden's book, this one and her first, are seriously delicious. They are loaded with flavor and easy! And those words are seriously music to my ears, especially after a long day when you just want something comforting, fast and fun for dinner. After paging through the entire book, I was hard pressed to make a decision which would be my first recipe. I finally decided on this Quinoa Salad with Avocado and Peas because as you all know, I'm obsessed with avocados and I'm in love with quinoa. So it was a no-brainer. While this recipe doesn't typically call for salmon, I decided to throw some in because with the salmon it's so perfect for a quick weeknight meal!
The recipe was a total smashing success. Tons of flavor from the avocado, edamame, snap peas and then the dressing that it's tossed in is one that I would keep on hand for multiple occasions! It could work on just about anything. And just look at it! How healthy does that look? I've been eating the leftovers for lunch for the past 3 days and I feel awesome after each meal.
So if you're like me, and have been somewhat hesitant to whip up some tasty Asian recipes on a regular basis – fear not!! Jaden's book makes it so easy and stress free to eat delicious, clean and healthy any night of the week! I, for one, know that I'll be using it a heck of a lot around here. With recipes such as Salmon Honey Teriyaki Salmon, Dan Dan Mien, Stuffed Miso Eggplant, Vietnamese Summer Springs Rolls and Edamame Noodle Salad, you seriously can't go wrong!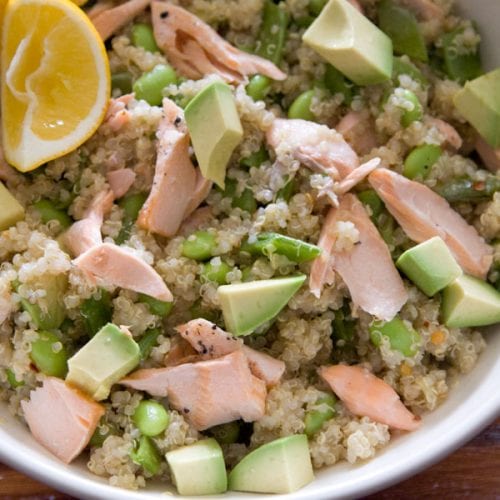 Quinoa Salad with Avocado and Peas + Steamy Kitchen Giveaway
Ingredients
For the quinoa
1

cup

dried quinoa

2

cups

water

1

avocado

diced

1

cup

cooked

shelled edamame

6

ounces

sugar snap peas

cut in half
For the Lemon Soy Dressing
Grated zest of 1 lemon

1 1/2

tablespoons

freshly squeezed lemon juice

1

teaspoon

finely grated fresh ginger

1

tablespoon

honey

1

teaspoon

crushed red pepper flakes

1/4

cup

rice vinegar

1/4

cup

soy sauce

3

tablespoons

grapeseed or olive oil
For the Salmon (optional)
1

lb

fresh salmon

1

tablespoon

olive oil

salt and pepper to taste

1

lemon

juiced
Instructions
For the quinoa
Place the quinoa and the water in a saucepan and bring to a boil. Reduce the heat to a simmer, cover, and cook for 10-15 minutes. Let cool a bit, about 5 minutes.

Toss the quinoa with the remaining ingredients and the 1/2 of the dressing and taste. Add more dressing as needed and serve.
For the Lemon Soy Dressing
Add all ingredients to a mason jar, close lid tightly, and shake a few times
For the Roasted Salmon
Preheat the oven to 425 degrees F.

Place the salmon, skin side down, on a baking sheet. Drizzle with olive oil and season with salt and pepper.

Place the salmon into the oven and bake for about 15 minutes until the salmon starts to flake apart. Remove the salmon from the oven. Squeeze the lemon on top and flake it into pieces to add to the salad