I'm super into kale at the moment. After my daily morning green juice (which has kale mind you) I've been into having kale salads for lunch.
Yup, it's the new year. And I'm being healthy. I've got a wedding dress fitting in less than 8 days and I've got to be in peak physical condition!
By the way, have you ever been wedding dress shopping? Omg is it stressful. When I first went, I didn't have the slightest clue what I was looking for. Nope, not one bit. In fact, it's a good thing I brought my uber stylist flower girl with me, because she is an avid "say yes to the dress" watcher and pretty much narrowed down my choices for me. But now it's time for the real shopping. My moms coming into town and it's time to get down to business. We've got dresses to pick, shoes to match, and accessories to shop for. So I'm eating kale non stop for the next week so I can feel super healthy while I'm shopping. And because, have you ever tried shopping after you had a giant burrito with cheese and guacamole? It's not pretty, I'll tell ya that.
This Kale Salad with Lemon, Parmesan and Cannellini beans is kinda amazing. The kale, which is clearly loaded with things that are really good for you, has a nice texture that compliments the cannelini beans. Throw on some freshly shredded Parmesan Cheese and a citrus vinaigrette and you've got yourself one fine looking salad.
You could throw in some avocado here too, or perhaps a handful of nuts to give things even more of a crunch, but one thing is certain, you're going to feel super good about yourself after eating this! It's light, refreshing and filling. Gives me all the energy I need to get on with my day!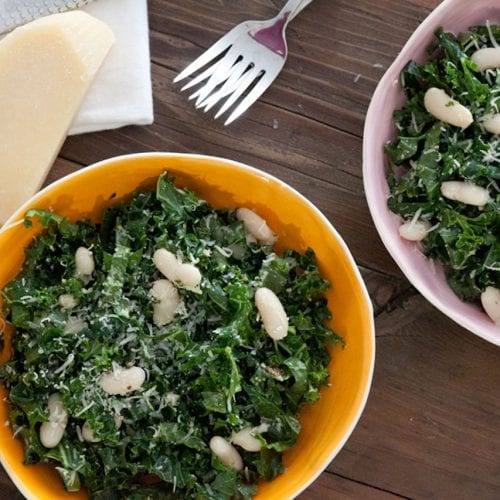 Raw Kale Salad with Lemon, Parmesan and Cannellini beans
This raw kale salad is delicious and totally good for you!
Ingredients
1

bunch curly kale

washed, dried and thinly chopped

1

cup

cooked cannelini beans

1/4

cup

finely shredded Parmesan cheese

1

tsp

Dijon mustard

1 1/2

tsp

finely grated lemon zest

2

tbsp

freshly squeezed lemon juice

Kosher salt

Freshly cracked black pepper

6

tbsp

extra-virgin olive oil
Instructions
Combine the chopped kale, cannelini beans and parmesan cheese. Set aside.

In a small bowl, whisk together the mustard, lemon zest, lemon juice, salt, pepper and olive oil until thick, about 45 seconds.

Drizzle some of the dressing over the kale. Taste, adjust seasoning if needed or add more dressing if desired. Serve and enjoy!