What do you get when you combine some Zinfandel, Mascarpone and Parmesan cheese and a little bit of Arborio rice? One of the most decadent risottos ever made! Not to fear though, just because this is decadent doesn't mean it's complicated! Risotto is a fairly simple dish to make. You just need a handful of ingredients, some love and about 30 minutes and you'll have a super-comforting dinner in no time!
With Valentine's Day right around this corner, I figured this was a good recipe to make for your sweetheart. I'm making it this year along with some short ribs and a big giant arugula salad. Thomas better come home with some gorgeous flowers or diamonds. Or shoes. Any or all of those work.
Also. Can we talk about cooking with wine? It's just so much fun. It adds so much flavor to your dishes it's totes crazy. Especially when you let it reduce down and really get thick. Omg. I die. It's so good.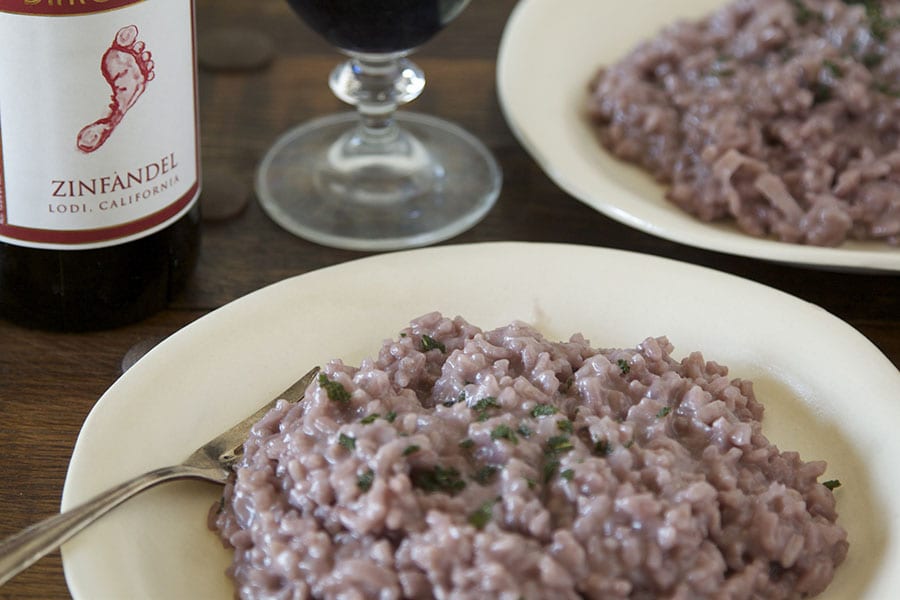 What are you guys doing for Valentine's Day? Are you the stay at home and cook type? Or do you brave the crowds and venture out? I've learned that basically EVERY single place is packed on V-Day. Especially my local shop where I get a mani/pedi. Don't even attempt to get your nails done on or around V-Day. It's nearly impossible. So get your nails done now, plan your menu and make some risotto 🙂
Red Wine Risotto
Ingredients
2

tablespoons

olive oil

2

shallots

finely sliced

2

cloves

garlic

finely minced

2

cup

Arborio rice

3/4

cup

Barefoot Zinfandel Wine

3 ½

cups

chicken or vegetable stock

2

tablespoons

mascarpone cheese

2

tablespoons

grated parmesan cheese

1

lemon

juiced and zested
Instructions
Heat a sauté pan over medium heat and add the olive oil. Add the shallots and garlic and stir for about 3 minutes until fragrant.

Add the rice and stir until the rice just begins to toast.

Continue to cook the rice for about 1 more minute and then add the wine. Once the wine has evaporated, add the stock, ½ cup at a time.

Stir the rice constantly and add another ½ cup of stock once the previous addition has been absorbed. Continue this process till you have no more stock.

Once all the stock has been absorbed, remove the rice from the heat and add the mascarpone and parmesan cheeses as well as the lemon zest and 1 tablespoon of the fresh lemon juice. Season with salt and stir to combine.

Let the risotto sit for 2 minutes and then serve.

**You can garnish this dish with chopped parsley, chives or fried sage if desired.