Get ready guys – it's about to turn into dinner party central here on WGC and this Roasted Red Pepper Bruschetta is going to be your new bff.
In case you haven't noticed in past years, I'm all about the appetizers. Give the option when going out to dinner, I'd rather order every single appetizer on the menu than any main course. Weird right? I think it's just because I really like to taste as many things as possible and that's my favorite way to do it! A few months back we were at this little Mediterranean restaurant in Denmark and they had the most glorious Roasted Red Pepper Bruschetta dip. So OBVIOUSLY, I had to recreate it at home! It couldn't be easier!! Well, I guess it could if you use store-bought roasted red peppers which I totally support when you just aren't ready to turn on your oven. Serve it up with my new favorite Stonefire Naan Crisps and snack time or appetizers are ready to roll.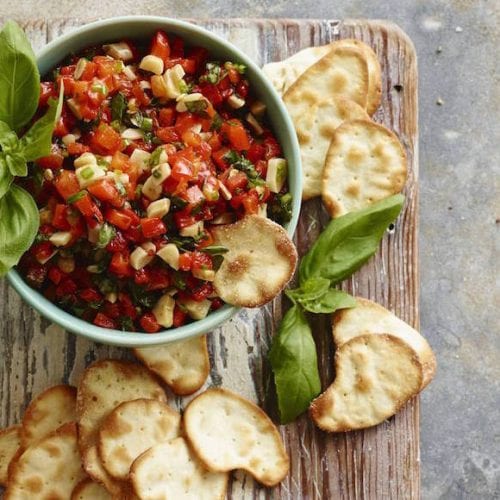 Roasted Red Pepper Bruschetta
Ingredients
1

head garlic

2

tablespoons

olive oil

2

medium red bell peppers

3

tablespoons

chopped basil

2

tablespoons

chopped chives

1

tablespoon

lemon juice

red pepper flakes

salt and pepper to taste

Stonefire Naan Crisps
Instructions
Pre-heat oven to 425 degrees F

Slice the top of the garlic off and drizzle with 1 teaspoon of the olive oil. Wrap in foil and bake for 30 minutes. Remove once done and let rest in the foil until needed.

Broil the red peppers in the stove until the skins blister. Remove and immediately place them in a large bowl covered with plastic wrap and let sit for 15 minutes. Remove the skin and discard. Chop the peppers into a small dice.

Remove the garlic from the foil and paper and chop the cloves.

In a bowl, combine the chopped peppers, garlic, basil, chives, lemon juice, red pepper flakes, salt and pepper. Toss and adjust seasoning as needed. Serve alongside Stonefire Naan Crisps.
Photo by Matt Armendariz / Food Styling by Adam Pearson / Recipe from What's Gaby Cooking
** This post is brought to you by Stonefire.  All content, ideas, and words are my own. Thanks for supporting the sponsors that allow me to create new and special content like this for What's Gaby Cooking**