Give me an opportunity to make a Salty and Sweet Snack Board and I'm in! It's my favorite way to entertain and today is no exception.
We're T-1 week until Beyonce has a halftime performance and apparently that will be sandwiched between some football – hello Queen B!! One track mind here guys, one track mind. While everyone else in my life will be watching football, I'll be patiently waiting for her show. But no matter if you're like me, or you're normal like the rest of the world and will pay attention to the game, you still need SNACKS! I'm teaming up with Coca-Cola & NABISCO to be a part of the #HomeBowlHeroContest and bring you this board. It's EVERYTHING and it literally has every single thing you need for game day. Pair it with the ribs I posted last week (link) and it's game time!
Now let's talk boards… ever since I did the Bruschetta Bar a few years back, it's my favorite way to entertain. It requires a few minutes of prep work before the event, but then once all your guests roll in, you can mix and mingle and not worry about a thing because the food is already taken care of and your guests and mix and match different snacks until their stuffed! For Game Day it's all about the sweet and salty snacks, WHEAT THINS Snacks, TRISCUIT Crackers, cheese, meats, and ALL THE OTHER THINGS so you can snack all day long. An ice cold Coca-Cola goes right along side that and game over! How easy is that?
WHEAT THINS Snacks
Spinach Bacon Dip
Olives
Assorted Cheeses
Assorted Meats
Baby Bell Peppers
Snap Peas
Cucumbers
Celery
Red Pepper Sauce
Hummus
Tzatziki
TRISCUIT Crackers
and Coca-Cola Cookies!!
I know you're like whaaaaaaat…. Coca-Cola Cookies? What does that even mean? It means EVERYTHING! If you follow along on snapchat, you know I'm always experimenting in the kitchen and I'm on the hunt for the most perfect chocolate chip cookie in the world. A few months back I was at a bakery who used Coca-Cola instead of some of the eggs in their cookie recipe and the result was a majorly moist chewy cookie and I freaked out. Obviously I had to make it at home so I did – after a few rounds of testing, I'm 100% confident to say that it ROCKS! Salted Chocolate Chip Coconut Cookies. I mean, you'll freak. Here's the recipe:
Salted Chocolate Chip Coconut Cookies
Ingredients
3/4

cup

unsalted butter

at room temperature

3/4

cup

brown sugar

packed

1/2

cup

white sugar

1/3

cup

Coca-Cola

1

large egg

at room temperature

1

teaspoon

vanilla extract

1

teaspoon

baking soda

1/2

teaspoon

Maldon sea salt

2 1/2

cups

all purpose flour

1/2

cup

shredded coconut

1

cup

semi-sweet chocolate chips
Instructions
Preheat your oven to 350°F. Prepare 2 sheet pans with parchment paper.

In a large stand mixer cream together the butter, brown sugar and white sugar for 3 minutes until smooth. Add the Coca-Cola, egg and vanilla extract and mix for 1 minute to combine.

Add in the flour, baking soda and salt. Mix on low speed until the flour is just barely combined.

Add in the chocolate chips and coconut mix until the cookie dough ingredients are all incorporated. Cover the dough and transfer to the fridge to let chill for at least 2 hours and up to 24 hours.

Drop 2 tablespoon scoops of dough onto a lined baking sheet, 12 cookie dough balls per sheet.

Bake for 12-14 minutes. Remove the baking sheets from the oven and let the cookies cool for 5 minutes before transferring them to a cooling rack. Serve as needed.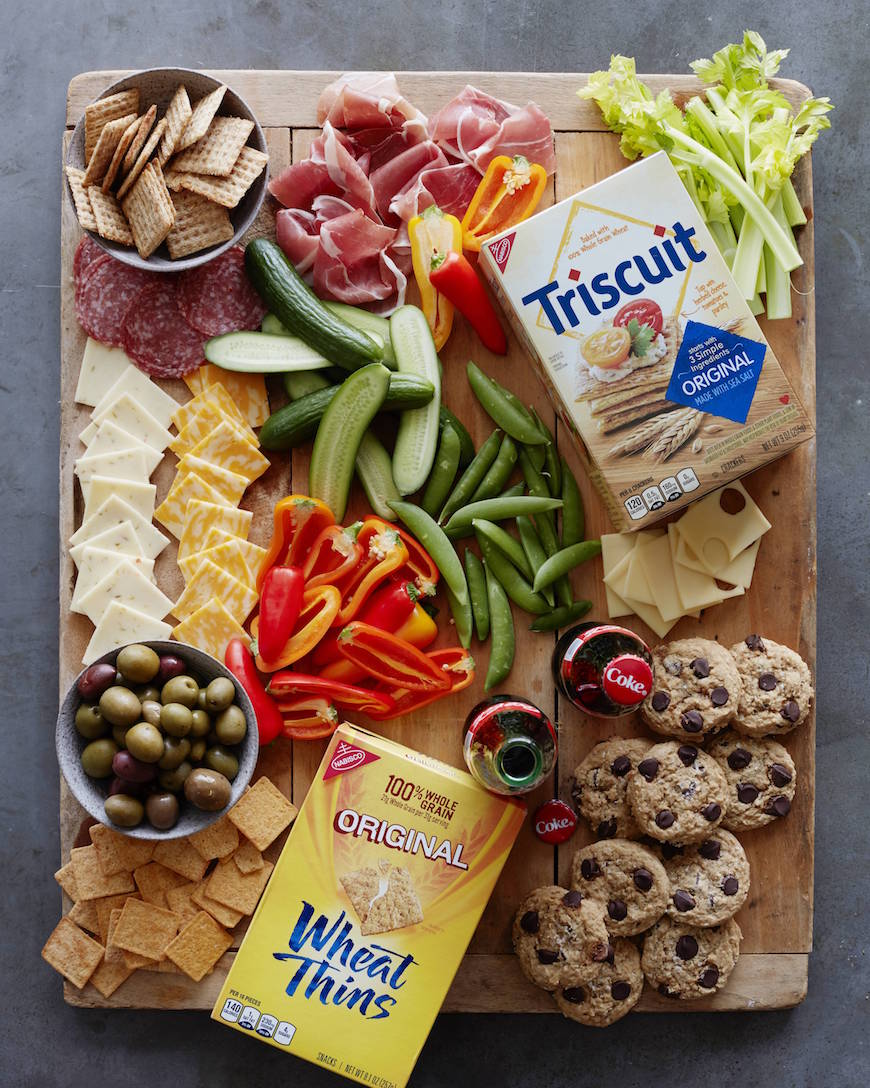 PS – If you're sending out invites to your game day fiesta, check out the Home Bowl website for some fun party ideas!!
Photo by Matt Armendariz / Recipe and Styling by What's Gaby Cooking
This post is brought to you in collaboration with The Coca-Cola Company and Mondelez Global LLC. All content, ideas, and words are my own. Thanks for supporting the sponsors that allow me to create new and special content like this for What's Gaby Cooking.