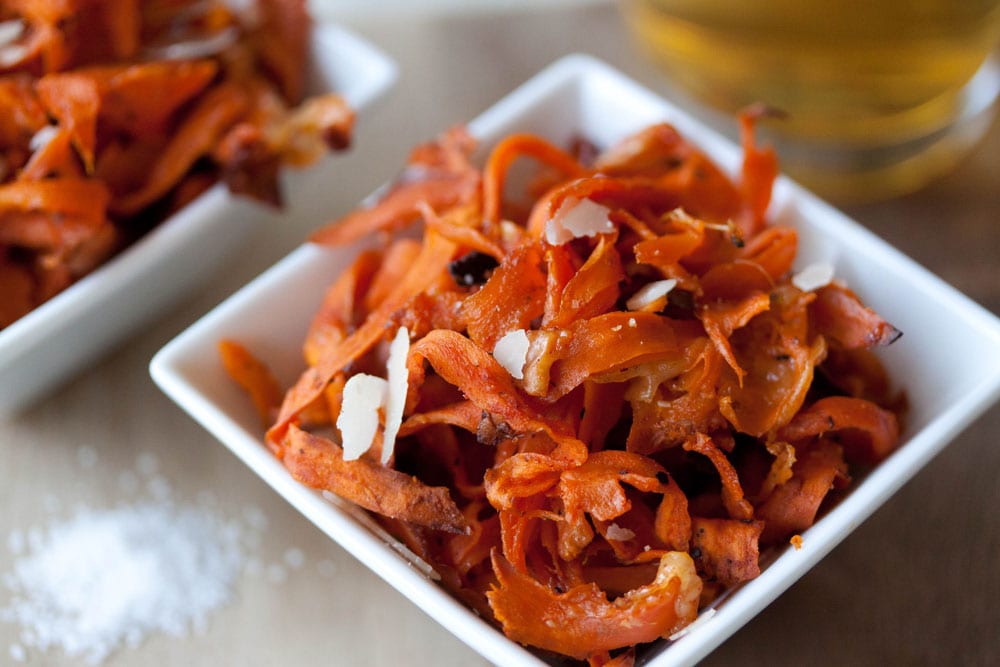 Sweet Potatoes are one of my favorite vegetables. I like mashed sweet potatoes, sweet potato fries, and most recently I am obsessed with these sweet potato chips. They are super simple to make and only require a few extra ingredients and before you know it, you will have a crisp and crunchy snack to munch on! Plus they are a HUGE hit with kids, which is a total plus to this dish because they are eating vegetables without really thinking about it because I call them "sweet potato chips."
They are quite easy to make you see, once you've gone ahead and peeled the skin off the sweet potato with a vegetable peeler, just keep peeling until you're down to nothing! Throw them on a parchment lined baking sheet and you're good to go. I've gone ahead and added shaved Parmesan, garlic salt, and paprika… but you could easily spice up these sweet potato chips with the addition of cayenne pepper or any other spices that would complement this dish!
Sweet Potato and Parmesan Chips
Ingredients
1

large sweet potato

1/4

cup

Shaved Parmesan Cheese

1

tsp

garlic salt

1

tsp

paprika

1/2

tsp

salt

1/2

tsp

pepper

1

tbsp

olive oil
Instructions
Preheat oven to 375 degrees and line a baking dish with parchment paper.

Peel the skin off the sweet potato and discard. Continue to peel the sweet potato so you have lots of thin strips of the sweet potato fresh. Put these strips onto the parchment lined baking sheet. Drizzle with the olive oil and top with the Parmesan, garlic salt, paprika, salt and pepper. Using your fingers, mix the toppings into the strips of sweet potato until evenly coated.

Bake for 20-25 minutes until the edges are just slightly turning light brown and the strips are crisp. Remove from oven and sprinkle with a touch of sea salt and a little more shaved Parmesan. Serve immediately.