I'm kicking off a little spicy extravaganza today with these Tabasco Bacon Cheddar Wings!
I have a pretty serious hot sauce addiction. Evidence shown here! I think Thomas and I have started a little bit of a hoarding hot sauce program in our house. At any given time we have about 15 on hand. It's pretty awesome and things are never without spice at our table.
We're kicking things off today with one of my tried and true favorites. Tabasco Bacon Cheddar Buffalo Wings. Boom. That happened. There are the quintessential football food and any dude will go weak in the knees for these wings.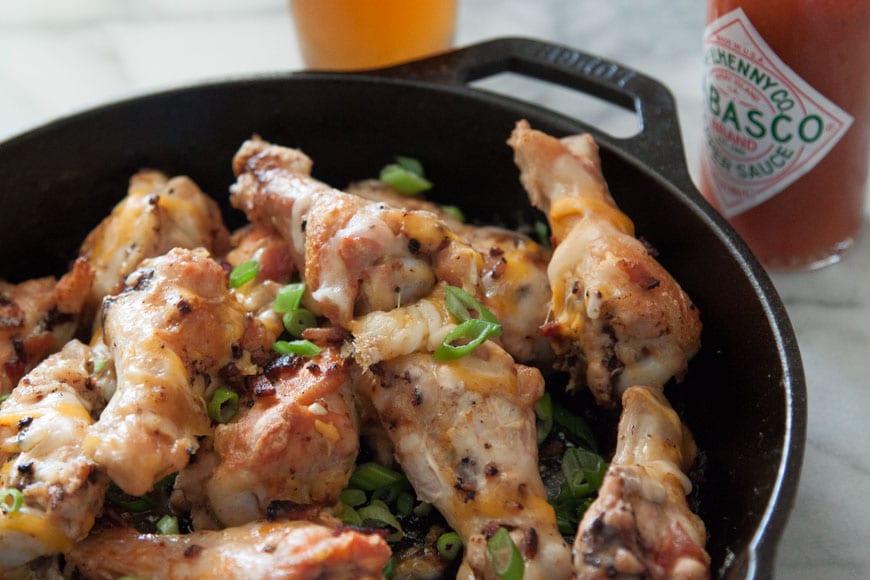 It consists of chicken wings, bacon, cheddar, Original Tabasco and a garnish of green onions for a little pop of color. How easy is that! These will rock any party plus they are easy to make.
Tabasco Bacon Cheddar Wings
Ingredients
2

pounds

chicken wings

split at the joint, wingtips removed and discarded

4-6

strips of bacon

1

cup

shredded cheddar cheese

10-15

dashes Tabasco

Sliced scallions for garnish
Instructions
Preheat the oven to 425 degrees F.

Place the strips of bacon on a metal rack on top of a baking sheet and pop them into the oven for about 15 minutes until crispy. Remove the bacon and the metal rack from the baking sheet and set aside.

Place the chicken wings onto the baking sheet and mix with the bacon drippings. Bake for 25-30 minutes until the chicken wings are fully cooked and the skin is crispy.

Break the bacon into pieces and toss them together with the cheddar and the Tabasco.

Once the wings are fully cooked, remove the baking sheet from the oven and top with the bacon cheddar Tabasco mixture. Place the baking sheet back into the oven and let the cheese melt for about 3 minutes. Remove from the oven and serve immediately with a sprinkle of scallions as a garnish.

Serve with extra Tabasco for anyone who wants a little more heat.