Last night was one of my favorite nights of the year.
Wanna know why?!?
It's because it was Friendsgiving!!!
Friendsgiving is basically the best thing ever.
We have 2 of our best friends in town visiting for a few days. They are here for residency interviews post med school, so I decided the right thing to do was to celebrate Friendsgiving with them after a long day of interviews.
I kind of even love it more than actual Thanksgiving since there isn't as much pressure and it gives you a great chance to try out some fun new recipes before the big day. I'll be sharing all of those recipes, plus more in the next 2 weeks leading up to the big day!
But in the mean time, I know that some of you are already starting to outline what you'll be making on the big day and I wanted to make your lives easier. I mean if your anything like me, you'll have your grocery list done, bullet pointed, printed and ready to go a week prior to the actual Thanksgiving day! So let's dive right in shall we?
I've got boat loads of great recipes for you to choose from! Take your pic from different appetizers, veggie side dishes, potato dishes, main courses and of course dessert!
Appetizers: Roasted Chickpeas, Spinach Artichoke Cups, Parmesan Cheddar Chive Biscuits and Stuffed Mushrooms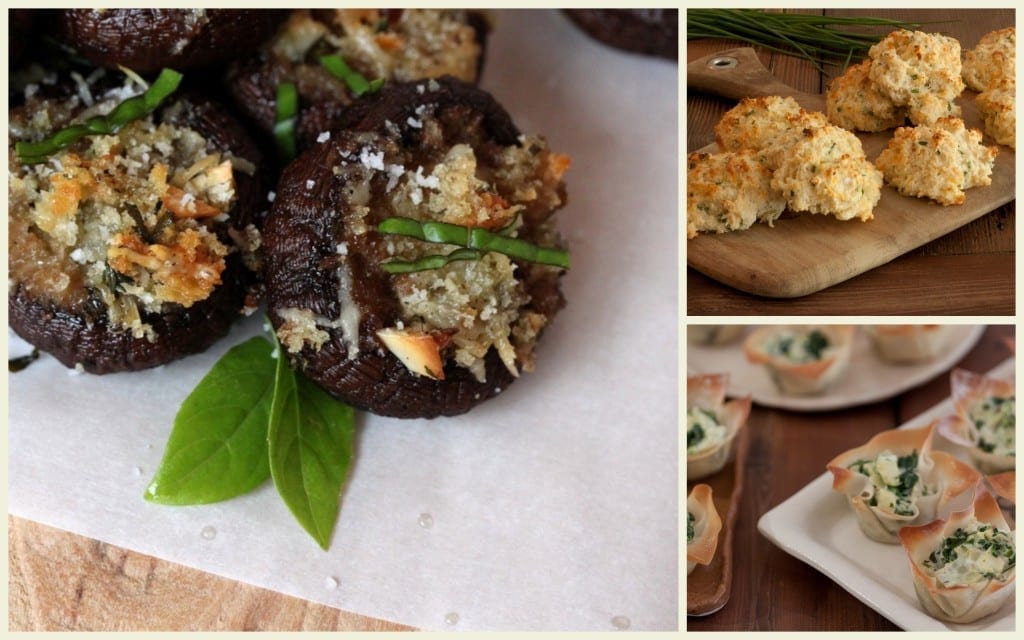 Potatoes: Potato and Goat Cheese Gratin, Potato Romanoff, Chipotle Mashed Potatoes, Perfect Mashed Potatoes
Side Dishes: Garlic Croutons, Rustic Herb Stuffing, Skillet Stuffing, Spicy Green Beans, Lemon Garlic Brussels Sprouts, Crispy Roasted Brussels Sprouts, Bacon Veggie Hash, Quinoa Stuffed Acorn Squash, Thyme and Honey Roasted Carrots, Cumin Roasted Cauliflower, Roasted Green Beans and Zesty Cranberry Sauce
Main Courses: Rosemary and Garlic Roasted Turkey, Baked Mac and Cheese
Desserts: Brownie Pudding, Salted Caramel Brownies, Pumpkin Chocolate Chip Cookies, Pumpkin Scones, Pumpkin Chocolate Chip Bars, Apple Pear and Crystalized Ginger Crisp, Apple Crisp and Molasses Cookies
And there you have it! Some of my most favorite options for Thanksgiving!! And here's what's coming up in the next few weeks…. Sourdough Leek and Scallion Stuffing, Garlic Thyme Homemade Rolls, Mixed Potato Gratin, Fall Farmers Market Salad, Sautéed Peas Pancetta & Shallots, and of course a post on everything you need to know about the big TURKEY!!!
What else do you need help with for Thanksgiving? Just leave a comment below and let me know and I'll see what I can do to help!