Who here has heard of a Tlayuda? It's kinda going to change your life. I recently discovered this amazing dish on my 1900 mile road trip across the Southwestern part of the U.S. It's pretty much a Mexican Pizza that is topped with a black bean puree, some sort of meat, different regional cheeses, shredded lettuce and avocado. And if your name is Gaby and you have an uncontrollable obsession with Guacamole, then mash up those avocados and throw them on top!
Tlayuda is a specialty of Oaxaca, Mexico. Word on the street is that these Tlayudas are a super popular snack in Oaxaca, but after making these a few times at home, I've come to the conclusion that they make an excellent dinner wherever you live! It's just a matter of having a few ingredients on hand and throwing it all together. Not to mention the variations with the Tlayuda are endless. Rather than using shredded chicken you could use pork or beef. Or try mixing up the  cheeses. Perhaps even re-fried beans as the base? (although traditionally it's always black beans) These Mexican Pizzas are officially on my go-to menu for summer entertaining!
After having a Tlayuda in San Antonio a few weeks ago, my compadres Aida and Lillian and I decided that we would make our own! And let me tell ya, they are goooood!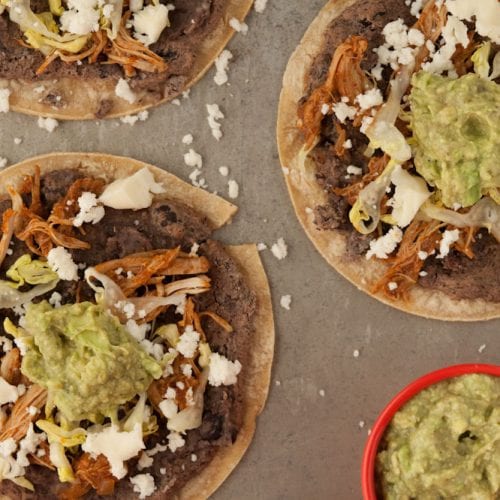 Tlayuda: A Mexican Pizza
Tlayuda: A Mexican Pizza piled high with a black bean puree, shredded chicken, lettuce, regional cheese and guacamole.
Ingredients
4

Chicken boneless skinless chicken thighs

1

tsp

cumin

1

tsp

coriander

1

tbsp

paprika

1

tsp

chili flakes

1

tsp

cayenne pepper

optional

1/2

cup

salsa

6

small corn tortillas

1 1/2

cup

Re-fried Black Beans

recipe below

1/2

cup

Queso fresco

1/2

cup

Oaxaca cheese

similar to mozzarella

Shredded Lettuce

Guacamole

recipe below
Instructions
Add the chicken thighs, cumin, coriander, paprika, chili flakes, cayenne and salsa in a slow cooker. Cover with the lid and turn heat to high and let cook for 5-6 hours until the chicken is easily shredded. Shred the chicken with two forks and set aside.

Preheat oven to 450 degrees.

Place corn tortillas on a baking sheet. Evenly spread some of the re-friend black beans on top of each tortilla. Transfer to the oven and bake for about 10 minutes until the tortilla is slightly crisp.