Is there really any other reason to travel than to eat?
Okay, maybe to get some culture, learn about new people and places and see the world… but eating comes with that, no? Last week I hightailed it to Vegas after a crazy work week for the Vegas Uncork'd food fest hosted by Bon Appetit and sponsored by Chase Sapphire and basically ate my way through the city of Las Vegas in serious style. If you were following along on snapchat you got a first hand play by play… but if not, take a peek!
The weekend started off with dinner on the strip with Emeril Lasasse and Daniel Boulud… no big deal! It was stunning to say the least and we feasted on crab, giant grilled shrimp, porchetta, polenta, fried duck eggs, the most delicious rosé and some champagne because when in Vegas, that's how you do it! Decadence times a million! The polenta stole the show and I don't even want to think about how many pounds of cheese or butter went into making such an incredible dish. You know that saying…what happens in Vegas, stays in Vegas… does it apply to calories consumed too? I vote yes. 
It's hard to pick a favorite experience but the next morning I scooted down to Nobu for lunch and had my mind blown. 1: I'm already obsessed with Nobu, we have 2 restaurants here in LA and I take everyone there when it's a night that needs to be incredible. The attention to detail at all his restaurants is unmatched. Seeing as how I was traveling with Chase Sapphire, I got EXCLUSIVE access to the lunch with Nobu. He's basically my new best friend and quite possibly the coolest, most down to earth dude ever. I love that about a chef – someone who takes their work seriously and puts out an amazing meal, but isn't pretentious and can sit back and drink sake and laugh. He wins. We had the most gorgeous meal that started with their signature yellowtail sashimi and ended with miso black cod which was the most succulent and delicious fish ever. I order it on repeat whenever I'm at Nobu – and I've even tried to recreate it at home. It's never quite the same.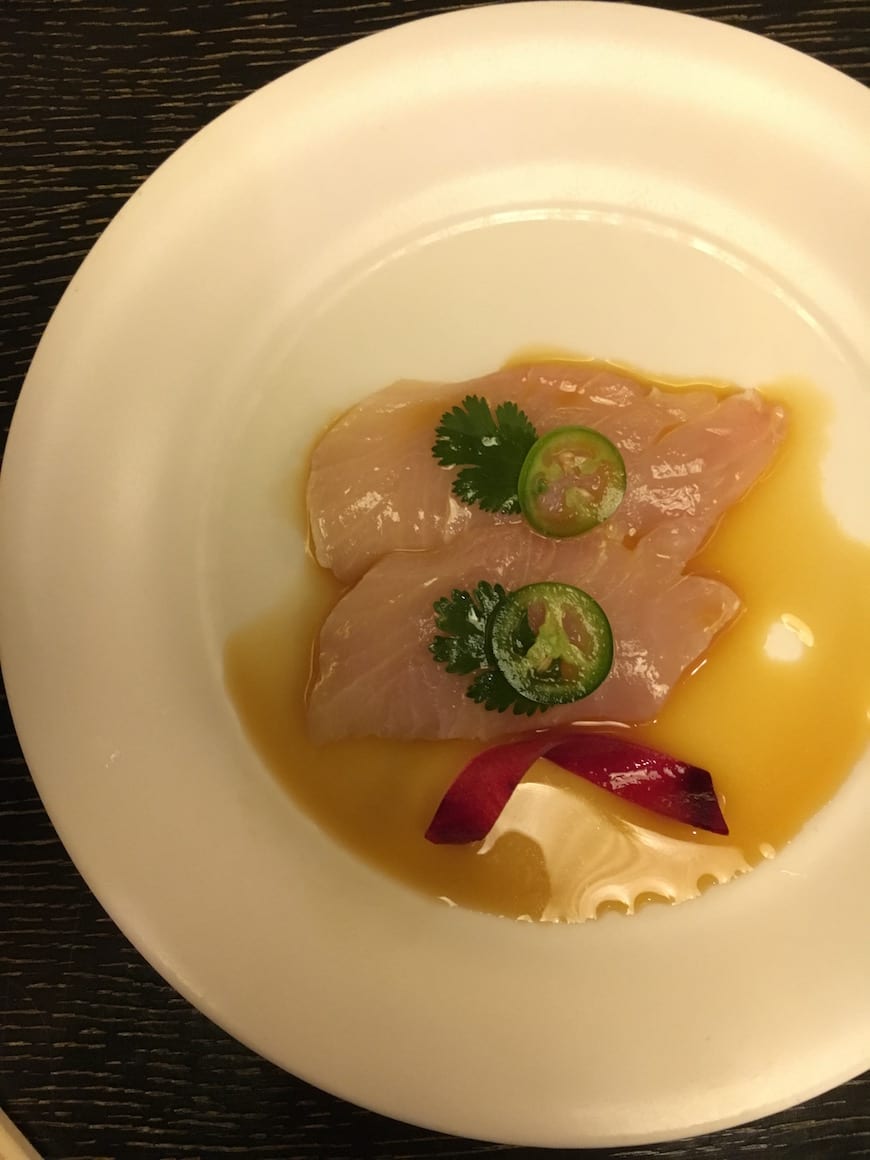 That evening was the grand tasting at Caesars Palace and every single incredible restaurants in Vegas came out and set up shop. Hundreds of people funneled into the space and luckily for me, I was at the VIP section with Chase Sapphire because they are geniuses. Cardholders get exclusive access to an area where the food is brought over to the tables so we don't have to fight the crowds and elbow people to grab a burger from Gordon Ramsey or a bowl of Risotto from Giada. It was so special and much appreciated as I decided it was a good idea to wear 5 inch heels for an event that was 4 hours long. YAY for table service!
The last day there I got to hang at another exclusive Chase Sapphire lunch with the ladies from Border Grill! Similar to Nobu, Border Grill has 2 LA locations and they make a MEAN guacamole. We tasted tequila, ate tacos, ceviche, tamales and churro bites until I couldn't possibly stuff another calorie into my face and needed to be wheeled to the airport. It was perfection.
For someone who visits food festivals quite frequently – I can honestly say that this was one of the best. Not to mention, Chase Sapphire Preferred offers 2x points on travel related purchases and dining purchases (which is perfect for me seeing as how that's basically all I spend my money on!!) plus you also get access to exclusive experiences at Vegas Uncork'd like the Nobu and Border Grill lunches AND VIP table seating at the Grand Tasting – my personal favorite! A major thank you to the incredible team at Chase Sapphire who took care of me all weekend long, to the staff at Bon Appetit who were just beyond lovely and obsessed over instagram with me, you can bet I'll be back next year!!
** This post is brought to you by Chase Sapphire.
 

All content, ideas, and words are my own. Thanks for supporting the sponsors that allow me to create new and special content like this for What's Gaby Cooking**