If there's one thing I took away from my last cookbook tour, it's that you guys wanted more cocktails! Well, I'm here to apologize for that but tell you that I PROMISE to make it up to you today and in the future! So without further ado… let's make a very festive holiday cocktail…. A Thyme Apple Cider Spritz!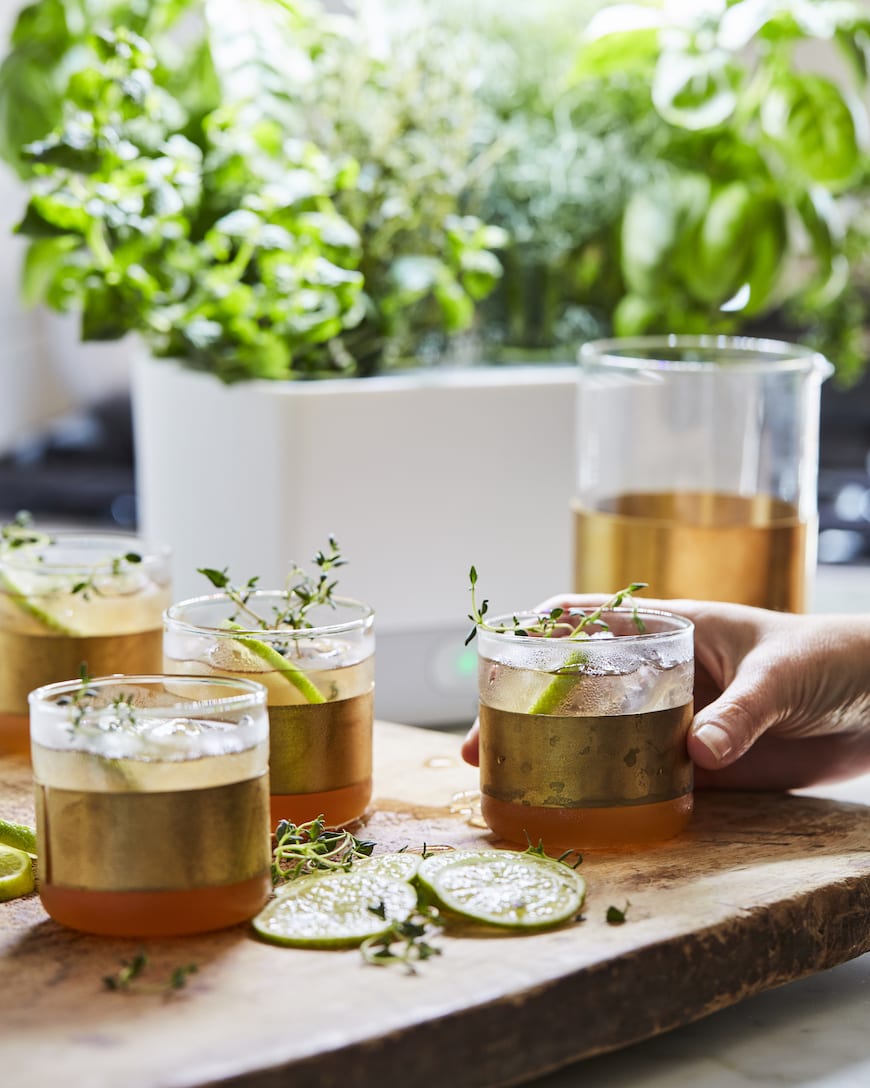 December is just days away and I don't know about you guys, but we've got holiday parties coming out of our ears. We're moving and shaking the next 30ish days and I've been dreaming up fun recipes that you're guaranteed to love. This Thyme Apple Cider Spritz is first up! It fits the bill for all of my cocktail requirements…
1: It's a spritz. And really all cocktails should have a bit of a fizz to them. 
2: There's an element of freshness in it! Fresh thyme makes the simple syrup which gives the cocktail a leg up on all other cocktails.
3: There's a bit of apple cider and Angostura bitters in the drink, which just makes the perfect balance in a cocktail!
Any cocktail that meets all those requirements is my jam!! And this one is extra special because I GREW THE THYME MYSELF. I know – can you even believe it? Me, with the black thumb! We got an AeroGarden Harvest garden a few weeks ago and it makes growing fresh herbs so easy I can't even handle it.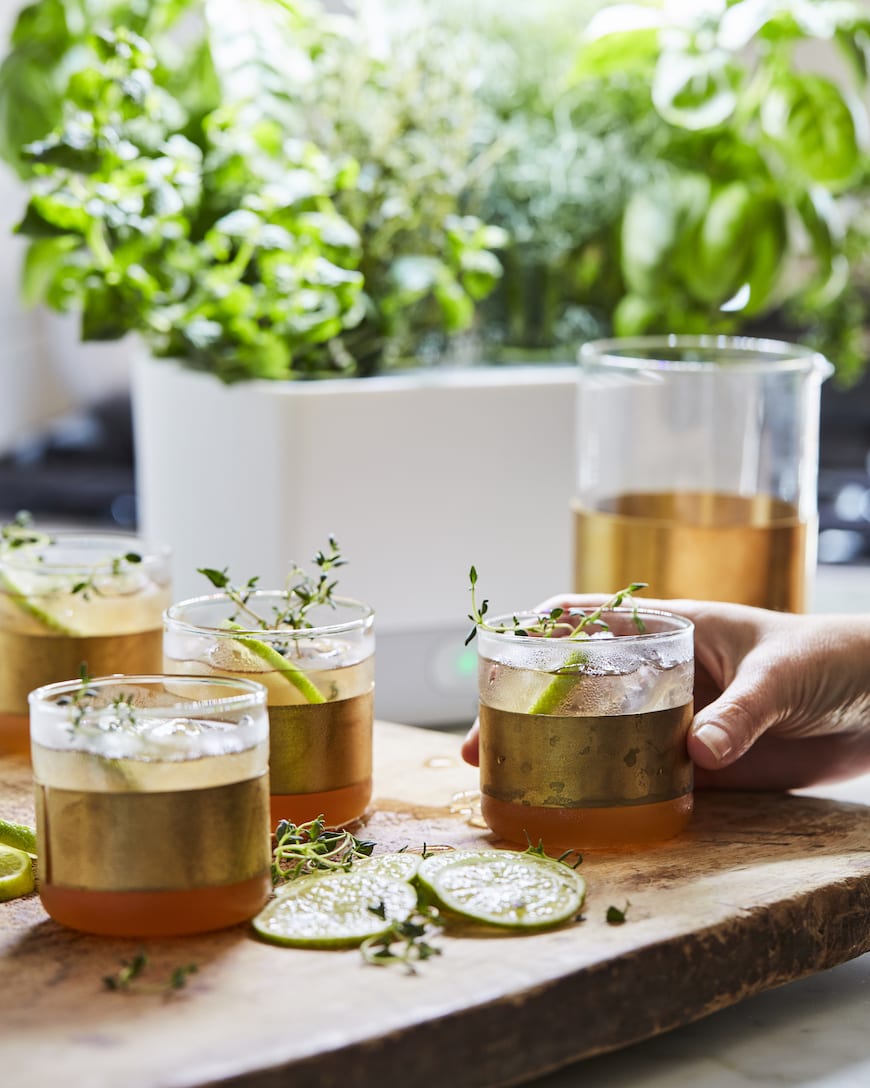 If you've never had an AeroGarden, now's the time. The AeroGarden Harvest is a: super cute and fits into any kitchen design, b: comes in a variety of colors depending on your preference, c: allows you to grow fresh herbs for cooking and cocktail-ing ALL YEAR ROUND. It's no secret homegrown herbs just taste better, and for the first time in my life, I can say that I grew these myself. So pumped.
So, go ahead and get yourself one, or put it on your holiday wish list, make this Thyme Apple Cider Spritz and kick back to admire your skills!
Thyme Apple Cider Spritz
Ingredients
For the thyme syrup:
1/3

cup

sugar

1/3

cup

water

8

sprigs thyme
For the Thyme Apple Cider Spritz
2

cups

apple cider

1 1/2

cups

dark rum

3/4

cup

fresh lime juice

1

teaspoon

Angostura bitters

Club soda

8

sprigs thyme from your AeroGarden

8

lime slices
Instructions
For thyme syrup:
Bring the equal amounts of the sugar and water to a boil in a small saucepan, stirring to dissolve sugar. Remove from heat, add thyme sprigs, and cover. Let stand 10 minutes, then strain into a small jar. Let cool entirely.
For assembly:
Mix thyme syrup, apple cider, rum, lime juice, and bitters in a large pitcher. Divide among glasses filled with ice and top with a splash of club soda. Garnish with thyme sprigs and lime slices.
Photo by Matt Armendariz / Food Styling by Adam Pearson / Recipe by What's Gaby Cooking
** This post is brought to you by AeroGarden. All content, ideas, and words are my own. Thanks for supporting the sponsors that allow me to create new and special content like this for What's Gaby Cooking**