Whoa!! We're heading into November tomorrow! How did this happen?  There are parties to be had, and Creamy Butternut Squash Pasta to be consumed (plus a bottle or two of champagne)!!
I've been on a pasta kick since spending some time in Italy the last few years. They just have a way of doing things over there that make you want to pack your bags and move into some Italian countryside villa and live with someone's grandma and soak up all her knowledge on food. I noticed that cooks in Italy really pay attention to what sauces go with what type of pasta and vice versa so this creamy butternut squash sauce is exactly what you want to add to spaghetti.  Perfectly cooked pasta topped with a light but creamy butternut squash sauce that just coats every piece of pasta perfectly… I mean, does it get any better than that?!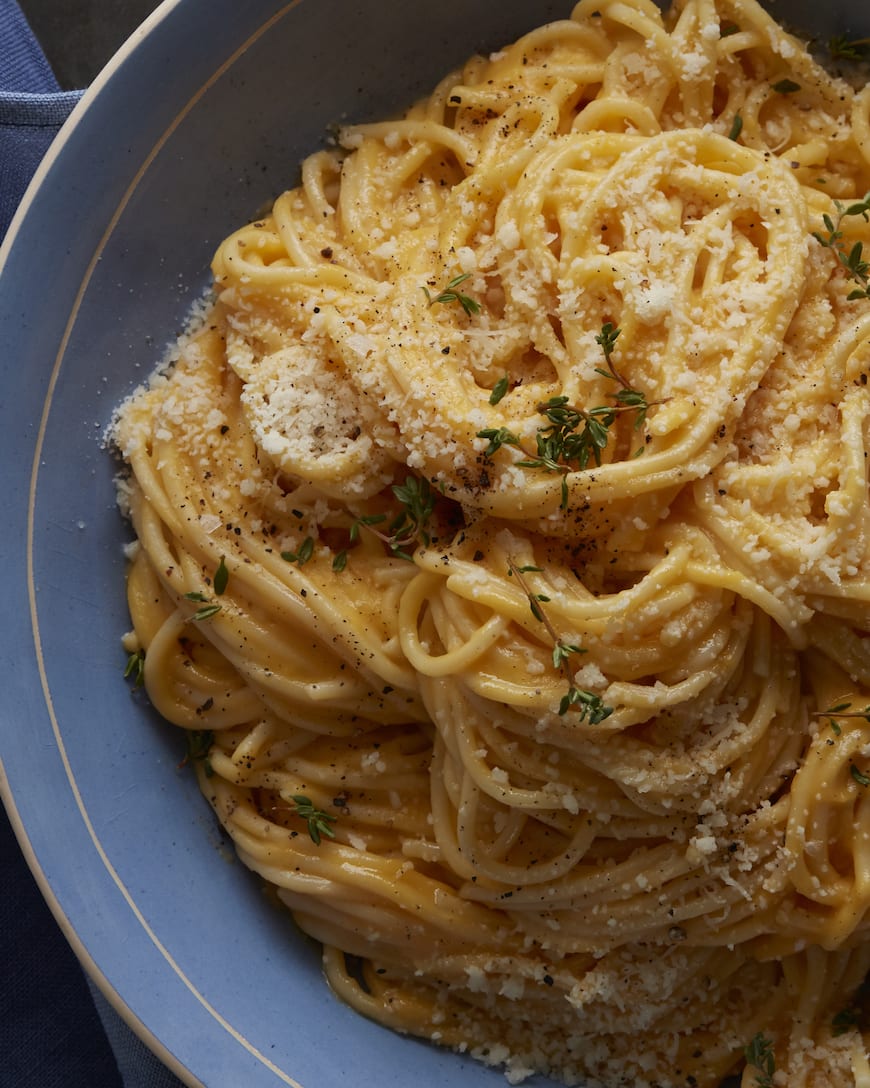 Creamy Butternut Squash Pasta
Ingredients
1

medium butternut squash

peeled and cut into 2-inch cubes

2

shallots

halved

4

cloves

garlic

peeled

2

tablespoons

olive oil

1 ½

cup

chicken stock

1

lb

spaghetti

½

cup

heavy cream

Pinch

of ground nutmeg

Kosher salt and freshly cracked black pepper
Serve with:
Grated pecorino

Fresh herbs like thyme

basil, chives or parsley
Instructions
On a large baking sheet lined with parchment paper, arrange the butternut squash, shallots, garlic and drizzle with olive oil and season with salt and pepper. Transfer into a 425-degree oven and roast for 25-30 minutes until the squash is fork tender.

While the butternut squash is roasting, cook the pasta until al dente. Drain, reserving ½ cup of the cooking liquid.

Once the squash is tender, remove and transfer to a blender with the garlic and shallots with chicken stock. Blend until smooth. Add the cream, nutmeg and reserved cooking liquid and continue to blender. Once smooth, taste and adjust seasoning as needed. Transfer the liquid to a medium pot and keep over low heat to keep warm.

Add a few large spoonful's of the sauce to the pasta and toss to combine. Continuing adding sauce until it's as saucy as you want. Serve with pecorino, herbs and freshly cracked black pepper.
Photo by Matt Armendariz / Food Styling by Adam Pearson / Recipe from What's Gaby Cooking