It's all about Slutty Brownies today! Layers of cookie dough, Oreo's and homemade brownie batter = it's perfection. Keep reading for all the tips and tricks 🙂
A few weeks ago I was perusing the interwebs, mainly pinterest, because it's my latest obsession and I spend an inordinate amount of time pinning things that I want to eat, and things that I want at my wedding. I'm not quite sure how people planned weddings before Pinterest. It's kinda the greatest invention of all times. But while I was knee deep in my wedding pinning extravaganza, I stumbled across something called Slutty Brownies.
Clearly these caught my attention immediately. They are the brilliant creation of The Londoner and they are basically it's a SUPER POWERED brownie made with layers of cookie dough, oreo cookies, and then a rich and decadent brownie layer. They are EVERYTHING. Seeing as how I'm a private chef, I made them for every single person in my life, including Jessica Simpson who is my current private chef client, and when asked on Leno what made them slutty she replied.. it's because a lot of things go into them. GENIUS.
They are decadent. One small bite will be enough to satisfy any sweet tooth but why stop there!
You could easily make these with box mix, which is what the original recipe I found calls for, but I took it one step further and made these with my all time favorite rich chocolate-y brownie recipe and my favorite chocolate chip cookie dough recipe. The Oreo in the middle may seem slightly out of place because you might think it's going to be this crunchy layer between two super soft and chewy layers, but let me reassure you that it's not. The Oreo kind of soaks up a bit of moisture from the brownie batter and cookie dough and just adds that extra bit of fabulousness.
Make Slutty Brownies immediately.
They'll change your life. The first 2 times I made these, I cut them right away to serve them and they kinda fell apart a bit since they were still crazy warm, and that's totally one way to go. If you're serving them fresh out of the oven, add a scoop of vanilla ice cream just for another layer of decadence and serve away. If you're going to let them sit for a few hours, you'll get a super gorgeous cut square and can grab it and go. Either way, they are awesome.
VERY IMPORTANT SLUTTY BROWNIE FAQ's:
This is the pan I bake these in – it's a 9×9 square pan from Amazon and it's the best. It's a non-stick square pan – which is what you need. A glass pan or a pan of another size won't yield the same results as the photos here.
Cool the brownies once they come out of the oven for at least 1 hour before slicing and serving if you want perfect square pieces.
You can use any kind of Oreos you want – double stuffed, regular, flavored, birthday cake, red velvet etc
IF you use a box mix for the brownie layer, you won't want to use the entire batter as it yields more than my homemade brownie recipe. You just want to have enough brownie recipe to cover the oreos on the top layer.
Here's a SLEW of savory recipes to make alongside these treats!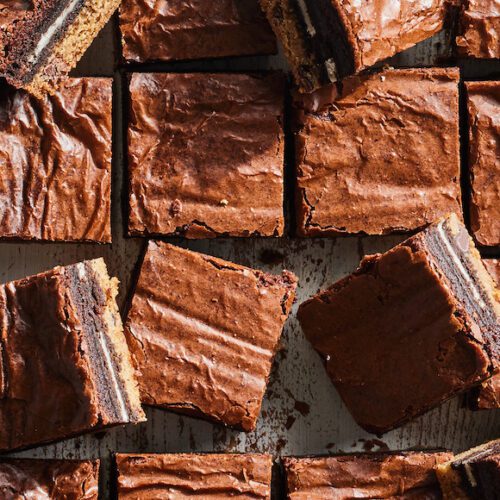 Slutty Brownies
Layers of homemade cookie dough, oreos and brownie batter make the most insane triple threat of a dessert!
Ingredients
For the Brownie layer:
10

tablespoon

unsalted butter

1 1/4

cups

white sugar

3/4

cup

cocoa powder

1/2

teaspoon

kosher salt

2

teaspoons

vanilla extract

2

large eggs

1/2

cup

flour
For the Oreo layer:
1

package of Oreo

regular stuffed or double stuffed
For the Cookie Dough layer:
1/2

cup

unsalted butter

at room temp

1/4

cup

brown sugar

3/4

cup

white sugar

1

egg

1 1/4

teaspoons

vanilla extract

1 1/4

cups

flour

1/2

teaspoon

salt

1/2

teaspoon

baking soda

1/2

teaspoon

baking powder

1

cup

semi-sweet chocolate chips
Instructions
For the Brownie layer:
In a medium saucepan, melt the butter over medium high heat. Add the sugar and cocoa powder once the butter is melted. Whisk to combine and remove from heat. Add the salt, vanilla and eggs and continuously whisk until the eggs are combined. Add the flour and continue to mix. Set batter aside.
For the Cookie Dough layer:
Cream together the butter and sugars in a mixer. Add the egg and vanilla, making sure to scrape down the sides of the mixing bowl. Add the flour, salt, baking soda and baking powder and mix on low until everything is incorporated. Fold in the chocolate chips. Set dough aside.
Assembly:
Preheat the oven to 350 degrees F and line the bottom of a 9x9 baking pan with tin foil or parchment paper and then spray the foil/paper with a spritz of non-stick baking spray.

Layer the cookie dough on the bottom of a 9x9 baking pan, pressing down to form the bottom of the slutty brownies. Layer as many oreos that will fit on top of the cookie dough. No need to overlap. One single layer will do.

Pour the brownie batter on top of the oreo layer and make sure it's evenly layers on top.

Bake for 35-40 minutes. Test with a knife to see if the center is done. If the knife comes out clean, let the brownies rest for at least 2 hours before serving. If the knife comes out with batter still on it, allow the brownies to bake about 5 minutes more. Slice and serve.
Nutrition Information