If there's one cookbook that's stayed in the front of my mind recently (besides my own) it's 100% Istanbul from Cookbook Club #10! There's a steamed salmon recipe in the book that drives me WILD. And I'm convinced it's 100% the best way to cook fish.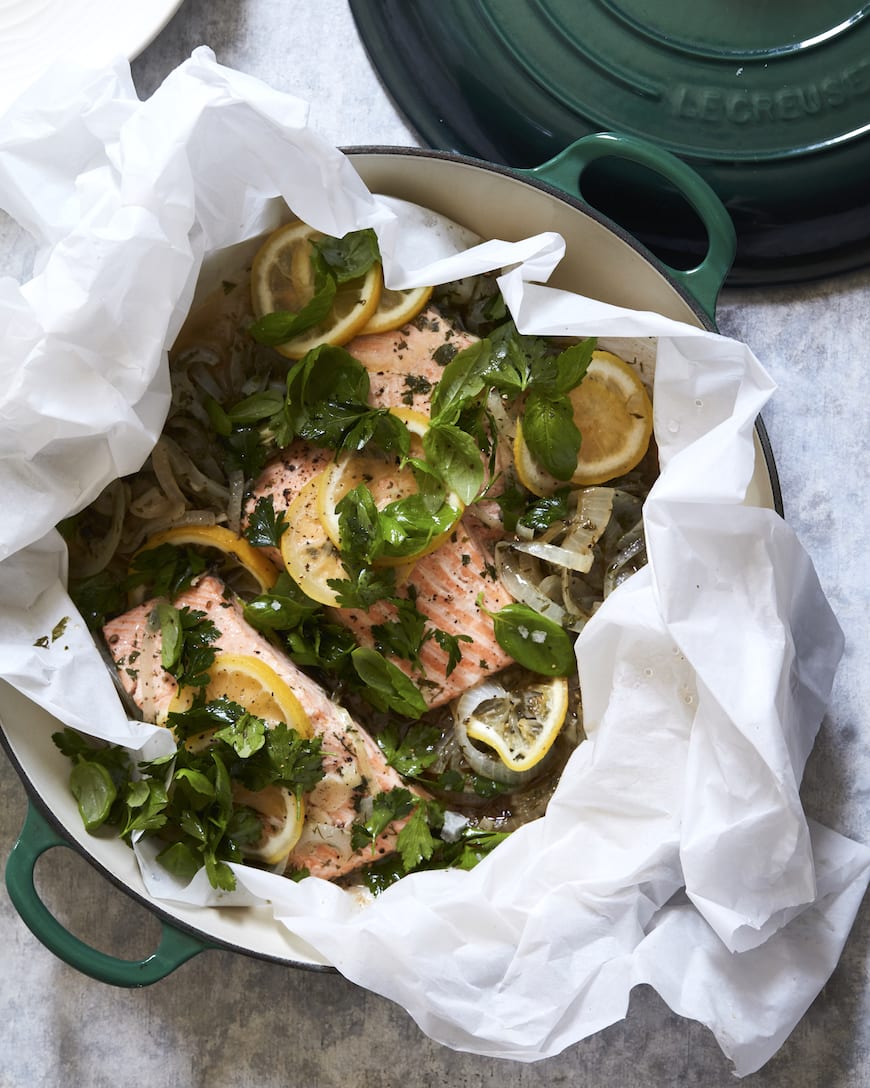 So obviously the right thing to do, was to put my spin on it and add it to the blog for all of you. It's quite possibly the easiest way to cook salmon. 1: there's basically no clean up due to the parchment paper… winning. 2: you don't risk your kitchen smelling fishy because there's no opportunity for the salmon to splatter all over your counter when you sear it. 3: it's a one-pot dish and we all LOVE that.
All of that boils down to a recipe for success! I've been making this for dinner parties on the regular recently. I'll serve it up with some steamed white rice that I've tossed with plenty of mint for extra flavor. And then a veggie on the side. It's simple, incredibly flavorful, and I am 10000% positive you guys will be obsessed!! Enjoy!
Steamed Salmon with Garlic, Herbs and Lemon
Ingredients
1

lb

skin on salmon

cut into 2-3 inch pieces

1

yellow onion

thinly sliced

6

garlic cloves

thinly sliced

1/3

cup

roughly chopped parsley

1/3

cup

roughly chopped dill

1

teaspoon

kosher salt

1/2

teaspoon

freshly cracked black pepper

1/4

cup

olive oil

2

lemons

sliced as thin as possible

1/3

cup

dry white wine
Instructions
Cut a 2 foot length of parchment paper and center it in a 10-inch heavy bottom skillet that has a lid (Le Creuset or something of the sort)

Put the fish, onion, garlic, herbs, salt and pepper in a medium bowl and drizzle with 2 tablespoons of olive oil. Toss to combine. Transfer all of it to the lined skillet with the fish skin side down. Arrange the lemon sliced in a single layer over the fish and drizzle with the remaining olive oil and wine. Fold the paper over to cover the fish and crimp the edges together to seal. Cover the pan with the lid. Cook over medium high heat for 5 minutes. DO NOT OPEN THE PAN. Reduce the heat to medium and continue to cook for another 8-10 minutes depending on if you want your fish medium to well done. Remove the pan from the heat and let rest for 5 minutes.

Remove the lid, carefully open the paper and serve directly from the skillet so you can get all the juices at the bottom. Serve alongside a bowl of steamed white rice with mint