Today, it's all about the best salmon recipes! We are breaking down everything you need to know about achieving perfectly cooked flaky fish every time. Like the different ways to cook salmon from baked salmon, to grilled salmon, to pan seared salmon and when to use each method. But first, let's answer some frequently asked questions!
How to cook salmon?
Salmon can be cooked pretty much in every way, baked or broiled in the oven, grilled on a grill pan, gas or charcoal grill, and pan seared or steamed in parchment on the stove. Then there's smoked salmon, which is delicious on a bagel, and raw sashimi grade salmon that's perfect in a poke bowl.
How long to cook salmon?
Cooking times for salmon vary on many factors like the cooking method, the temperature, and the size of the fish. Because of this, the easiest way to be sure your salmon isn't undercooked or overdone is by using a meat thermometer. To check if your salmon is done, insert the thermometer into the thickest part of the fish. It's ready when the internal temperature measures 125° to 130° F. Remember, the fish will continue cooking from the residual heat even after you've removed it from the heat source. You'll never have to second guess if your salmon is fully cooked with this trick.
What are your favorite kitchen tools for cooking salmon?
Fish Bone Tweezers – Makes removing pin bones in a fish fillet so easy | Available at Amazon & Williams Sonoma
Meat Thermometer – Super important so you're not second guessing if your fish is fully cooked | Available at Amazon, Target, Walmart, & Home Depot
Fish Spatula – Great for flipping fish in a pan | Available at Amazon
Fry Pans – For pan seared salmon these are the fry pans I use the most! | Available at Amazon, Williams Sonoma, & Crate & Barrel
Baked Salmon
One of the easiest ways to cook salmon is baking it in the oven. You can bake a whole filet and garnish it with tons of herbs and lemon wedges or flake off pieces from the fillet and use them in a curried salmon rice bowl. Remember how long to bake salmon varies, so make sure to use a meat thermometer. One of my favorite salmon recipes is steamed salmon in parchment on the stove. This method is great for two reasons, A) it doesn't splatter and get your stove dirty, and B) your house won't smell like fish.
Broiled Salmon
Another method of cooking salmon in the oven is broiling. Broiling salmon cooks quicker than baking, and therefore, you're less likely to end up with a dry filet of fish. Broiling salmon takes around 8-10 minutes, but it's a good rule of thumb to always check with a thermometer to make sure it's done
Grilled Salmon
Grilling salmon is especially great when making salmon skewers or cedar plank salmon. Grill it over medium heat, and if grilling salmon with skin, start with the skin side down and after 3-5 minutes, flip it and continue cooking until an internal thermometer measures 125° to 130° F.
Pan Seared Salmon
Pan searing salmon guarantees and nice crispy sear. Here's a few tips on how to make it. You want to start by preheating a pan to medium-high heat. Pat the fish dry and season it with your favorite seasoning blend. Sear salmon in the tiniest bit of oil for a few minutes on each side, and DO NOT flip the fish until it releases from the pan. Then use it in a salad, serve it up with some rice, or even some succotash.
Salmon Salad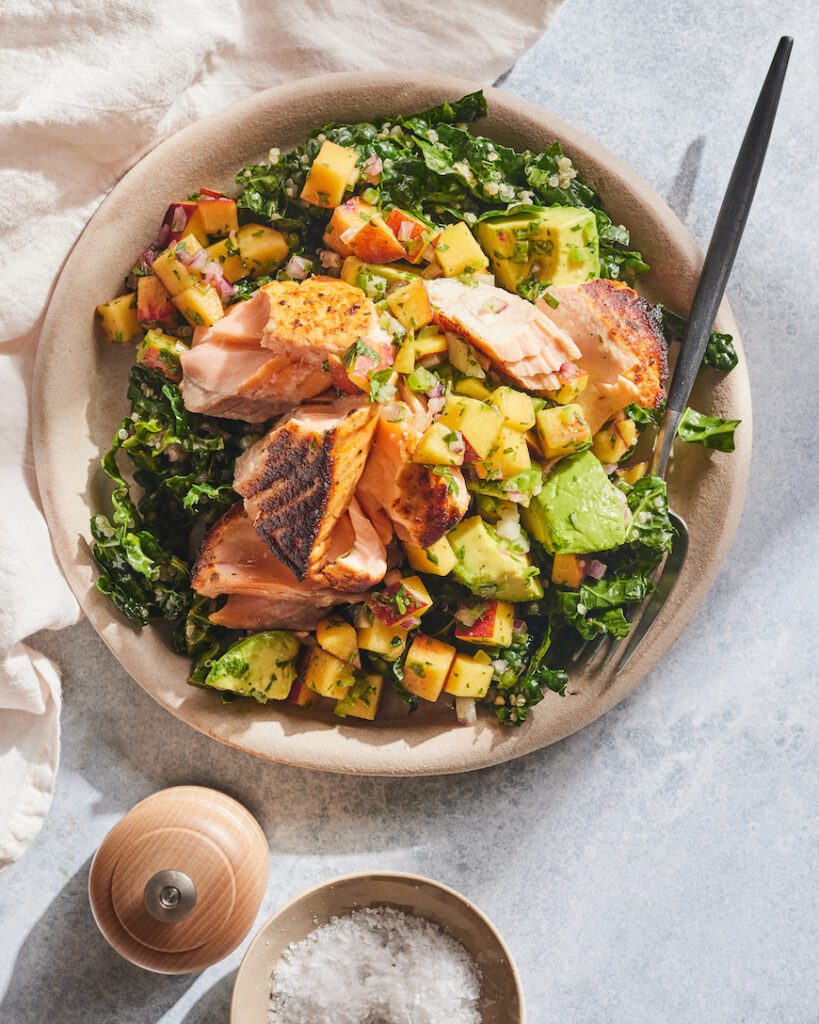 From a loaded sesame ginger salmon salad to a greek salad with salmon, these salmon salad recipes are true perfection!
Salmon Sushi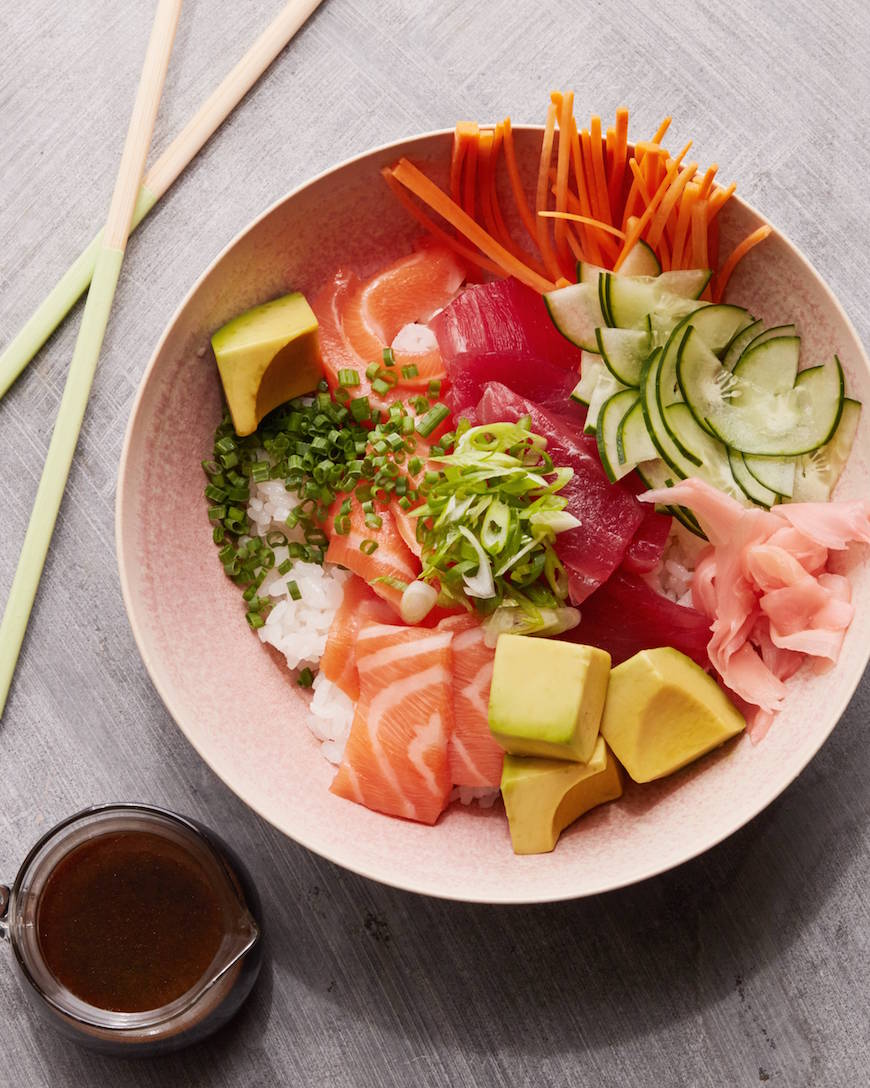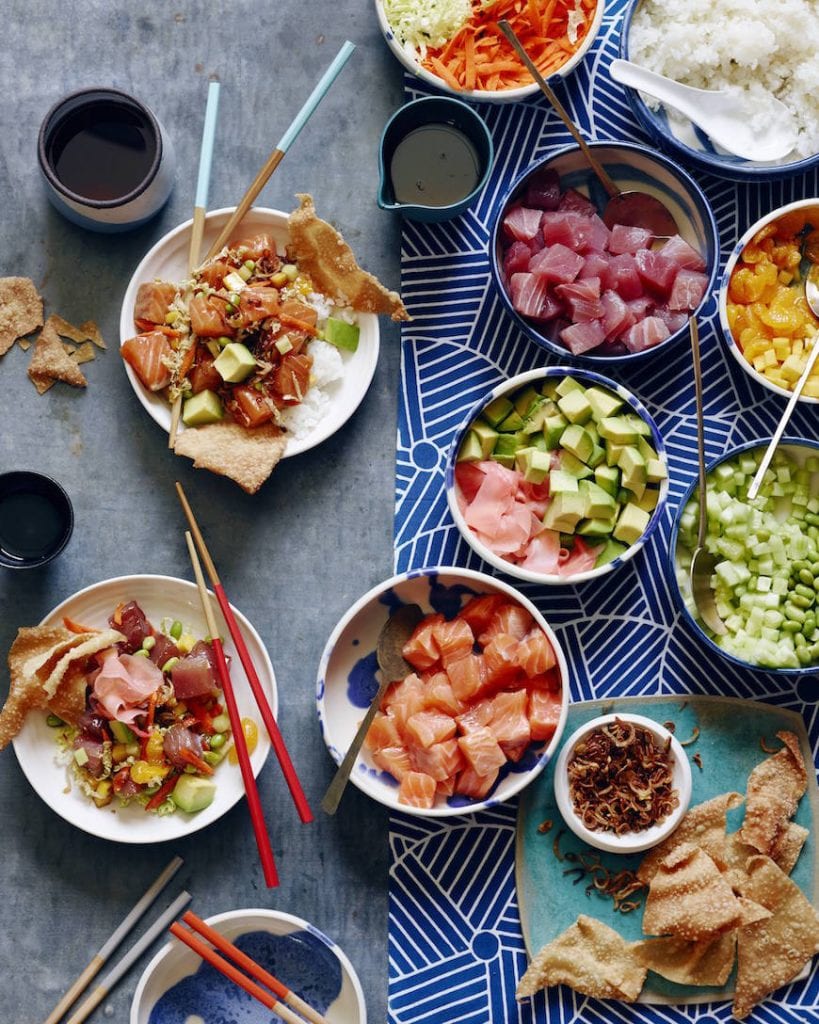 Salmon sushi bowls are everything! Pick up some sashimi grade salmon and get creative with your toppings like pickled ginger, avocado, cucumber, mango, wonton strips, you name it!
Smoked Salmon
Smoked salmon is my go to for easy breakfasts and brunches. A schmear of cream cheese, smoked salmon, capers, and some toasty bread, and you're in business.
Best Salmon Recipes: Broiled Salmon with Spring Peas
One of the easiest and fastest ways to cook salmon + an incredible spring pea salad on top!
Ingredients
1

10-ounce package

frozen peas, completely thawed

1/2

cup

sugar snap peas, thinly sliced

2

cloves

garlic, finely chopped

1/3

cup

finely grated Pecorino Romano cheese, plus more to finish

1/3

cup

olive oil

1

lemon, juiced

1/4

teaspoon

red pepper flakes

kosher salt and freshly cracked black pepper

fresh dill (optional)
For the Salmon
1 1/2

pound

salmon filet

kosher salt and freshly cracked black pepper

1

tablespoon

Gaby's Go To

(or All Things Seafood Seasoning)
Instructions
Preheat broiler. Place salmon on a foil lined baking sheet, season with salt, pepper and Gaby's Go To and broil 8-10 minutes or until golden.

While the salmon is broiling, transfer the garlic to a medium bowl and add the pecorino, a few tablespoons of olive oil, lemon juice, red pepper flakes, salt, and plenty of black pepper, and whisk to combine. Add the thawed peas. Taste and adjust salt and pepper as needed.

Use the back of a fork and just roughly mash half of the peas so they are a little more chunky and leave the other half whole. Add the sliced sugar snap peas and dill, taste and adjust seasoning as needed. Spoon on top of the cooked salmon and serve immediately.