Hands up for the freaking weekend! I'm in NYC this weekend visiting some of my favorite people and there is an epic brunch to be had come Sunday morning and this Smoked Salmon Bagel Bar is the star of the show.
We all know my profound love for a bar. The kind of bars you can DIY at home and invite all your friends over for a super chill and delicious meal. I mean, we've done a Bruschetta Bar, Mezze Bar, Nacho Bar and French Toast Bar… and now it's time for the Smoked Salmon Bagel Bar!
While there's nothing on this bar that requires a strict recipe, below you'll find my checklist for what makes the ultimate brunch. There's a little something for everyone – so even if you're opposed to smoked salmon, you're still covered!
Perhaps my absolutely favorite part of my recent trip to Sweden (something we haven't yet discussed because I was waiting for this exact moment) was going to to Savolax headquarters and hanging out with Anna…. home and queen of the absolute best smoked salmon I've ever tasted. My sister and I went early one morning to taste test our way through their smoked salmon and left with giant smiles on our faces and more than our fair share of salmon. At Savolax they serve super thick slices of their cold smoked salmon (which means it's free from any harmful substances that exist in hot smoking processes) – it's easily good enough to eat on it's own (which is what we did) but if I was able to get my hands on it in the states, it would be a part of this bar situation for sure!! If you ever see some in your local markets – run, don't walk, and you can thank me later!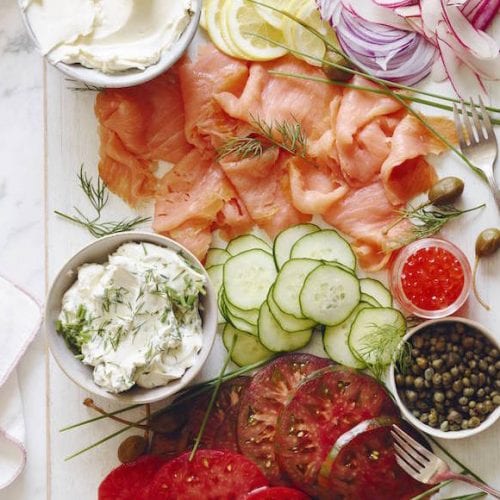 Smoked Salmon Bagel Bar
Ingredients
Smoked Salmon

Assorted Bagels

sliced and toasted

Thinly sliced Red Onions

Wedges of Lemon

Capers

Chives

Dill

Quartered Radishes

Sliced Tomatoes

Sliced Cucumbers

Various Cream Cheese

Salmon Roe
Instructions
Arrange everything on a large board and allow your guests to assemble their own bagels.