My addiction to ordering take out from my favorite sushi restaurant is INTENSE (and expensive) so rather than continue to support my lazy habit, I'm making my own Sushi Bowls at home!
If you've ever been to LA, or live here, you're probably well versed in the Sugarfish world. It's one of my favorite restaurants because it's ALWAYS consistently great. The quality of fish is awesome, the service is quick, and they do a killer take out. While I'm 1000% not talented enough to roll my own sushi, trust me I've tried and it's much harder than it looks, I'm satisfying my sushi cravings at home with a sushi bowl! It's everything you'd ordinarily get in some classic sushi rolls, but instead I serve it up in a bowl. That way I avoid rolling sushi and making a mess, AND I love eating out of a bowl. We've discussed this before but there's just something kind of amazing about eating out of a bowl. It's easy and you can watch TV while eating without spilling – win win.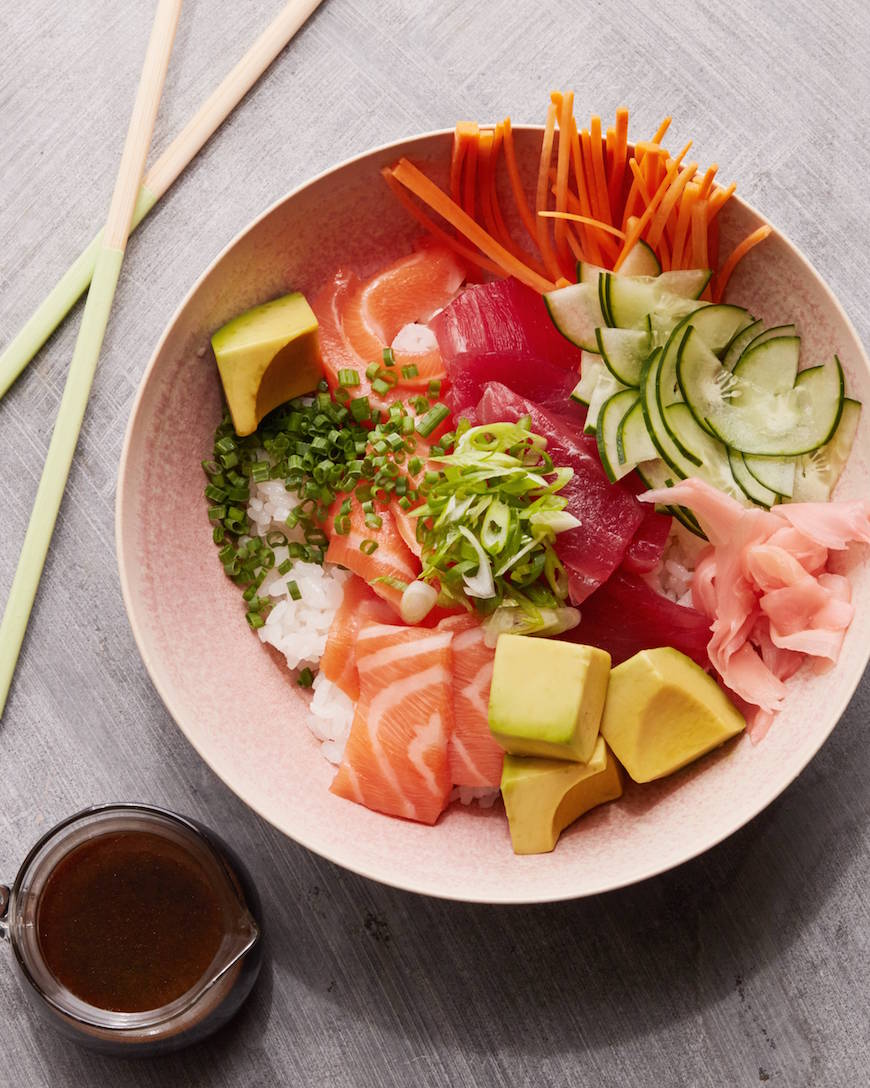 It's sushi rice piled high with your favorite kind of sushi grade fish, and topped with some other fun things and drizzled with an OUT OF THIS WORLD soy sauce dressing! Sushi Bowls for the win!! And be sure to top them with plenty of pickled ginger – it's one of my favorite things to eat in the whole world! I legit eat about 1 cup of it when we go out for sushi. Don't judge 🙂
Sushi Bowls
Ingredients
1

cup

sushi rice

1

hass avocado

1/2

cup

cucumber

thinly sliced

1/2

cup

carrots

thinly sliced

1/4

cup

scallions

finely sliced

3

tablespoons

fresh chives

chopped

sesame seeds

pickled ginger

3

ounces

raw sushi grade tuna

3

ounces

raw sushi grade salmon
For the Soy Sauce Dressing
3

tablespoons

soy sauce

2

tablespoons

rice vinegar

1

teaspoon

sesame oil

1

teaspoon

honey
Instructions
Cook the sushi rice according to the package directions.

Transfer equal parts to 2 bowls and top with piles of the avocado, cucumber, carrots, scallions, chives, pickled ginger and the fish.

Dust with the sesame seeds and drizzle with the soy sauce dressing.