S'more Slutty Brownies. Just let it happen.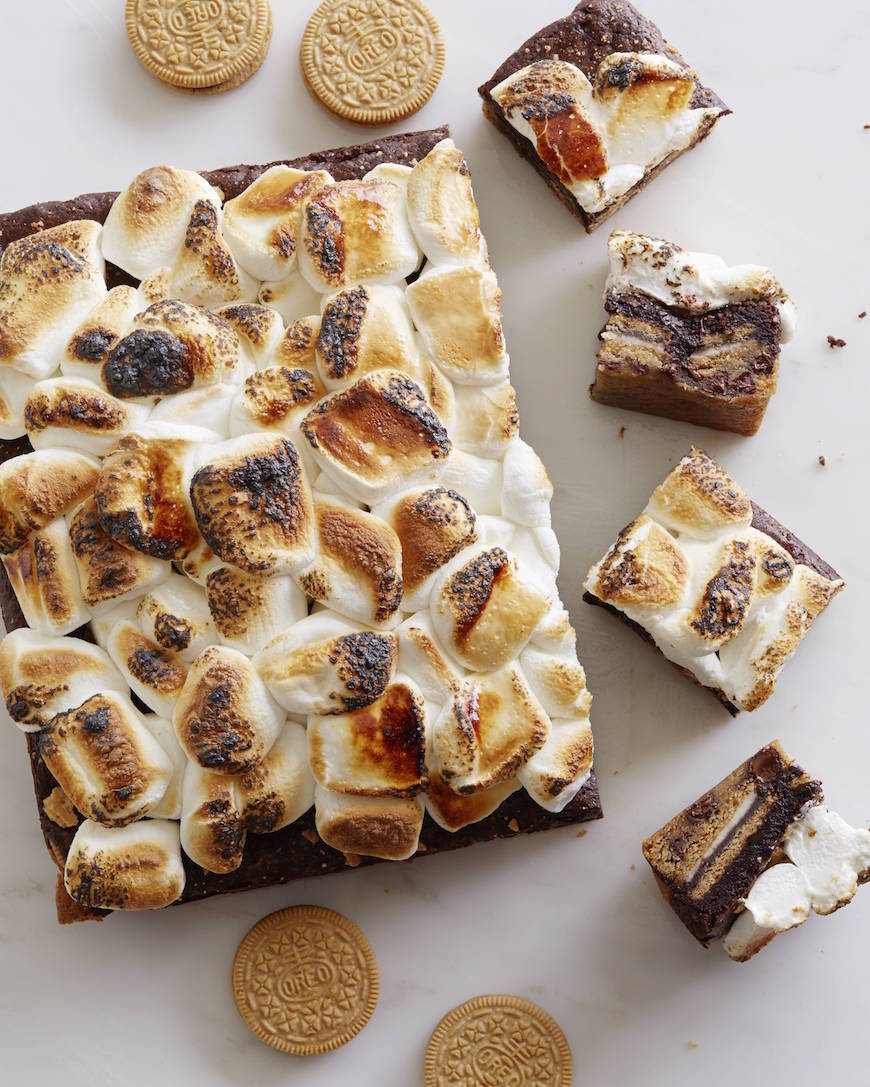 I mean, you knew it was only a matter of time right? Before we get to the incredibleness that is a S'more Slutty Brownie we have something to celebrate!!
One of my dearest friends Catherine (you might know her from Weelicious!) is preggers with her 3rd baby and today we're throwing her a little virtual shower! Just imagine a real baby shower filled with all sorts of delicious treats from food bloggers all over the country. It would basically be the worlds most epic foodie event EVER! But since we all live in various cities across the country, we're celebrating Catherine today with a virtual array of deliciousness.
Catherine is one of my favorite people on the planet. She's the kindest person you'll ever meet and I love her to the moon and back. I feel so lucky to have her as one of my closest friends and I can't wait to snuggle her new baby (boy or girl!!!)…. it's a surprise and the suspense is KILLING ME!! Catherine is all about eating wholesome foods that are majorly delicious. She's also always down for a laugh, which is why these S'more Slutty Brownies seemed fitting for today 🙂 They are more on the humorous side than the wholesome side. But if you consider cookie dough and brownies and marshmallows to be wholesome… then by all means, who am I to stop you!!
When the s'more flavored oreo came out, it was only a matter of time until I concocted some sort of slutty brownie based on the new flavor. So I added the new cookies to the middle layer, kept the homemade cookie dough and homemade brownie layer the same and then added some torched marshmallows on top for an extra layer of decadence. (as if it wasn't decadent enough to begin with!) The result is nothing short of amazing. It's a sugar rush for sure, and 1 pan of these can easily feed about 25 people as all you is a tiny little square to satisfy your sweet tooth. So if you're feeling ambitious, whip these suckers up and enjoy!! And here's to Catherine and the latest addition to their incredible adorable family! Stay tuned after the recipe to see what everyone else brought to the shower!
S'more Slutty Brownies
Ingredients
For the Brownie Layer
10

tbsp

unsalted butter

1 1/4

cups

white sugar

3/4

cup

cocoa powder

1/2

tsp

salt

2

tsp

vanilla extract

2

large eggs

1/2

cup

AP flour

For the Oreo layer:

1-2

packages of S'more Oreos
For the Cookie Dough layer:
1/2

cup

unsalted butter

at room temp

1/4

cup

brown sugar

3/4

cup

white sugar

1

egg

1 1/4

tsp

vanilla extract

1 1/4

cups

AP flour

1/2

tsp

salt

1/2

tsp

baking soda

1/2

tsp

baking powder

1

cup

semi-sweet chocolate chips
Marshmallows
2

cups

large marshmallows
Instructions
For the Brownie layer:
In a medium sauce pan, melt the butter over medium high heat. Add the sugar and cocoa powder once the butter is melted. Whisk to combine and remove from heat. Add the salt, vanilla and eggs and continuously whisk until the eggs are combined. Add the flour and continue to mix. Set batter aside.
For the Cookie Dough layer:
Cream together the butter and sugars in a mixer. Add the eggs and vanilla, making sure to scrape down the sides of the mixing bowl. Add the flour, salt, baking soda and baking powder and mix on low until everything is incorporated. Fold in the chocolate chips. Set dough aside.

Assembly:

Pre-heat the oven to 350 degrees.

Line the bottom of a 9x9 baking pan with tin foil and then spray the tin foil with a layer of baking spray.

Layer the cookie dough on the bottom of a 9x9 baking pan, pressing down to form the bottom of the slutty brownies.

Layer as many oreos that will fit on top of the cookie dough. No need to overlap. One single layer will do.

Pour the brownie batter on top of the oreo layer and make sure it's evenly layers on top.

Bake for 30-35 minutes. Test with a knife to see if the center is done. If the knife comes out clean, remove the brownies from the oven and pile on the marshmallows. If the knife comes out with batter still on it, allow the brownies to bake about 5 minutes more and then add the marshmallows. Let the brownies and marshmallows rest for 30 minutes so the marshmallows stick to the top layer. Using a blow torch, torch the top of the marshmallows until toasted. Cut and serve as needed.

**The cut best when the brownies are cold**