This super flavorful Butter Chicken couldn't be easier to make! It's especially delicious served with a warm piece of naan!
Butter chicken is one of the best chicken recipes I've made to date. It's right up there with Chicken Parm Meatballs and Chicken Tawook!
At it's core, it's cut up chicken thighs marinated in a lemon juice, yogurt (Stonyfield Grassfed Greek Quarts to be exact) and a spice mixture and then simmers in a savory sauce made of butter, onion, garlic, ginger, tomatoes and some cream. It's slowly cooked until the chicken is almost falling apart, majorly tender, and packed full of flavor. (side note – if you're looking for incredible and AUTHENTIC spices – check out Diaspora Co. They are the best of the best)
Any of the Greek Stonyfield (non-flavored) products would work for this recipe. But we've been buying the Grass-fed recently and we're obsessed. Like all Stonyfield products, 100% Grassfed Greek is organic, non-GMO, and made without the use of artificial hormones.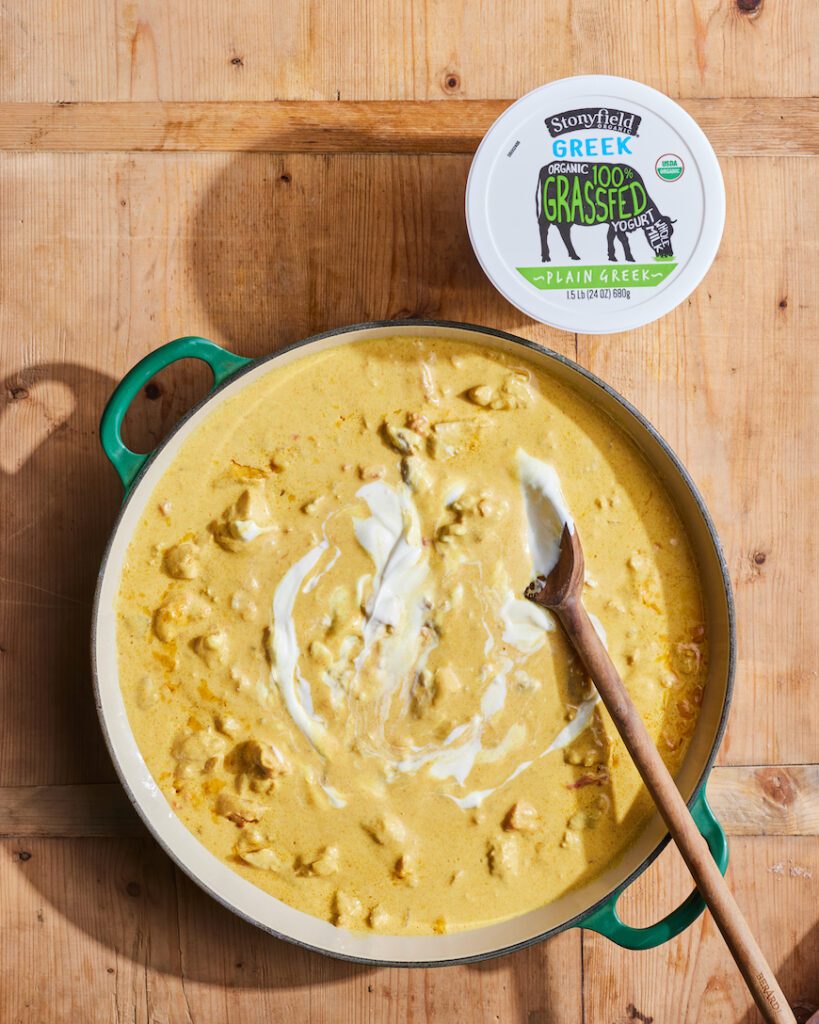 Butter chicken is reminiscent to chicken tikka masala but the difference is that while Tikka Masala is a bit more complex and this tastes more buttery with a delicious tomato based Indian yogurt based gravy.
There are all sorts of delicious juices that come with this recipe so you absolutely MUST eat it with a few pieces of homemade naan!
Some frequently asked questions coming your way:
What does Butter Chicken taste like?
It's slightly adjacent to chicken tikka masala but the difference is that while Tikka Masala is a bit more complex and this tastes more buttery with a delicious Indian gravy. It originated in back in the 1950's in India when some leftover chicken was tossed into a tomato based gravy sauce and it's been popular ever since!
Why is it called Butter Chicken?
Because of the butter in the gravy of course!! If you're hesitant about the butter, don't be! It's honestly so delicious in this recipe. You could also use Ghee if you have it on hand – will be just as delish!
What do you serve with Butter Chicken?
I like to serve a warmed piece of homemade naan with it. It's also great over rice, quinoa, farro or any other grain.
What spices go in Butter Chicken?
Turmeric, garam masala and cumin are the traditional spices you'll want to have on hand! I add in a pinch of cayenne for a little heat. If I'm making this for my daughter, I omit the cayenne and she gobbles it right up.
Can you freeze Butter Chicken?
You sure can! I freeze smaller portions of this all the time, once it's fully cooked. In order to reheat it, I just remove it from the freezer, let it come to temp in the fridge and then transfer the mixture to a non-stick skillet and re-heat over medium heat. It's a great dish to freeze because it re-heats so nicely!
Ok… away we go!
Butter Chicken
This super flavorful Butter Chicken comes together faster than you could order-in, and couldn't be easier to make!
Ingredients
For the Marinade
2

pounds

boneless skinless chicken thighs or breasts, cut into 1 inch pieces

2

tablespoons

lemon juice

1 ½

tablespoons

ground turmeric

2

tablespoons

garam masala

2

tablespoons

ground cumin

1

teaspoon

cayenne pepper
For the remaining part of the recipe:
½

cup

butter

1

onion, roughly diced

4

cloves

garlic, roughly chopped

2

tablespoons

fresh ginger, grated

1

15-ounce

can diced tomatoes

½

cup

chicken stock

2

cups

heavy cream OR coconut milk

1

teaspoon

tomato paste

2

teaspoons

salt

Lemon juice to taste

Cilantro to garnish

Naan bread to serve
Instructions
Combine the chicken, greek yogurt, lemon juice, and spices in a bowl. Marinate for at least 1 hour, or overnight.

In a large pan over medium heat, melt the butter. Stir in onion and cook slowly until the onion and cook until translucent. Add the garlic and ginger and cook until fragrant, about 2-3 minutes more.

Add the tomatoes to the skillet and cook for 5 minutes. Add the chicken and its marinade to the pan and cook for 5 minutes. Add the chicken stock and bring the mixture to a boil – then lower heat and simmer for 30 minutes. Stir in the heavy cream, tomato paste and salt and continue to simmer until the chicken has cooked through, about 15 minutes, and the sauce is thick.

Taste, adjust seasoning as needed, add lemon juice for a bit of acid. Garnish with cilantro leaves and serve alongside warmed naan.
Photo by Matt Armendariz / Food Styling by Adam Pearson / Recipe from What's Gaby Cooking