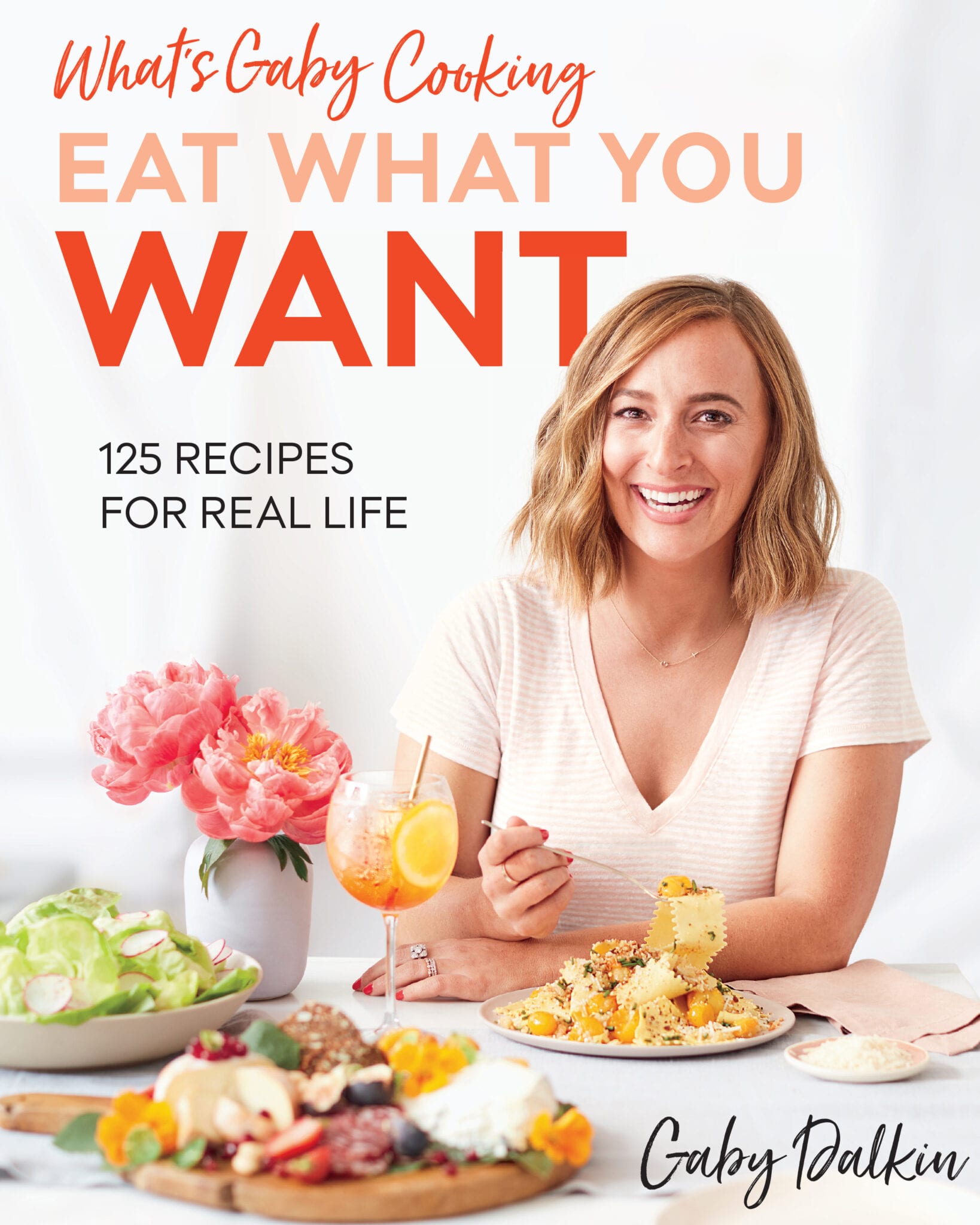 New cookbook
Eat What You Want
125 Recipes for Real Life
Eat What You Want is Gaby's 3rd cookbook, due out Spring 2020 and it's all about recipes for real life: no deprivation, no starvation, just Gaby's signature mash-up of bright flavors when you want it, and hearty and satisfying when you need it. And as always, simple enough to make during the week but special enough to serve up on the weekend. All of the dishes in this book will show you that you don't necessarily need to ditch the carbs/meat/dairy/sugar in order to feel awesome. How refreshing is that?! Complete with menu ideas for the ultimate party, Eat What You Want is an invitation/permission slip/pep rally for you to let go of all the noise around what you choose to eat and choose joy instead.
Pre-order What's Gaby Cooking: Eat What You Want from your favorite book retailer before April 28, then fill out the form HERE to receive an exclusive Eat What You Want tote bag! Please note that filling out this form does not constitute a pre-order for the book. Offer is only available for those who live in the United States.
Brand New Recipes
100+ brand new never been seen before WGC recipes
Party Menus
3 full party menus for all your entertaining needs
Cocktails
Something that was sorely missing from book #2
Whats Thomas Eating?
A whole chapter dedicated to Thomas and recipes so easy, even he can do it
Austin - Coming Soon
Pawhuska - Coming Soon
Boston - Coming soon
Toronto - Coming Soon
Napa - Coming Soon
What's Gaby Cooking
Everyday California Food
In What's Gaby Cooking: Everyday California Food, I share more than 125 of my favorite simple and fresh recipes that offers a glimpse into what it's like to "go coastal." It's about always having something tasty to eat, thanks to handy and delicious pantry staples (avocado oil! quinoa! limes! dark chocolate!), as well as an arsenal of easy and healthy recipes, like Chimichurri Cauliflower Rice Bowl with Grilled Fish, Taco Skillet Bake, and Street Corn Pizza. The book covers all the staples—avocado toast, grain bowls, greens, carbs, healthy mains, cocktails, and more.
Absolutely Avocados
(my first book)
If you love avocados, but don't know what to do with them other than serve them with tortilla chips, this is the perfect cookbook for you. With its buttery texture and subtle flavor, the avocado pairs well with meat and seafood, makes a great topping for burgers and salads, and adds a wonderful creaminess to dips, sauces, and even desserts. Absolutely Avocados presents delightfully delicious new ways to use avocados in breakfasts, lunches, salads, snacks, and plenty of the ways you haven't even imagined.