There are a few things that I am 100% certain of…
1. Things taste better with salt
2. Having a bit of a tan makes me happy
3. My dad makes the worlds most amazing cookies
4. Yoga pants are the best thing ever invented
5. Burrata should be its own food group
You agree right? I mean, minus the fact you haven't all had a chance to try my dad's kitchen sink cookies, but let's just overlook that for a hot second. The rest of the points are completely valid. And today I'm taking #5 to a whole new level.
Burrata and Stone Fruit Salad!! It would be on the menu for lunch and dinner daily if I didn't continue to eat all the Burrata before it was time to whip this one up. But I can't be held accountable for my actions when Burrata is involved. #sorryimnotsorry
It's the perfect salad to sloooooowly start to say goodbye to summer. Scratch that. I refuse to say goodbye to summer just yet. I will rock my flip flops and short shorts until it starts to rain and I am forced to put on close toed shoes. But until that day comes…. It's sunglasses, flip flops and Stone Fruit and Burrata Salads all day every day!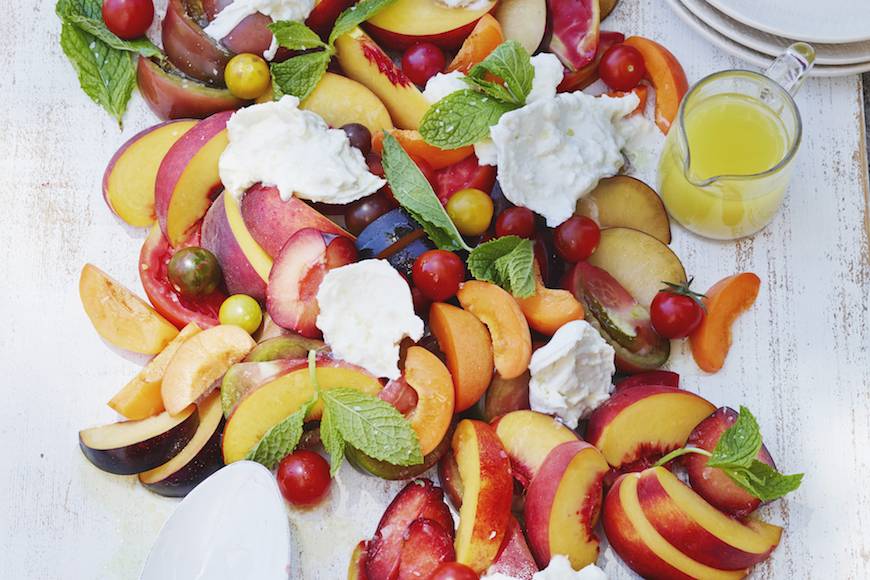 Stone Fruit and Burrata Salad
Ingredients
For the Salad
1

large ball of Burrata

2

Nectarines

cut into wedges

2

Plums

cut into wedges

2

Peaches

cut into wedges

1

Heirloom tomatoes

cut into wedges

1

cup

Heirloom cherry tomatoes

Maldon Sea Salt + Freshly cracked black pepper

Fresh Mint
For the Champagne Vinaigrette
2

garlic cloves

finely chopped

1

tablespoon

Dijon Mustard

1/4

cup

champagne vinegar

2

tablespoons

fresh lemon juice

2

tablespoons

honey

1

teaspoon

red pepper flakes

1/2

teaspoon

salt

1/2

teaspoon

freshly ground black pepper

1/2

cup

extra virgin olive oil
Instructions
For the Salad
On a large plate, arrange the nectarines, plums, peaches and heirloom tomato wedges. Carefully rip the ball of burrata into pieces and scatter on top of the fruit along with the cherry tomatoes. Sprinkle with salt and pepper and a few baby leaves of fresh mint.

Drizzle with a few tablespoons of the champagne vinaigrette and serve immediately. Serve with extra vinaigrette if needed.
For the Champagne Vinaigrette
Combine all the ingredients except the olive oil in a medium bowl and whisk together. Once combined, stream in the olive oil and continue to whisk until the vinaigrette comes together. Taste and adjust salt and pepper as needed. This dressing can be stored and refrigerated for 1 week.
Photo by Matt Armendariz / Food Styling by Adam Pearson / Recipe by What's Gaby Cooking