The most perfect better-than-takeout Orange Chicken is coming your way!! You'll never be more than 15 minutes away from the perf meal!
I think we can all agree that the holidays are looking a little different this year!! But that doesn't mean that this year can't be special. Maybe we aren't having a big festive dinner party later this month, and cookie exchanges are obvi not in the cards… but I'm still determined to make things special for my little family!! And also – I'M HUNGRY!! So bring on the food!
I don't know about you guys – but we did a LOT of takeout in November. Mostly because we didn't have a home and were hotel living thanks to the house renovation!! And I overdid it on the ordering. I'm THRILLED to be back in the kitchen and having full control over what goes into my food // yes I am a control freak. So… that brings me to this very important Homemade Orange Chicken recipe that should be added to your weekly line up asap! It's def not the most traditional holiday recipe — but hello it's homemade orange chicken and everyone is going to think you're a rock star!!
You'll be seeing a ton of Florida's Natural orange juice inspired recipes here on WGC over the next few months and I couldn't be more excited!! These guys bring a fresh-from-the-grove taste to your kitchen and their Florida's Natural orange juice truly elevates this Better Than Takeout Orange Chicken. SO ON BOARD!!!
Florida's Natural orange juice is made from one simple ingredient — Florida oranges (7 different kinds to be exact) — giving it a straight-from-the-grove taste. We've stocked it in the Dalkin fridge for years. My mom and dad have a glass every morning which I am SO WELL AWARE OF these days since we pretty much always start our days with a quick FaceTime to say hello!! There are no artificial flavors or ingredients, and no water, sugar or preservatives which 1: makes it the most delish and 2: makes me feel really good about feeding it to the bebe while I'm pregnant!
Anyways – it's the star of the show in this Better Than Takeout Orange Chicken!! And spoiler alert – this is legit better than any delivery!! Plus it's fresh and easy to whip up!!
Let's talk about a few quick tips for the orange chicken.
1: the chicken is easy to prep and no you cannot skip the cornstarch. It's a vital element in making it crispy!! Also you need to make sure the chicken is blotted TOTALLY dry before adding into the cornstarch egg white mixture otherwise the coating wont stick. This is crucial, especially if the chicken was previously frozen and defrosted.
2: you need a LARGE pot for frying and it's best to fry this in small batches. If you overcrowd the pan and fry too many pieces of chicken at once, the coating will come off. Don't be afraid to cook the chicken in batches for optimum results.
3: the Florida's Natural orange juice is the perfect way to make that deliciously savory orange sauce that goes on top. It also gets a little zip from some soy sauce and rice wine vinegar. If you're anything like me, it might be worth it to double the sauce portion of the recipe so you can drizzle it on your veggies too!
Okay!! Have at it!! Make this when you need a break from your usual holiday cooking and baking and could use something delicious and quick. I recommend whipping this up for a little family game night! Then watch your family members freak out in front of your eyes!!!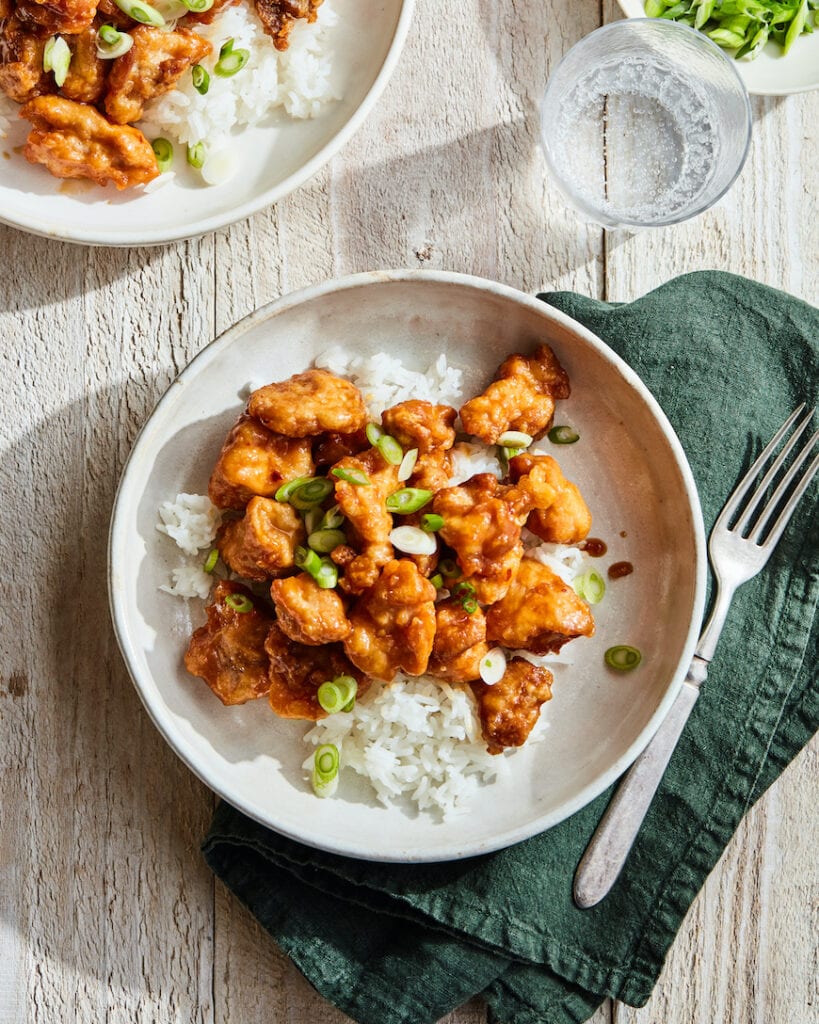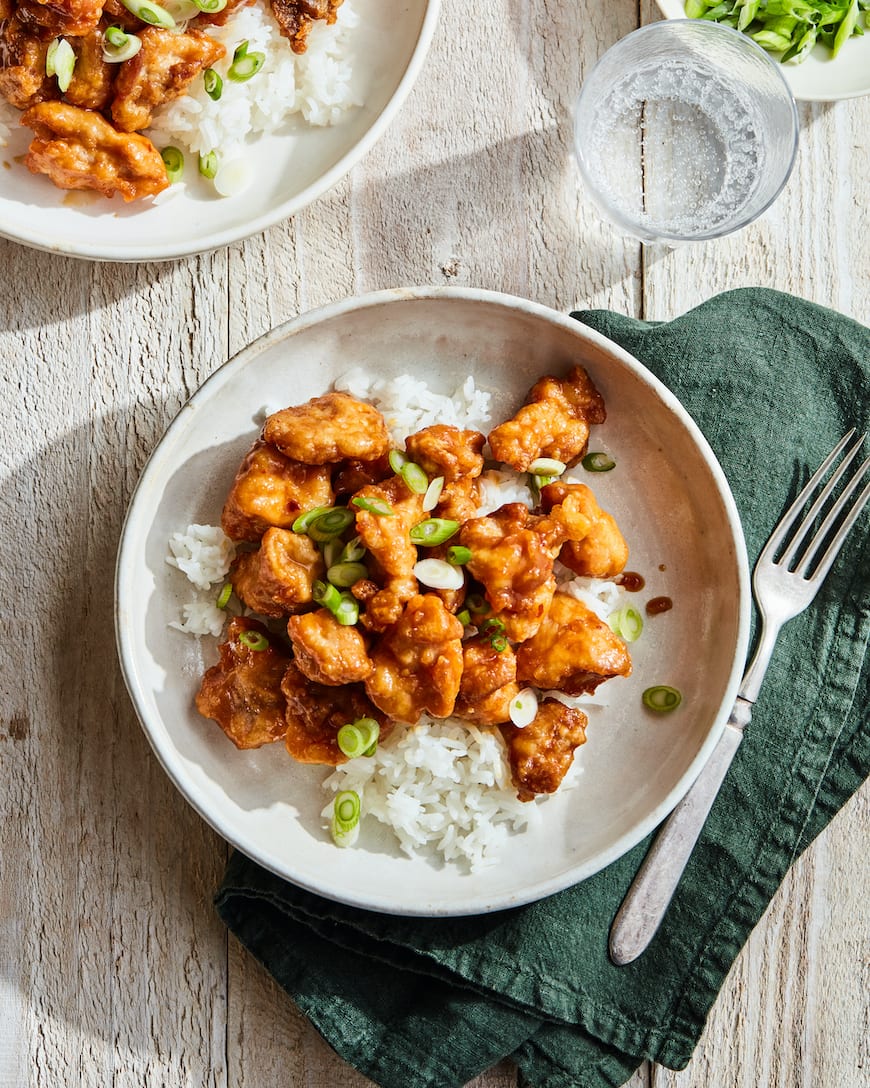 Homemade Orange Chicken
This homemade Orange Chicken is truly perfection!! So for those of you who order this every time you get takeout – try and make it and home and see what you think!
Ingredients
For the Chicken
3

tablespoons

cornstarch

3

egg whites

2 1/2

lbs

boneless skinless chicken thighs, cut into bite-sized pieces and patted totally dry
For the Sauce
1/2

cup

Florida's Natural No Pulp Orange Juice

1

tablespoon

soy sauce

1

tablespoon

brown sugar

1

tablespoon

rice wine vinegar

1/4

teaspoon

sesame oil

Kosher salt and crushed red pepper flakes

2

cloves

garlic, finely chopped

1

teaspoon

cornstarch

vegetable oil for frying

green onion for garnish (or chives!)
Instructions
For the Chicken
In a large bowl, whisk together the cornstarch and egg whites with a fork until almost frothy, about 1 minute. Add the patted dry chicken to the mixture and allow to sit for 5 to 10 minutes.
For the Sauce
Meanwhile, put the Florida's Natural No Pulp Orange Juice, soy sauce, sugar, vinegar, sesame oil, salt, crushed red pepper and garlic in a small nonstick skillet and whisk. Heat until bubbling and starting to thicken, about 5 minutes.

Whisk together the cornstarch and 1/4 cup water in a small bowl and add 1 to 2 tablespoons of the cornstarch slurry to the sauce. Mix in and thicken for 1 minute.

Heat about 2-3 inches of vegetable oil in a large heavy-bottomed Dutch oven until a deep-fry thermometer inserted in the oil registers 350 degrees F. In batches, carefully drop the chicken into the oil (I drop 1-2 pieces in at a time and move it around for a second before adding more pieces), flipping gently, until golden, 3 to 4 minutes. Be very careful not to overcrowd the pan. Let the pieces drain on a plate lined with paper towels for 2 to 3 minutes. Repeat the process with the remaining batches. Once all the batches have their initial fry, drop them back into the oil for 1 minute to really solidify the coating. Toss the chicken in the sauce and serve with the green onion garnish
** This post is brought to you by Florida's Natural. All content, ideas, and words are my own. Thanks for supporting the sponsors that allow me to create new and special content like this for What's Gaby Cooking**