Greece Guides! They're here! We had the most incredible trip last month and I'm dropping all the knowledge here for anyone planning an upcoming adventure! We did Athens followed by Santorini and then Mykonos. Each had a completely different vibe and I loved them each for different reasons. We were there for a total of 12 days so we obviously didn't have time to go to every part of Greece… but we'll be back! In the meantime…. Athens.
If you followed along on instagram or snapchat, you know we were traveling with some of our friends who frequent Greece and know whats up. Add to that all my obsessive research and we were set! Also, I'm a bit of a Greek mythology nerd. It was my favorite thing we learned in middle school and I couldn't get enough. So to say I was excited for all the history we were about to soak up in Athens would be an understatement. Here's my suggested itinerary!
I think you need a solid 2 days/3 nights in Athens to see the sights… 1 day to do the Athens city walk, and 1 day to do the Acropolis. We arrived in the evening and tried to stay up as late as possible to kick jet lag in the butt, and then hit the ground running the next day! Here's what you can't miss!
Where to Stay:
Grand Bretagne or the King George – these 2 sister hotels are right smack in the middle of the city and are great kicking off points for your day. Both have epic breakfast spreads and the Grand Bretagne has an incredible rooftop bar where we did happy hour every night.
What to Do:
Ancient Agora – We spent the first day touring the ancient city of Agora. We did a self guided tour and just used the Rick Steves app (he was clutch for our Italy trip last year and my dad has been using his city guides for years so obviously I'm a fan)
Plaka – after you tour Ancient Agora head over to the Plaka and get lost in the streets. It's a touristy area but there's everything you could ever want when it comes to shopping and cute little restaurants to grab a bite to eat!
Temple of Zeus – after lunch, head over towards the Temple of Zeus! It's not to be missed.
Acropolis Guided Tour – Day 2 was all about the Acropolis. A few tips and tricks. First – go early and try to beat the crowds. Second, wear a hat. It's HOT up there and there's no shade. Third, bring water and wear something super comfortable… there's a decent amount of walking that needs to be done. And lastly…. hire a guide. Remember last year when we did the entire city of Rome on our own but insisted on getting a guide for the Vatican… same thing goes here! They'll drop all the knowledge and know all the tricks! You'll see everything from the Odeon of Herodes Atticus to the Temple of Nike to the Partenon and the Theater of Dionysus. The Greek mythology nerd in me was literally jumping for joy.
Acropolis Museum – after you hit up the Acropolis, head down the hill and cool off in the museum (again, stick with the same guide as before)
Where to Eat / Drink:
Kritikos – easily the best meal of the entire trip. It's a trek outside of the city but this Taverna was beyond. Whatever you do, don't wear anything with a waist band… go in a flowy dress because you'll basically eat more food that you knew was possible. The dips, the meats, the wines… get everything.
Balthazar – one of my favorite nights in Athens was here! It's hip / trendy / sceney and a LOT of fun!! Order family style so you can try everything.
Kostas – hands down the best Souvlaki I've ever had in my life. It's a hole in the wall right downtown Athens. Go early so you can skip the lines. Or attempt to go for a second lunch… but don't go too late because once they run out of food, it's over for the day.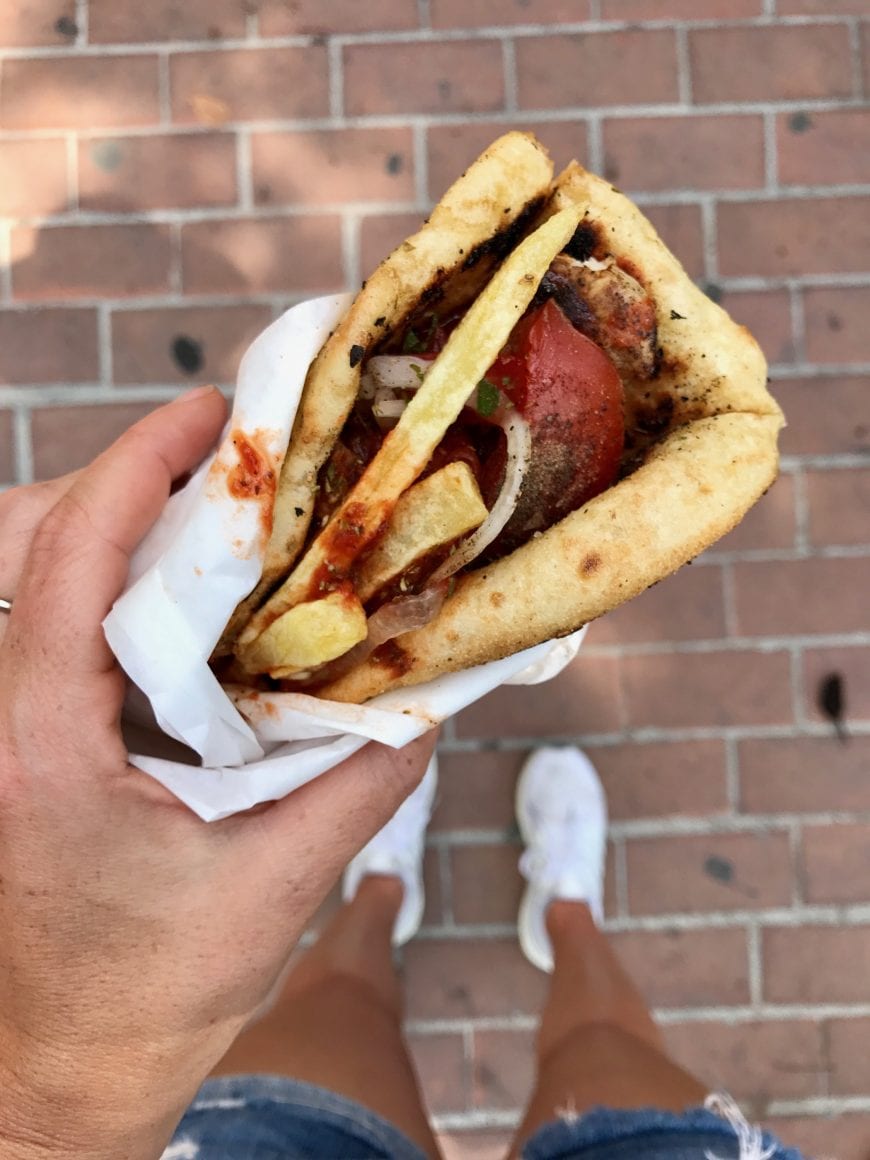 Peek a Bloom – the night life in Athens puts LA to shame. People stay out until 3/4 in the morning…. which was hysterical because Thomas and I are like 90 year olds and go to bed super early most nights while at home. But when in Rome right? Peek a Bloom is a fun speak-easy style bar and you should absolutely go after dinner one night and camp out until they close!
The Seychelles Restaurant – taverna style food right in the heart of Athens!! It's popular so book a table!
Kafeneio – omg. The dolmades, and meatballs in the sauce and tzaziki and the eggplant dip… so for lunch and then walk it off. You'll be stuffed.
Le Greche – Gelato. Enough said. Be sure to get the Greek Yogurt flavor… omg. Game Changer.