Spring has sprung and I'm in it to win it!! We'll be featuring a ton of spring produce in the coming weeks and we're kicking it off with these Grilled Artichokes with Lemon Basil Vinaigrette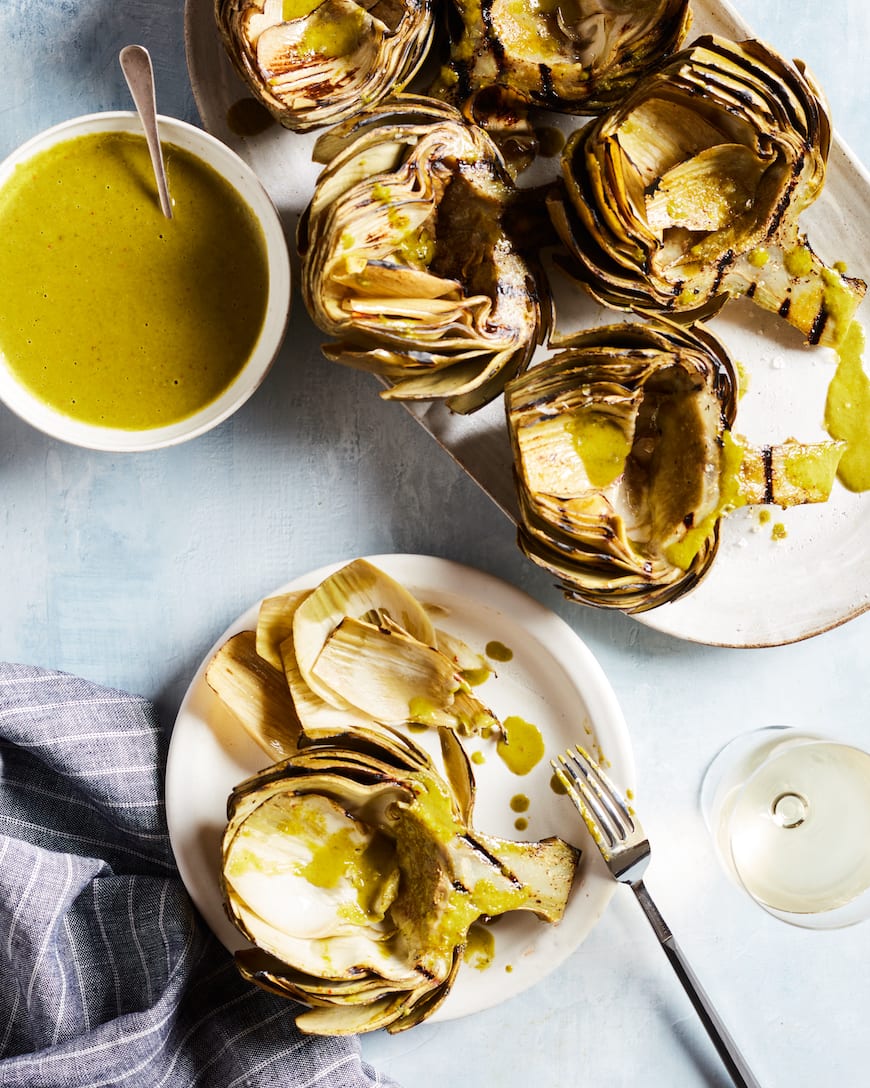 Now, these aren't just any grilled artichokes. Adam has been making these for me for years and I'm OBSESSED. They are steamed first, then brushed with some oil, and then grilled/charred to perfection and served with a lemon basil vinaigrette!
While I've grown up dipping artichokes in butter or an aioli, this lemon basil vinaigrette gives it a little bit of a California girl spin – plus when you walk away from the table and realize that you just ate 2-3 full artichokes, you won't feel quite as guilty!! Fire up the grill this weekend and you're well on your way to the best 'chokes of your life!! And if you're not living somewhere where grilling is possible at this moment, just steam them as the direction state and then place under the broiled for a few moments to give them a little char!!
Grilled Artichokes with Lemon Basil Vinaigrette
The most perfect Grilled Artichokes with Lemon Basil Vinaigrette
Ingredients
3-4

large artichokes

1

shallot, roughly chopped

2

cups

tightly packed fresh basil leaves, stems removed

1

clove

garlic

1/2

teaspoon

red pepper flakes

1/2

cup

olive oil

2

tablespoons

red wine vinegar

1

teaspoon

kosher salt

1

lemon, juiced
Instructions
Clean and trim the artichokes and cut in half. Remove the choke.

Boil a large pot of water with a steaming basket inside. Be sure that the water level doesn't touch the bottom of the steaming basket. When water boils, place as many artichoke halves as you can fit into the basket in a single layer, exposed side down. Steam artichokes for around 25 minutes. You should be able to easily piece the artichoke heart with a knife after it's been steamed.

Combine the remaining ingredients in a blender and blend until smooth.

Once steamed, remove from the water, brush some of the vinaigrette over the exposed parts of the artichokes and then transfer to a heated grill if you are grilling. Grill for 15 minutes over medium high heat until charred.

Serve with remaining lemon basil vinaigrette drizzled over the top or served on the side for dipping