You guys… it's happening again… brunch season is upon us. There's no rhyme or reason for when it starts, but it's here and Garlic & Herb Parmesan Biscuits need to be front and center for the moment.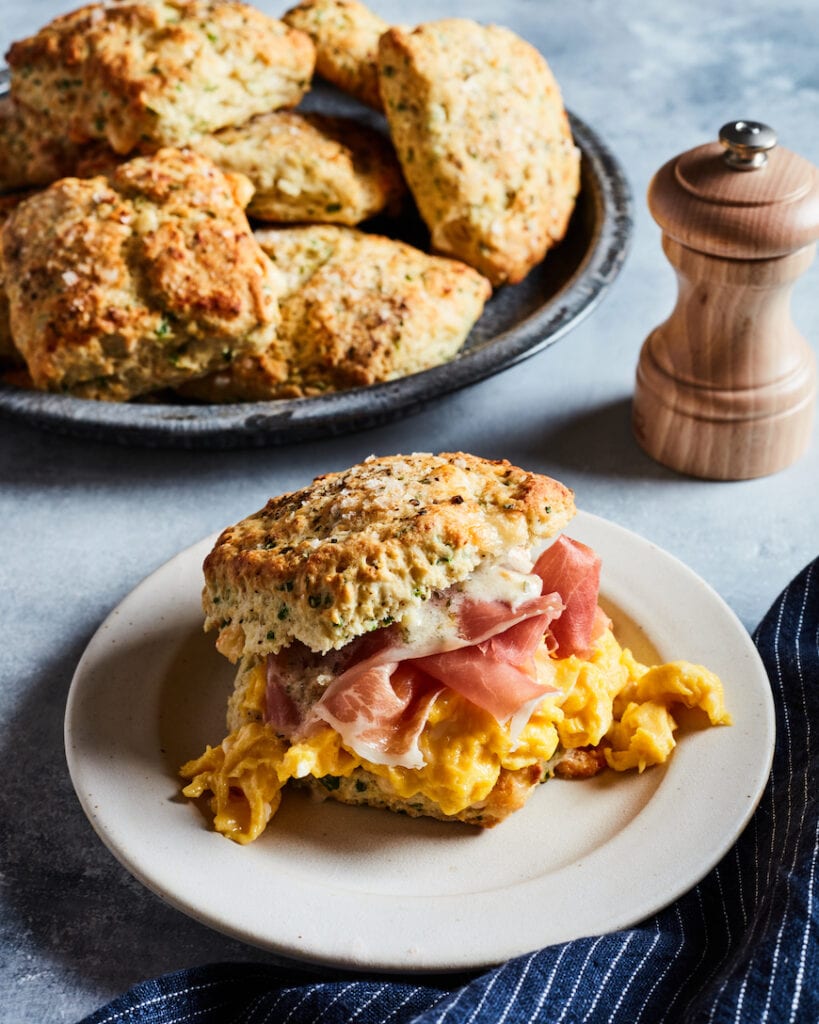 Have you cracked the code for the most perfect biscuits yet? If not, I'm here to rock your world. These Garlic & Herb Parmesan Biscuits are perfection. Perfection on their own, and perfection when made into an easy little breakfast sandwich.
We made a version of these Garlic & Herb Parmesan Biscuits a few years ago on a group trip to Palm Springs and I break them out from time to time to re-live that trip!! Here's the situation! First you need some amazing butter spread, Land O Lakes® Garlic & Herb Butter Spread in this case!! Then you need chives and cheese and some other pantry staples…. Easy. Once you combine everything, then just portion, bake and enjoy.
Or if you're feeling extra, make it into a breakfast sandwich with an extra spread of the Land O Lakes® Garlic & Herb Butter Spread, some soft scrambled eggs, prosciutto and perhaps even a slice of cheese on top. IT IS TRULY PERFECTION! 
This makes approx 9 biscuits, so go ahead and freeze the extras if you want!  
Garlic and Herb Parmesan Biscuits
These cheesy salty buttery biscuits are the perfect DIY brunch recipe for a weekend!
Ingredients
To Serve
soft scrambled eggs

sliced prosciutto

extra Land O Lakes® Garlic & Herb Butter Spread
Instructions
In a large mixing bowl combine the flour, baking powder, salt, pepper and baking soda and whisk to combine. Using a fork or a pastry cutter, cut the cold Land O Lakes® Garlic & Herb Butter Spread into the flour mixture until crumbly. Make a well in the center, place cheese and chives in the well and pour buttermilk over. Carefully and slowly stir until it comes together and makes dough

Turn the dough out onto lightly floured surface and, with floured hands, give it a quick knead 3-4 times to bring it together. Pat the dough into an 8×8 square, about 1 inch thick, and cut into 9 square biscuits

Place on a baking sheet lined with parchment or a silpat, brush with melted butter spread, sprinkle with salt and pepper and place in a hot oven until puffed up and golden brown, around 15-18 minutes

Slice each biscuit in half and serve with prosciutto, scrambled eggs and softened butter spread slathered on top