Given the opportunity to combine two of my favorite foods, it's hard to say no. Potatoes and avocados are epic for many reasons… one of which being that they are both extremely versatile. From mashed potatoes to fries and guacamole to a sauce, it's hard to go wrong. And these Roasted Potato Fries with Avocado Aioli are the perfect way to combine the two.
So, here's the deal, my husband is a meat and potatoes kinda guy and I grew up in a mostly vegetarian household. So while meat makes an appearance on the table every now and then, potatoes are on the menu at least 3 times a week. Oven baked fries are one of my favorite side dishes because you can jazz them up with different spices and serve them with just about anything.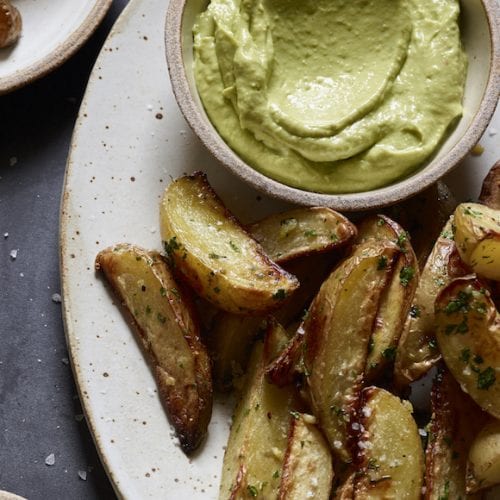 Roasted Potatoes with Avocado Aoili
Ingredients
5

large Yukon Gold potatoes

cut into wedges

6

tablespoons

olive oil

5

cloves

garlic

finely minced

3

tablespoons

finely chopped parsley

Kosher salt and freshly cracked black pepper
For the Avocado Aioli:
2

ripe avocados

1/4

cup

sour cream

2

tablespoons

chopped basil

1

tablespoons

minced garlic

2

tablespoons

fresh lemon juice

½

teaspoon

red pepper flakes

Salt and freshly ground pepper to taste
Instructions
Preheat oven to 450 degrees.

Place the potato wedges, 3 tablespoons of olive oil and salt and pepper in a zip top bag and shake to combine. Transfer the potatoes a parchment lined baking sheet and evenly spread out the wedges. Transfer to the oven and bake for 30-35 minutes, flipping once, until evenly baked and golden brown.

Whisk remaining olive oil, chopped garlic, and parsley in a large bowl. Add the mixture to the hot fries and toss to combine. Taste and season with extra salt and pepper as needed, and toss to coat.

To make the Avocado Aioli:

Cut the avocados in half lengthwise. Remove the pit from the avocado and discard. Remove the avocado from the skin and place the avocado flesh onto a cutting board. Cut the avocado into 1-inch pieces and transfer the avocado to a blender. Add the sour cream, basil, garlic, lemon juice, red pepper flakes and a pinch of salt and pepper into the blender and process until smooth.

Taste and add salt and lemon juice if needed. If the mixture is too thick, add a teaspoon of water and blend until smooth.

Serve with warm Roasted Potato Fries.