I'm clearly having a moment when it comes to cakes and this Triple Layer Pumpkin Chocolate Chip Cake is absolutely not to be missed!
I mean – is that not the most crazy fun fall themed cake you've ever witnessed? Not only is it crazy beautiful but it doubles as a centerpiece for your table because hello – is there anything else you'd rather look at than that?!?
Layers of chocolate chip chip pumpkin cake get layered on top of each other and filled with a ganache, a cream cheese frosting and then decorated on top with truffles and edible gold beads (which you can find at your local craft store) OR you can get creative with the topping and add some fresh flowers for an organic vibe! So next time you need a show stopping dessert – look no further! Pumpkin Chocolate Chip Cake is your jam!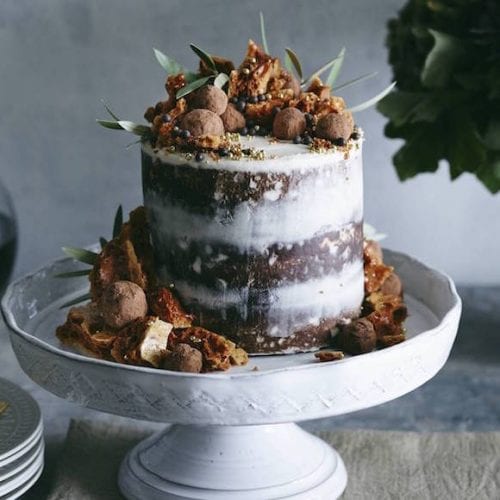 Triple Layer Pumpkin Chocolate Chip Cake
Ingredients
For the Cake
2

cups

all purpose flour

1 1/2

tsp

cinnamon

3/4

tsp

ginger

1/2

tsp

allspice

1/2

tsp

cloves

1

tsp

baking soda

1

tsp

salt

1

cup

unsalted butter

room temperature

1/2

cup

brown sugar

3/4

cup

white sugar

1

large egg

2

tsp

vanilla extract

1

cup

pumpkin puree

1 1/2

cups

chocolate chips plus 1/2 cup extra for topping
For the Topping
Cream Cheese Frosting

recipe below

Chocolate Truffles

recipe below

Store bought honeycomb
For the Chocolate Truffles
15

ounces

bittersweet chocolate

finely chopped

5

tablespoons

unsalted butter

3/4

cup

heavy cream

2

tablespoon

light corn syrup

1/3

cup

coffee liquor
For the Cream Cheese Frosting
4

oz

cream cheese

at room temperature

1/4

cup

butter

at room temperature

4

cups

powder sugar

1

tablespoon

heavy cream

2

teaspoons

vanilla bean paste
Instructions
For the Cake
Preheat your oven to 350 degrees F.

In a large bowl, combine the flour, cinnamon, ginger, allspice, cloves, baking soda and salt. Give the dry ingredients a quick whisk and then set this mixture aside.

In a large stand mixer, combine the butter, white sugar and brown sugar. Turn the mixer on medium high and cream together the butter and sugars, making sure to scrape down the sides so everything is incorporated. Add the egg, vanilla and pumpkin and combine. Add the dry ingredients into the mixer and mix until the dry mixture is just combined. Add in 1 1/2 cups of the chocolate chips and mix to combine.

Spray 3 6-inch baking rounds with non-stick baking spray. Divide the mixture into the baking pans and level it out. Sprinkle on the remaining chocolate chips.

Bake for 30-35 minutes and then remove from the oven. Let cool before turning out from the baking rounds. While cooling - make the chocolate truffle
For the Chocolate Truffles
Place chocolate in a heat safe bowl. In a medium sauce pan combine heavy cream, butter and corn syrup and place over med high heat. Bring to a simmer and pour over the chocolate. Let this sit for 1 min then slowly stir until the mixture is fully combines. Stir in coffee liquor. Cover and place in the refrigerator for 30 mins.

To make the truffles, use 1/3 of the chocolate mix and scoop out different size balls, you can use a small ice cream scooper for a teaspoon, roll in dutch process cocoa and refrigerate till ready to assemble the cake.

When ready to assemble the cake fill a piping bag fitted with a 1/2 inch round tip with remaining 2/3 of the chocolate. Place one cake layer on serving plate and pipe a spiral starting from the inside out on the first layer, use an offset spatula to smooth it out. Place the second cake layer on top and repeat smoothing it out with the off set spatula. Place the 3rd and last layer on top and make sure the sides are even and the cake is level.

At this point you can fill in any side gaps with the chocolate creating a smooth side. Place cake in the refrigerator while you make the cream cheese frosting.
For the Frosting
Combine the cream cheese, butter and powdered sugar in a large stand mixer and whip for 4-5 minutes. Add the heavy cream and vanilla bean paste and continue to whip until smooth. Remove and use to frost.

Place 1/3 of the frosting on the top of the cake and work the frosting to the sides with an offset spatula. Drag the frosting down the sides to the cake plate, and continue all the way around. Remember you want about a 1/4 inch thick later on top and a very thin coating on the sides. Use the offset spatula to scrape the sides and remove excess frosting.

Place in fridge till you are ready to decorate.

Decorate with honeycomb, chocolate truffles, olive branches, gold dragees or any holiday candy you like!
Photo by Matt Armendariz / Food Styling by Adam Pearson / Recipe by What's Gaby Cooking