DECEMBER 1! It's here. The start of a month where calories don't count and cookie swaps are acceptable every day of the week! I figured we should kick things off with a bang and have some Chocolate Chip Cheesecake Brownies.
First – a few announcements! I'm hosting actual REAL LIFE cookie swaps on the 7th in Seattle and the 12th in New York City!! Stay tuned for Seattle details but the NYC deets are in the link! There will be cookies and champagne and it's gonna be awesome! Come hang, eat some food, bring some cookies if you feel up for it, and let's do this! Okay – not to these Chocolate Chip Cheesecake Brownies.
I used to make cheesecake brownies all the time in college – but for some reason I haven't made them as obsessively recently. Never fear, this is no longer the issue! What I love most about cheesecake brownies is that the swirled cheesecake layer perfectly evens out the rich decadent brownies on the bottom making it a perfectly balanced bite. Add a few sprinkles of chocolate chips and your friends will be begging you to make more!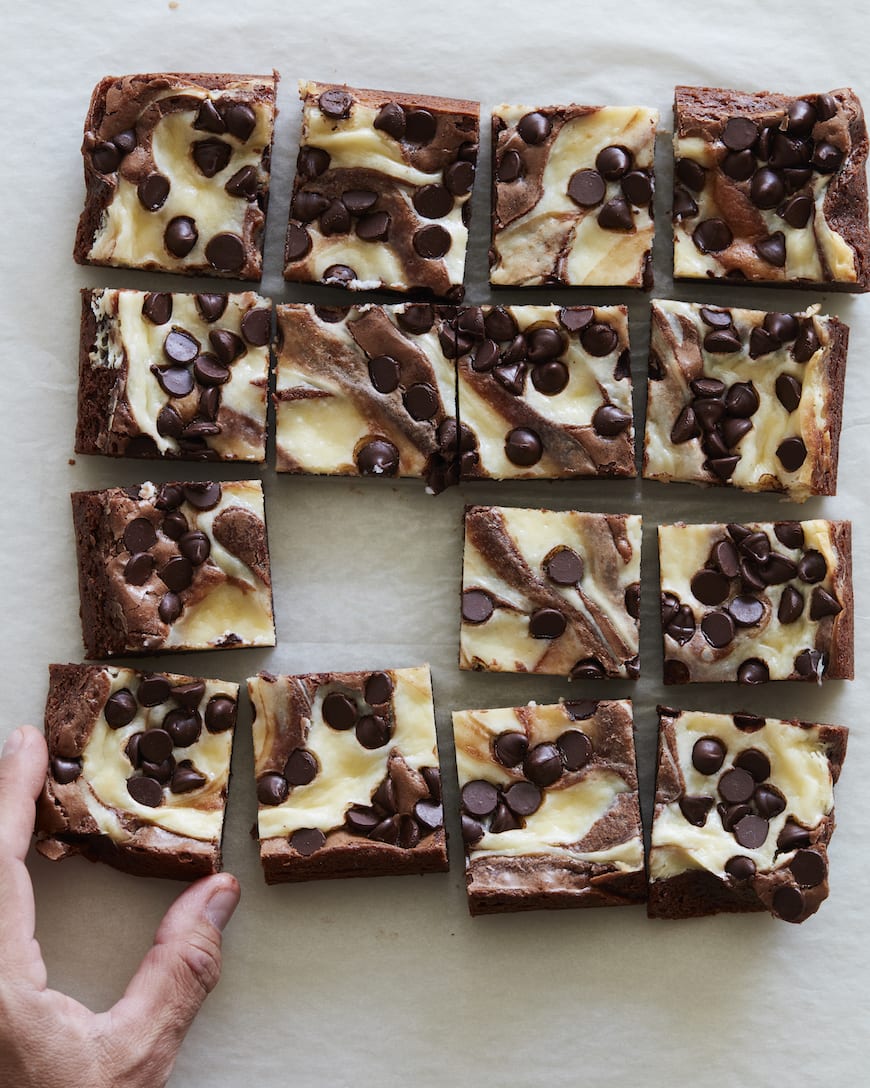 Chocolate Chip Cheesecake Brownies
Ingredients
4

ounces

unsalted butter

8 tablespoons

3

ounces

bittersweet chocolate

chopped

1

cup

white sugar

2

large eggs

1

teaspoon

vanilla extract

2/3

cup

all purpose flour

8

ounces

cream cheese

at room temperature

1/3

cup

white sugar

1

large egg yolk

1/2

teaspoon

pure vanilla extract

1/2

cup

semi-sweet chocolate chips
Instructions
Preheat oven to 350 degrees. Line a 9x9 baking pan with parchment paper and then spray with baking spray. Set aside.

For the Brownies: Melt the butter and chocolate in a small saucepan over medium low heat, constantly stirring until completely melted. Remove from the heat and whisk in the sugar, eggs and vanilla. Add the flour and carefully combine. Transfer to the parchment lined baking pan and set aside.

For the Cheesecake: In a food processor, combine the cream cheese, sugar, egg yolk, and vanilla and whip together until there are no lumps.

Using a spoon, drop pieces of the cheesecake batter on top of the brownie batter. Then using a knife, swirl the two batters together until you have a marbled effect.

Sprinkle with the chocolate chips.

Transfer baking dish to the oven and bake for 30-33 minutes.

Once baked, remove from oven and let cool for at least 2 hours. (Refrigerate to speed this process up if needed)