True or false… we've all reached our limit on banana bread? I know… I never thought the day would come but it has!! So while we're still all living that quarantine life, let's make something new and something summery with pantry staples!! Strawberry Muffins with Walnut Streusel!!
You know I love adding CA Walnuts into my Mezze Boards and into my Sticky Buns and into pasta… but today they are front and center IN these muffins and on top. The California Walnuts get mixed into the very easy batter and then made into a simple streusel to go on top. It is EVERYTHING! Hands down these are one of the most versatile kitchen staples in my life!!!
Ok let's get into these shall we? The muffin base is simple – all staples in the kitchen, nothing hard to find! If strawberries aren't quite at their peak by you, you can use any other berry! Blueberries, raspberries, blackberries, cherries, you name it!
The batter will be thick before you bake – NOT TO FEAR! That's the goal.
Let's talk walnut streusel!! You can buy the walnuts in halves or pieces! If you use halves, you'll need to give them a rough chop before using since you want the streusel to stay on top of the muffin and not sink down!! The walnuts are combined with brown sugar, obviously a match made in heaven. Flour, duh. Lemon, to give you a little zip that you never knew you were missing! And salt to make all the flavors really pop and come to life!!
And in case you've forgotten – if you've got some walnuts on hand right now and they are sitting in your pantry…. Go put them in an airtight container and store them in the fridge! It'll extend their life and keep them fresher longer! I even started to keep mine in the freezer for maximum life span! They live on the shelf right next to my ice cream and ice face roller – PRIORITIES ALL STICK TOGETHER!
A few FAQ's you might need to know:
Like I said earlier – this muffin recipe can use any fruit. Keep the ratios the same. And if you're using frozen fruit, be my guest. Just be sure the fruit is thawed and blotted dry before incorporating into the batter.
How do you store these: in an airtight container in the fridge is my method of choice! They will last for about a week in the fridge. Or you can store them in the freezer for months on end but good luck letting them sit around that long. They'll be long gone within a few weeks!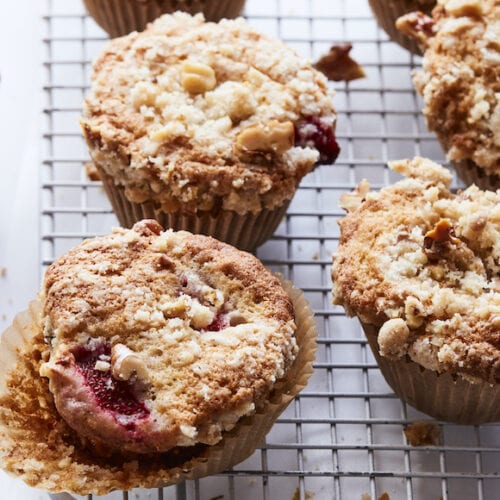 Strawberry Muffins with Walnut Streusel
These Strawberry Muffins with Walnut Streusel are the perfect baking project for a long weekend and a leisurely breakfast!
Ingredients
2

cups

all purpose flour

1

teaspoon

baking powder

1

teaspoon

baking soda

1

teaspoon

kosher salt

8

tablespoons

unsalted butter at room temp

1 1/4

cups

white sugar

2

tablespoons

fresh lemon zest, about 1 large lemon

1

egg + 1 egg yolk

1

teaspoon

pure vanilla extract

1

cup

buttermilk

1 1/2

cups

fresh strawberries, quartered
For the Streusel
1

cup

all purpose flour

1

cup

light brown sugar

2/3

cup

finely chopped California walnuts, plus 1/3 cup medium chopped for garnish

8

tablespoons

unsalted butter, melted

2

tablespoons

fresh lemon zest, about 1 large lemon

1

teaspoon

sea salt
Instructions
Preheat your oven to 350°F

Line 2 cupcake tins with wrappers and spray with non-stick baking spray.

In a large mixer combine the butter and sugar until pale yellow, add the zest, egg, egg yolk, and vanilla and beat well for an additional 2-3 minutes making sure to scrape down the sides. Add the dry ingredients and the buttermilk until mix until combined, making sure to scrape down the sides during the process. Remove the bowl from the mixer, and fold in the strawberries. Set the batter aside.

Make the California Walnut Streusel by combining all ingredients in small bowl. Using your fingers, mix it around until it's crumbly and set aside.

Fold half of the streusel mixture into the batter and stir to combine. Spoon 1/4 cup of the batter into each cupcake mold. Sprinkle the top with a few teaspoons of the streusel. Bake for about 30-35 minutes, or until the cake is light and fluffy and a toothpick can be inserted into the center and is clean when removed. Remove from oven and let cool before serving.
Photography by Matt Armendariz / Food Styling by Adam Pearson / Recipe by What's Gaby Cooking
** This post is brought to you by CA Walnuts. All content, ideas, and words are my own. Thanks for supporting the sponsors that allow me to create new and special content like this for What's Gaby Cooking**